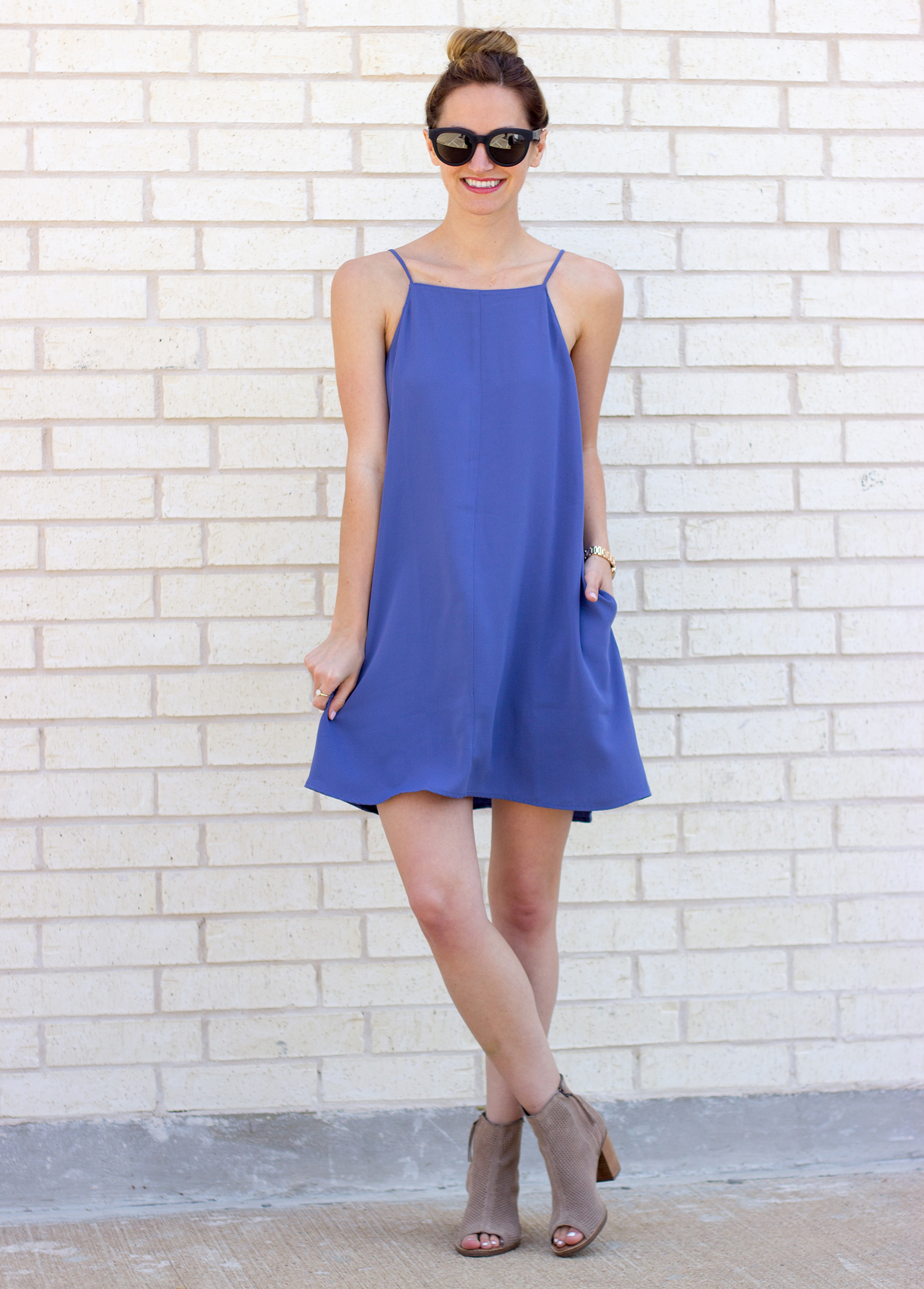 …And then I put on the cutest little periwinkle dress and kind of fell in love with it (…okay, more like a lot fell in love with it!).  How adorable is this dress?! Gah, seriously obsessed and currently contemplating if I need it in more colors (likely going to be a yes…ha!).
Okay okay, first off,  how are y'all? It's been a few days since my last post and I am one very tired gal! As you know, SXSW is in full swing and thus, for the first time in a very long time, I have not been glued to my laptop but instead have been havin' a ball listening to some amazing bands, hanging with my best friends and drinking way too much…(but really, when drinks are free and it's good beer, can ya really say no?). Anyhoo, it's felt like a mini vacation in this city all week and I am surprised to say that "I still got it" after a couple years of going into full on granny mode, ha! Although I suffered a severe hangover after just two drinks last night (hey, granny style for over a year = serious light weight), I'm gonna go ahead and say it was well worth it. SXSW fun > SXSW hangover. 😉
Oh! Before I get to the outfit I should also mention that today my friend Veronica and I were front row at the DNCE shindig and definitely fan-girled over Joe Jonas (…and I'm not even a real fan…I just know that one "Cake" song on the radio..) buuut it was a ton of fun and I am proud to say that my pre-teen self would feel very accomplished. Also, the girl standing next to me actually cried when she saw him come on stage. I should also mention that I am 25 years old and that girl was 16. And yes, I should probably reconsider my music preferences (and life's choices) at this time…ha!
Finally, THIS DRESS which as you can see has pockets and a square neckline is the cutest thing ever!! Not only do I love this color, but the overall fit is simply adorable and the perfect little dress for spring! This dress is by Lush and it comes in 3 other color options (tough call, they're all super pretty).
I paired the dress with my go-to peep toe booties (apparently I can't get enough of these…going on year two with these kicks!) and my Toms sunglasses. I also added that pretty tassel necklace for some of the photos but then decided to let the dress speak for itself – love the color pairing of a chalcedony stone against the periwinkle, very sweet color combination.
Okay gals, I am off to meet up with Blake and go watch one of his favorite bands play at Auditorium Shores (an outside venue in town right next to Lady Bird Lake) – he finally has tomorrow off so we get to enjoy some St. Patty's Day fun and squeeze in a few more SX festivities together! Hope you've all had a wonderful week! XO
**Wearing a size small in the dress for reference! 🙂
dress – LUSH / shoes – TOMS / sunglasses – NORDSTROM / necklace – KENDRA SCOTT / watch – MICHAEL KORS / ring – KENDRA SCOTT