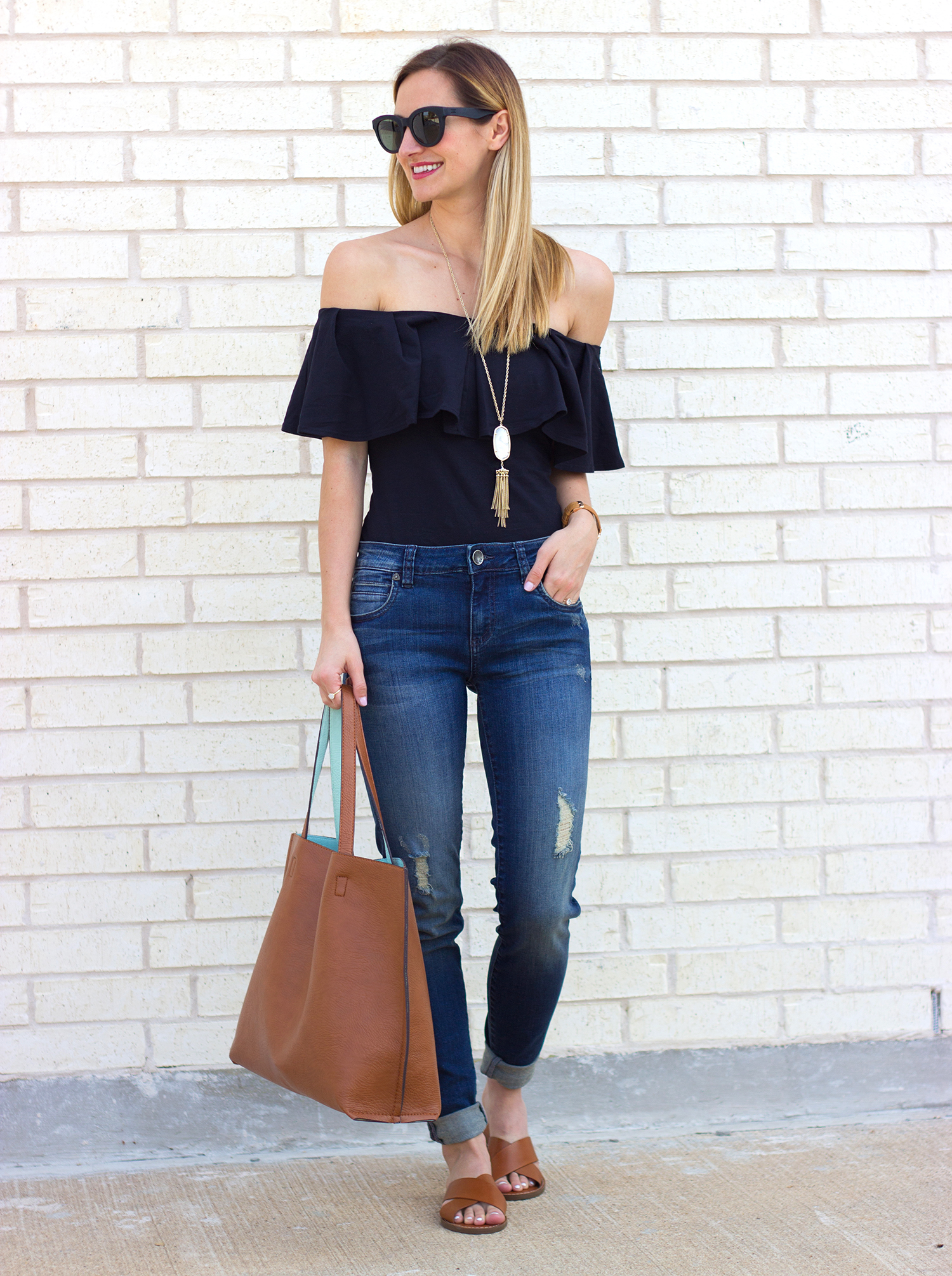 Hello there & happy Monday! Okay, first things first – these jeans are UNDER $95! (Because really, that's something to hit the caps lock button for 😉 )…and two, I am thrilled to partner with Nordstrom (one of my favorite retailers, as y'all know!) to feature a denim staple for spring – these killer skinny jeans by KUT from the Kloth. Not only is this particular denim line budget friendly, but clearly super ADORABLE (yes, worthy of all caps again…), flattering and above all – comfy! If you're like me and tend to wear the same pair of jeans over and over (…and over and over 😉 seriously, I'm pretty sure I find a pair I love and then swap my tops for weeks on end, ha!) then I highly recommend scoping out the KUT from the Kloth line at Nordstrom – you can check out the other cute styles here.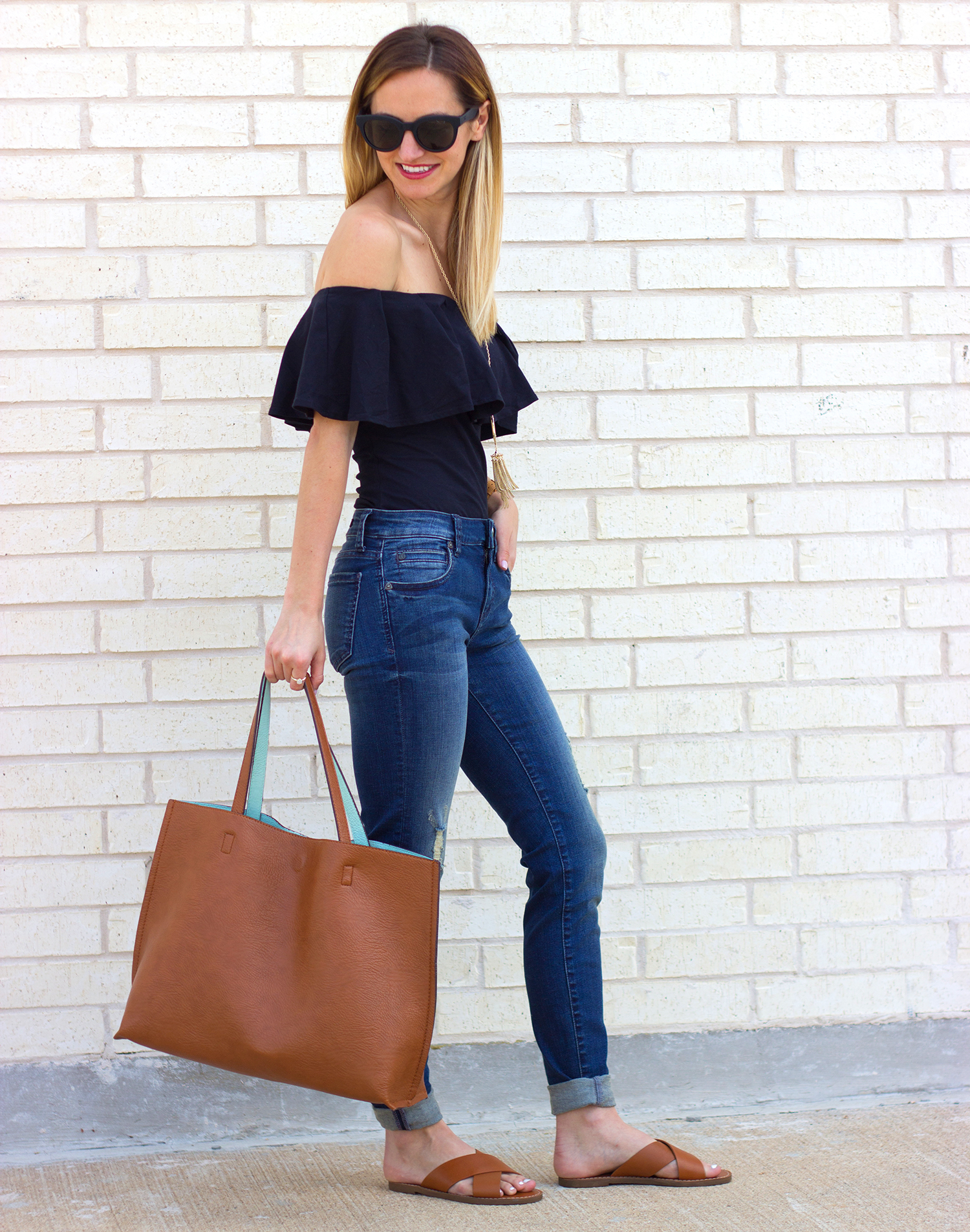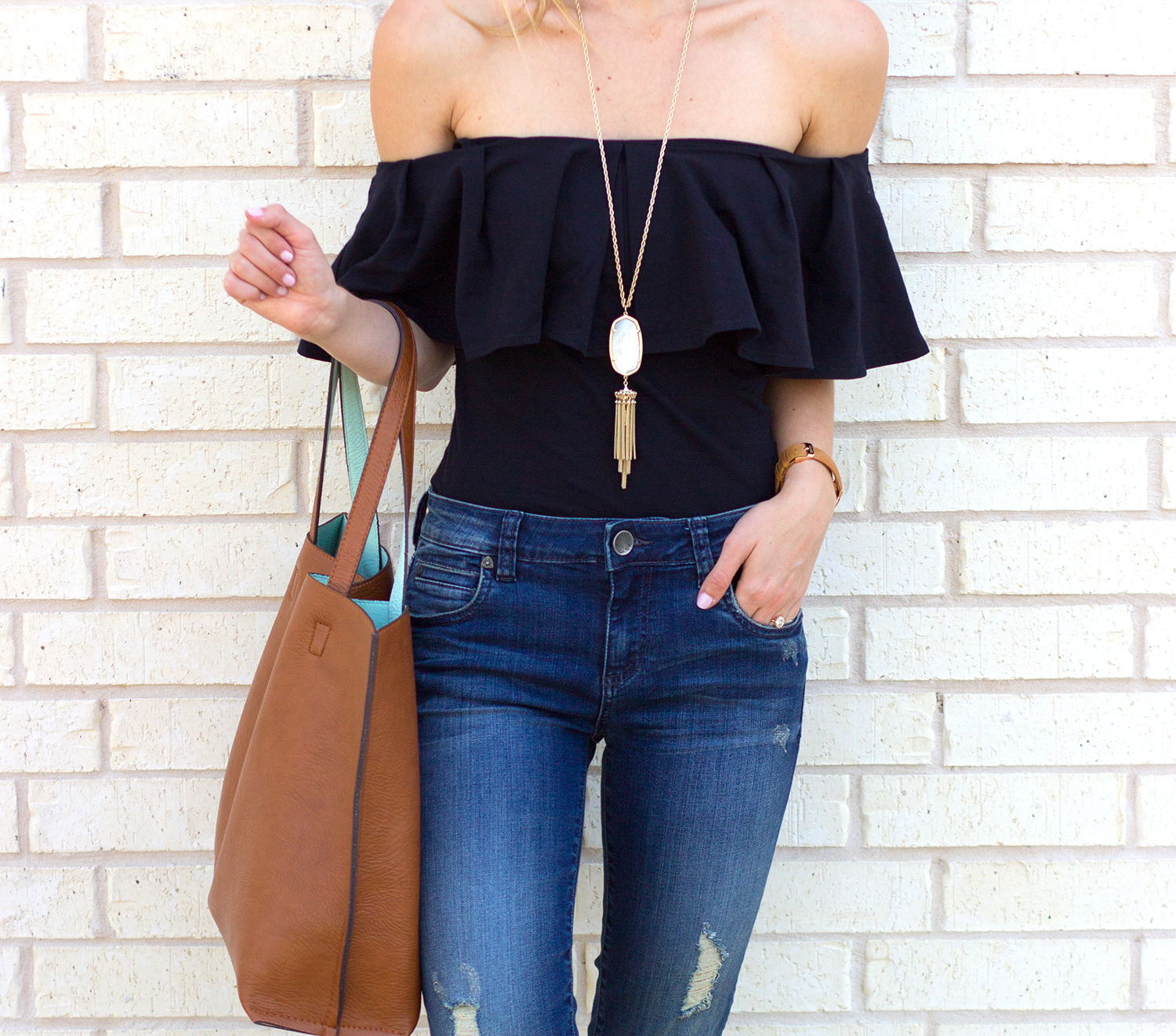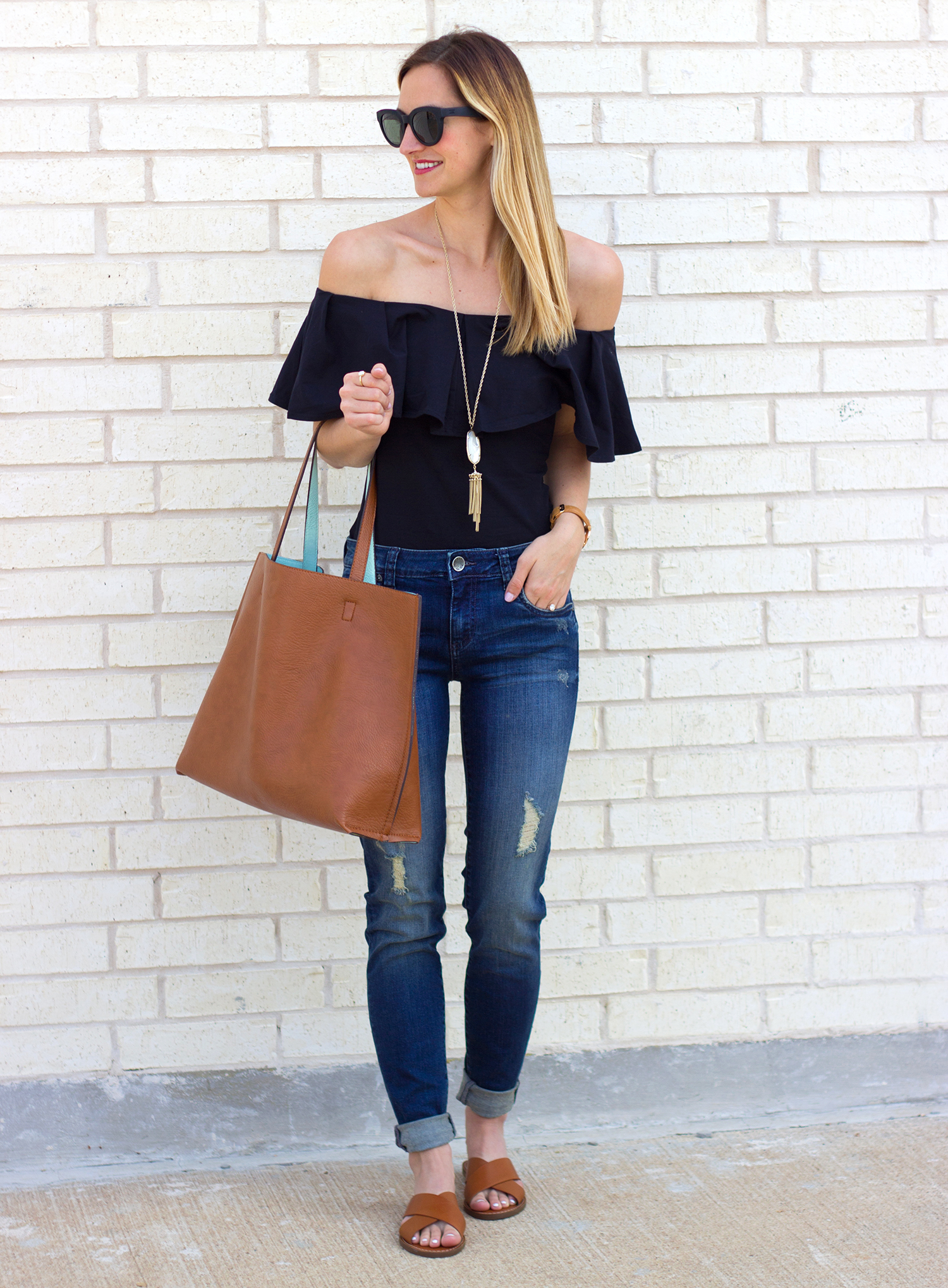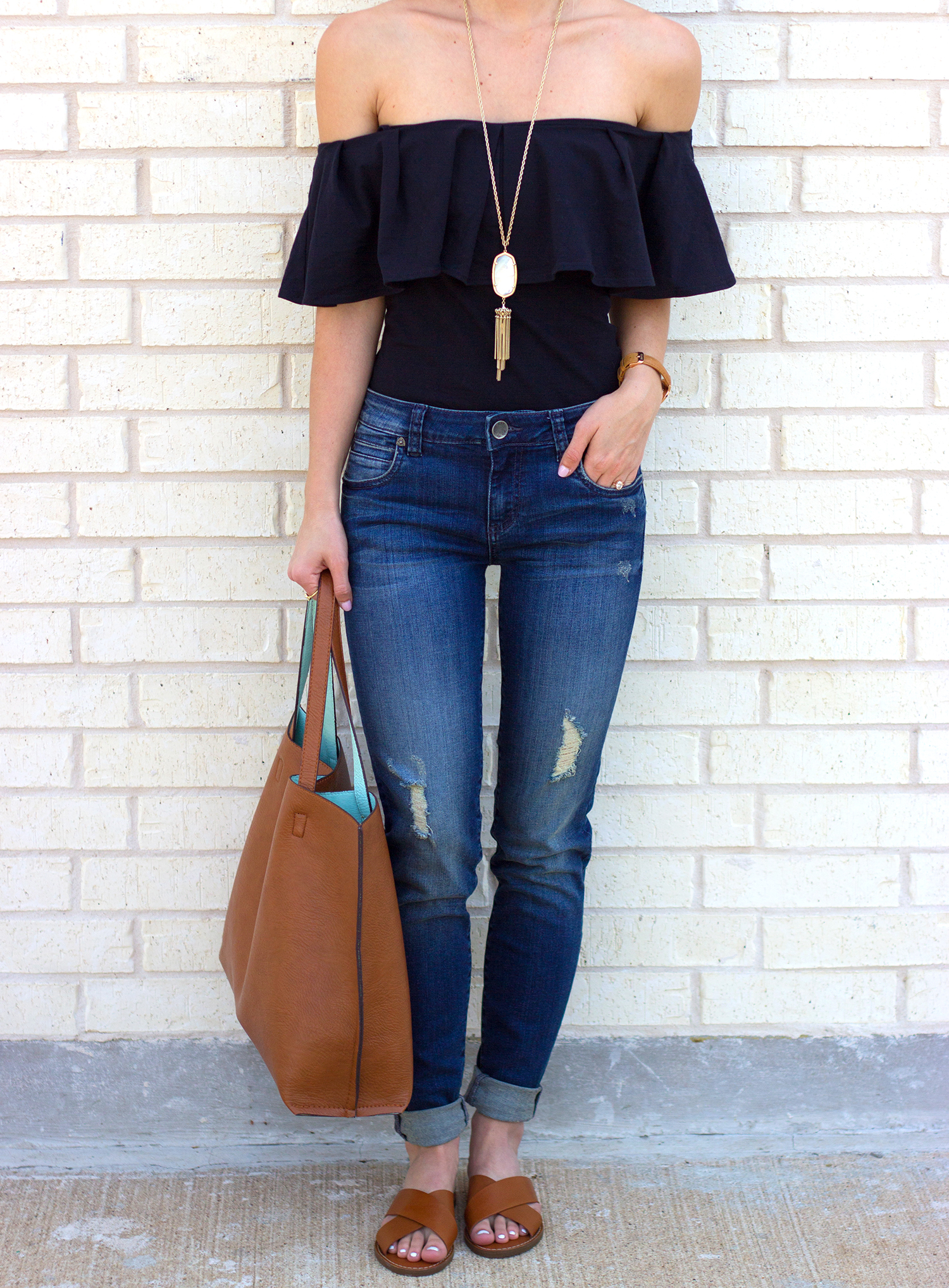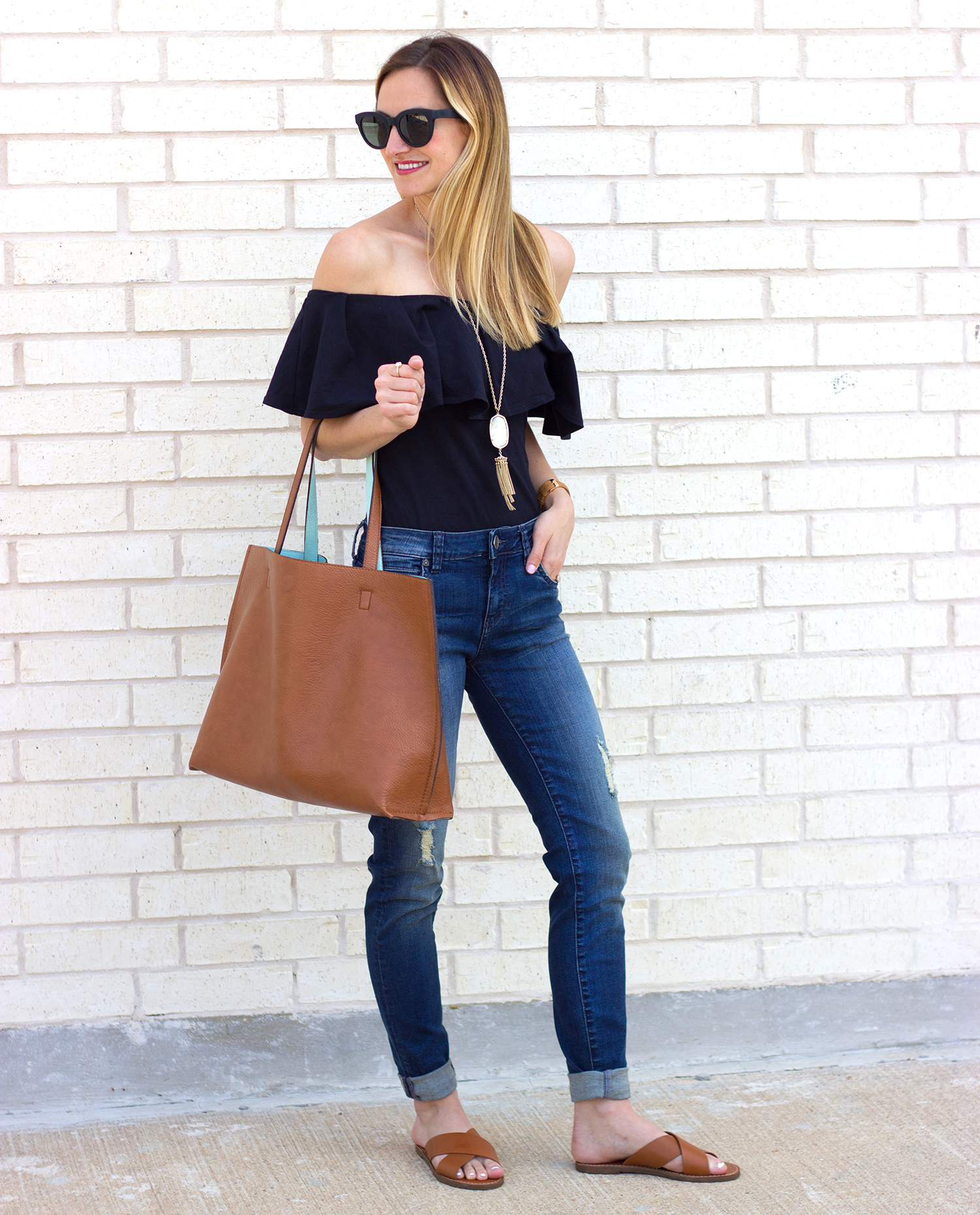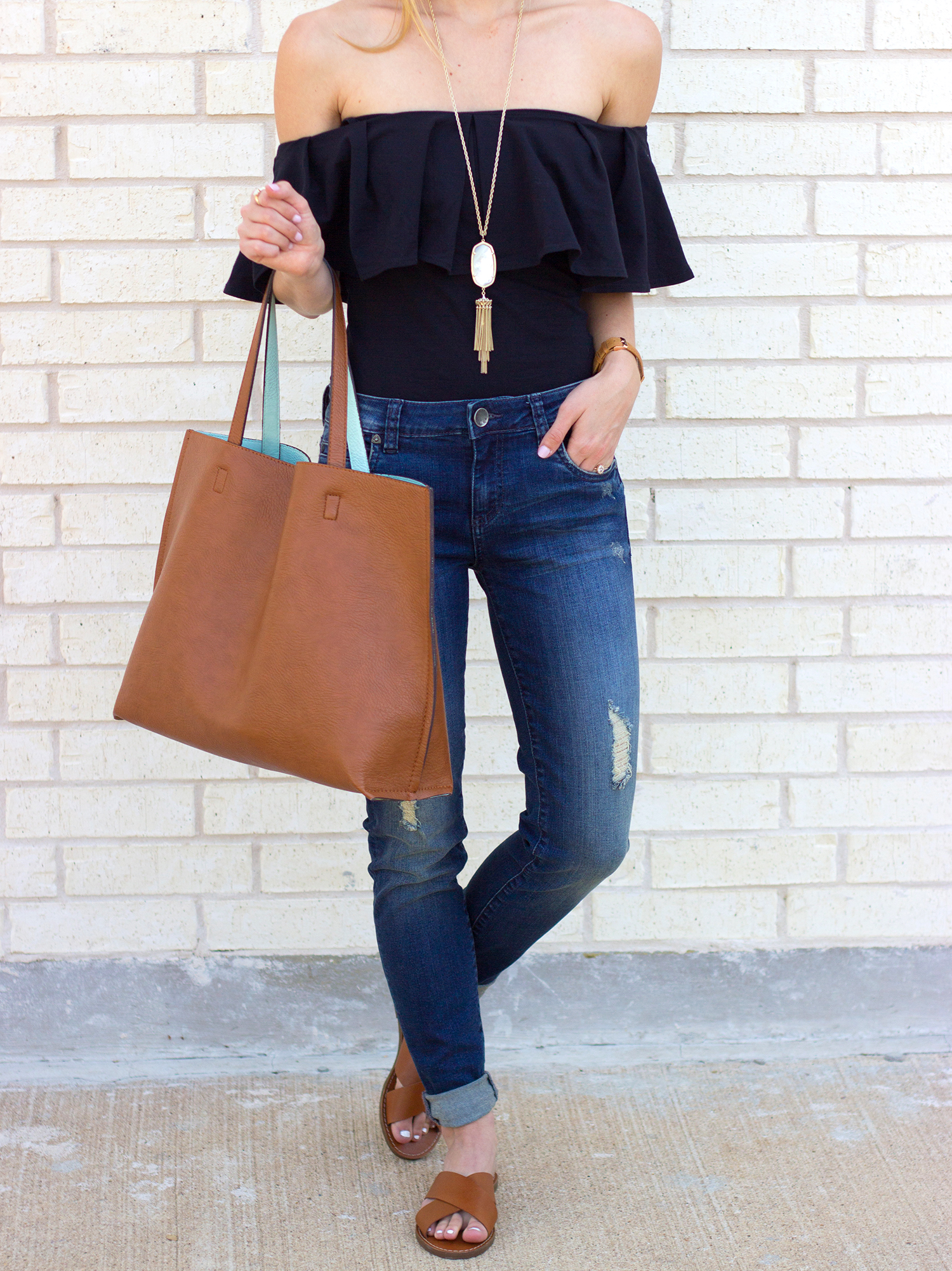 As we transition into spring, I like to do a little 'spring cleaning' to make room for versatile pieces that elevate my wardrobe, yet stay true to one of my style rules to live by: comfort is key. Oh, and another rule (okay…I definitely break this one on occasion) to stick to: affordable fashion! Nordstrom is one of those always reliable, all encompassing retailers that provides an amazing selection of brands and styles at an array of price points (woo!), so I know I'll be able to find just the right pair of jeans I'm looking for to fit what I have in mind. In this case: distressed (gotta stay on trend!), skinny cut, a little stretch and all at a price point that won't give me a serious case of buyers remorse. 😉 Yes, please!
Given that Austin is barely graced by temperatures under 70 degrees, let's just say that winter is long gone and this city is in full on spring mode. (Hey, no complaints here – I'm 100% a warm weather kinda gal!). Thus, a ruffled off-the-shoulder top certainly does the trick, especially when tucked into a fab pair of jeans and topped off with cognac shoes and accessories. I'm loving brown leather slip-on flats with skinny jeans, and my reversible tote paired quite nicely to complete the look! Now for jewelry… 😉 As a previous Kendra Scott alum (I used to work in the marketing department doing social media/blogging), let's just say my collection (err…borderline hoarding? The KS obsession struggle is real) of the 'Rayne Tassel Necklace' in a gazillion colors is a must-have. I am often partial to the white stone because it goes with everything and it's the perfect classic-meets-boho necklace to complete this chic and simple outfit. Jewelry hoarding FTW! 😉
As for sizes, I'm wearing an XS in the top, a size 0 in the jeans (I normally wear a 0 or 2, but since the jeans have a little stretch I sized down and they fit perfect, even after running around town in them!).
Alright y'all, now that I've spilled my outfit deets (and too much information about myself, per usual haha), it's time for me to go prep for that SXSW speaking engagement happening tonight! Eek…still dying inside with nerves, will report back tomorrow and share the ins and outs! 😉
Have a wonderful week & enjoy shopping for some fab new spring finds! Xo
jeans – KUT FROM THE KLOTH / top – FREE PEOPLE / shoes – similar NORDSTROM / tote bag – NORDSTROM / necklace – KENDRA SCOTT / sunglasses – TOMS / ring – KENDRA SCOTT / watch – similar MVMT

A big thank you to Nordstrom for sponsoring this post! All opinions are my own.