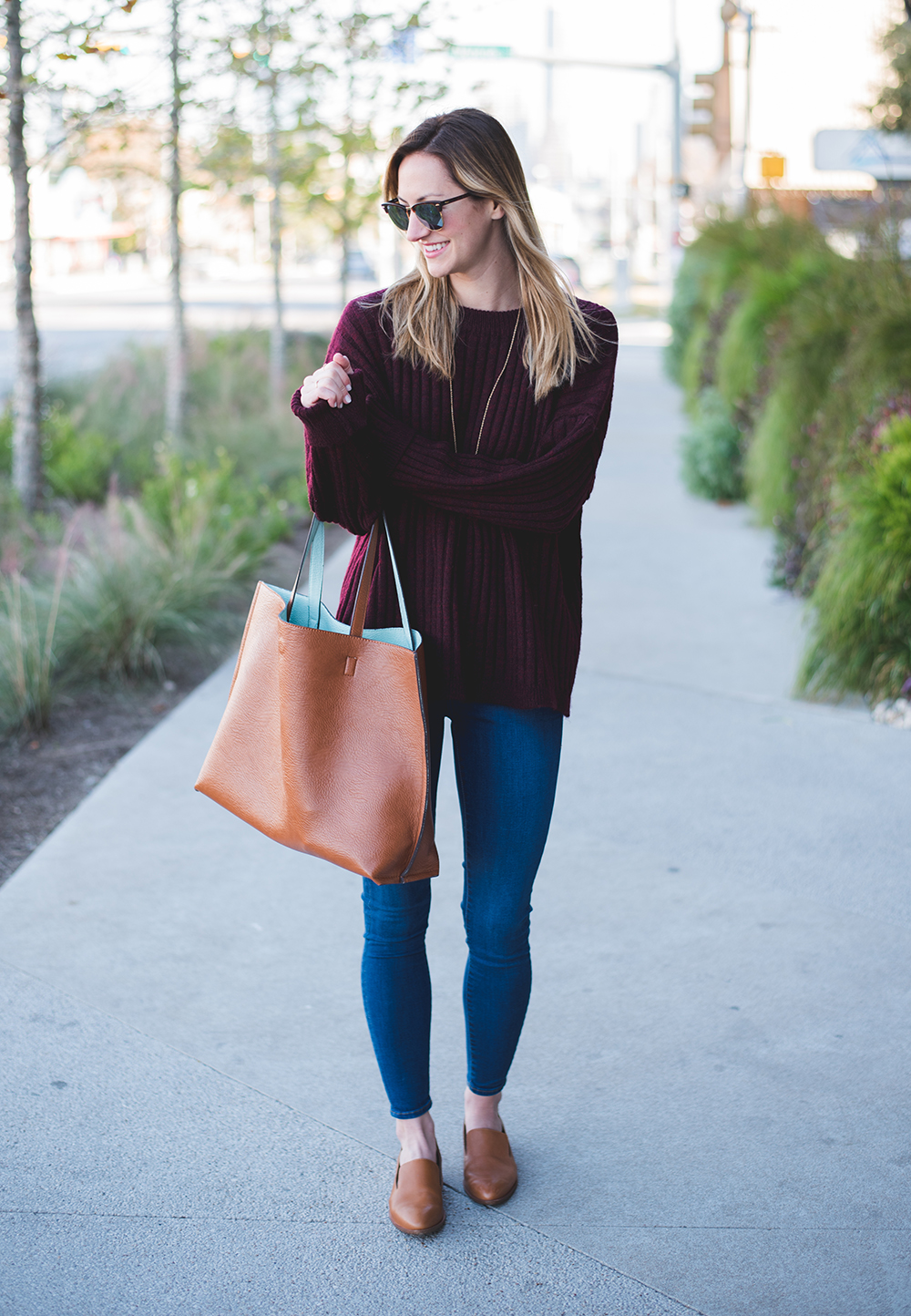 I've got a thing for wine colored tops these days..! I think it's a subconscious choice…I've also become more of a "wino" than ever before. In a healthy way, not in an overindulgence kinda way haha. It's really just sooo nice to sit down with a yummy glass of cabernet (or whatever else we have in our kitchen…I don't discriminate!) after a long day and sip on something and feel relaxed. Now I understand why women buy all those funny wine quotes and hang them in their kitchens…it's all TRUE. Like this one, "For instant 'happy woman' just add wine." LOL. Yes!
Which brings me to this sweater…great transition, right? 😉 This color is really beautiful on every skin tone and I am particularly loving it paired with cognac accessories and shoes – the handbag and matching loafers really just tie the look together from top to bottom. This color combination is very complementary and classy, I've always gravitated towards brown leather goods (they're just really gentle and approachable to me) and my Madewell loafers with the tote bag make for the perfect pairing. These loafers run big, I am actually wearing a full size down! (Normally a 7, bought a 6) and I am completely enamored with these gorgeous shoes…they're incredible quality and I get stopped everywhere by folks wanting to know where I got them – highly recommend these!
This chunky sweater is actually a "one size fits all" thing and I'm super loving it! It's from Chicwish and is so warm and cozy that it's easily become a winter staple in my wardrobe. The color is seriously magical and I love the oversize fit, looks extra adorable with a pair of skinny jeans, like the ones I have on from Topshop! My tote bag is reversible and under $50 (woo!) and it comes in a ton of other colors. I've had this thing for nearly a year now and it's been through a lot and still holding up great, definitely a really good purchase!
My sunglasses are THE cutest reflective Clubmaster style by Ray-Ban (obsessed in an understatement…if you want to feel really cool instantly, just buy some reflective sunglasses…I promise, your cool-factor will shoot up…or maybe I'm just a huge dork and believe in the power of reflective sunnies, ha!). Finally, I'm loving dainty jewelry with a chunky sweater, so I wore some of my go-to rings from Catbird and an old necklace that I wear quite often when I feel like going the more "minimalistic" jewelry route. Here is a pretty & budget friendly similar necklace.
**Photos by Kathryn Frazer Photography
Alright gals, I'm headed out to grab some breakfast with my galpal Veronica (breakfast tacos, here we come!). It was her birthday yesterday and we went out for drinks after work (…but then her crew ended up staying out..), so while she danced the night away, the grandma in me came home early and now it's time to grab coffee and get all the details from her exciting evening. Man…who knew at 25 I'd be such a lame-o?! Haha, sadly I am totally content with this status! 😉
Wishing y'all a wonderful weekend! XO
sweater – CHICWISH / jeans – TOPSHOP / loafers – MADEWELL / tote bag – NORDSTROM / sunglasses – RAY BAN/ rings – CATBIRD / necklace – similar BAUBLEBAR