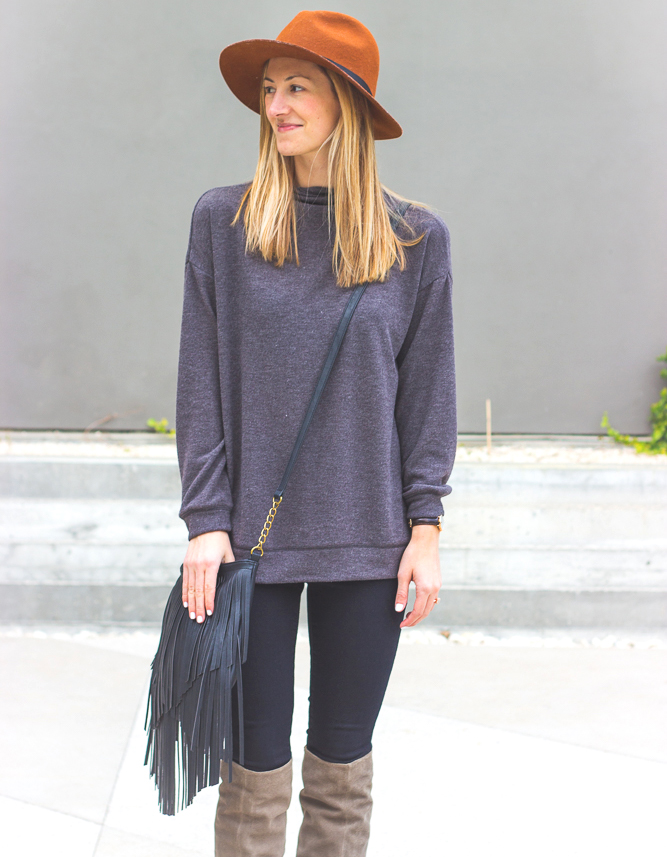 Hello there! Is your weekend off to a good start? I sure hope so! So far so good in my neck of the woods…Last night Blake had a happy hour shindig with his coworkers…so instead of crashing, I opted for some quality time with myself, a bottle of wine and Mindy Kaling's book. Honestly though, quality r&r and a super girly book = one happy Olivia. Toss in a bubble bath (I got to use one of my new bath bombs) and it was a wonderful evening to myself! Today I'm up early to go watch my nieces and nephews for a few hours (…and run through the Starbs drive thru for a Venti on the way…gonna need it!) while there mama gets some time to herself. Wish me luck…two toddlers, one me and 6 hours to go! (Good thing they're super cute..ha!).
Okay okay, onto the outfit…
Soo, this mock neck sweater = MAGICAL. Which by the way is my new favorite adjective if you can't tell…I just think it's the most suitable way to describe something that is waaaay above "good" or "incredible" etc. So, why is this sweater worthy of such a descriptor? For one, it's SO SOFT…honestly, thaaat soft that it's deserving of all caps. 😉 Two, the color is so classy and versatile! I love that you can wear it with brown or black shoes/handbags and any accessory color. Definitely a winner in my book because I like to re-wear pieces time and time again but style them differently. Moment of truth: you can't go wrong with a classic neutral in a timeless cut (also my mom would be so proud that I'm wearing a semi-turtleneck…), thus, I highly recommend this wardrobe staple. 😉
My jeans are by Topshop and they're high waist skinny jeans – love these and have gotten so much wear out of them! Rock them with boots or flats in the winter with a sweater, or pair them with cute wedges and a flow-y crop top in the spring (they're high waist so no tummy will be exposed, yay!). My boots are by Seychelles and as you all know, I can't get enough of these. They're the best quality – so comfy, chic, durable…above and beyond gorgeous shoes! Finally, my hat is an oldie but you can shop a similar style from Urban Outfitters and my fringe bag is just $28 from Nordstrom!
Loving this look? Shop it below! Wishing you all a fabulous weekend!
sweater – SOPRANO / jeans – TOPSHOP / boots – SEYCHELLES / hat – similar URBAN OUTFITTERS / purse – NORDSTROM / watch – DANIEL WELLINGTON