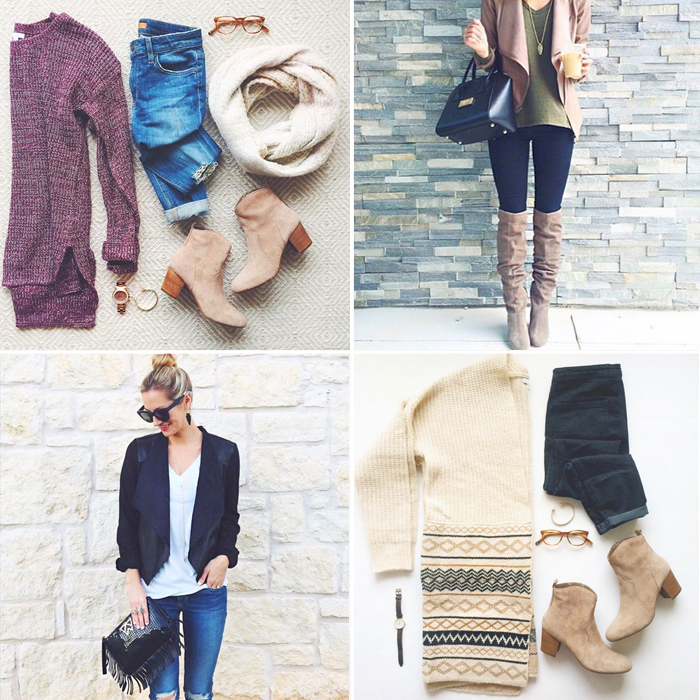 If you follow me on Instagram, you'll have seen these photos pop up on my feed and it's clear to see…fall has FINALLY hit Austin! I'm talkin' sweater weather, cozy knits and scarves perfect for bundling up! Not to mention boots/booties to take you from fall to winter…and as y'all know, I'm a super sucker for a fabulous pair of shoes apparently ;).
I wanted to touch on how you can shop my Instagram feed just by "liking" a photo that I post – it's called Like To Know It, as in… you "like" the image to "know" what the product details are that were featured in the photo. You sign up here by submitting your email address, then once you go back to my feed and see a photo with "@liketoknow.it" or "#liketkit" you can "double tap" the image and through this awesome service, an email will be sent to your inbox immediately with my Instagram image you liked, along with direct product links so that you can instantly shop my photos!
A lot of the time I'll post photos to Instagram and have never featured the items here on my blog, so by signing up with LikeToKnow.It, you ensure that you can catch those oh-so-cute items I don't necessarily chat about on every one of my social outlets/blog. It's amazing!
In case you're not signed up, I've rounded up some of my best recent Instagrams for you to scope out and shop anything you may have missed!
sweater – bp / jeans – joes / watch – michael kors / bracelet – kendra scott / booties – steve madden / glasses – warby parker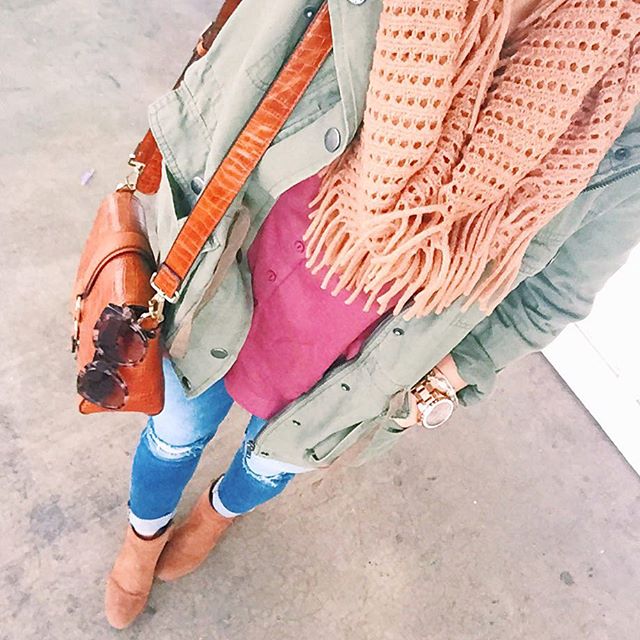 jacket – bp / scarf – bp / top – lush / jeans – joes / booties – sam edelman / purse – topshop / watch – michael kors / sunglasses – toms
scarf – bp / sweater – chicwish / jeans – vigoss / booties – seychelles / bracelet – stella & dot / ring – kendra scott

boots – seychelles / jeans – topshop / top – nordstrom / jacket – bb dakota / necklace – kendra scott / handbag – myhabit
sweater – dreamers / jeans – topshop / booties – steve madden / watch – daniel wellington / bracelet – kendra scott / glasses – warby parker
jacket – bp / striped top – (similar) nordstrom / purse – bp / leggings – zella / booties – nordstrom / beanie – bp / scarf – bp

jacket – KUT / v neck – madewell / jeans – joes / clutch – kelly wynne / ring – kendra scott / earrings – kendra scott / sunglasses – toms

vest – bb dakota / jeans – joes / boots – seychelles / sunglasses – toms / purse (similar) – bp / ring – kendra scott