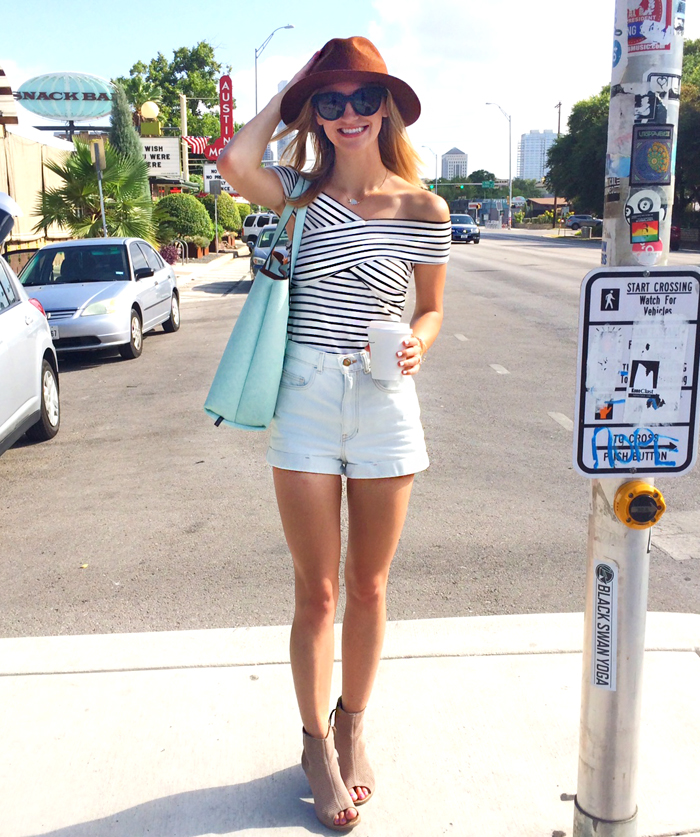 Happy weekend, ladies! Anyone else feel like this was the longest workweek ever? Thankfully, we made it to Saturday! I am excited to have brunch with a friend at a new restaurant called Fork & Taco this morning, then later tonight am looking forward to swooning over Sam Smith love songs as I hit up his Austin concert with Veronica! If you follow me on Snapchat (my username is livvylandblog), you'll have noticed I am with one of my best girlfriends a lot lately – that's Veronica! We have been friends since our college days at UT and lived together for two years after graduating school, and she's just a doll and always up for Austin adventures with me.
That top picture was actually a part of an Instagram takeover I did yesterday with MyHabit.com. I showed followers a glimpse into a "day in the life" of an Austinite like myself – which means grabbing a coffee from Jo's Coffeehouse on South Congress Avenue…pretty much an Austin staple! Did you notice my tote bag in the picture, though? That's one of these ADORABLE reversible totes from above – it's the mint/brown one and I am obsessed! For $48 you essentially get two bags in one. If you're into color or more of a neutrals gal (or both, like me!), there's a bag option for you…now the tough part is narrowing down to your favorite! 😉
Whether you're headed back to school and looking for a bag to fit all of your supplies, books and laptop – or you're like me and enjoy a bigger bag from time to time (hey, if you're wearing heels you can store flats in the bag!), this bag is a must! I've received a lot of compliments on it already and I've pretty much stuck to the mint color, but come fall I can just turn that baby inside out and voila, hello new tote bag! 😉
Shop my outfit and tote bags below – have an amazing weekend, y'all!
tote bag – nordstrom / striped top – chicwish / high waist shorts – american apparel / nude booties – toms / sunglasses – toms / necklace – nashelle