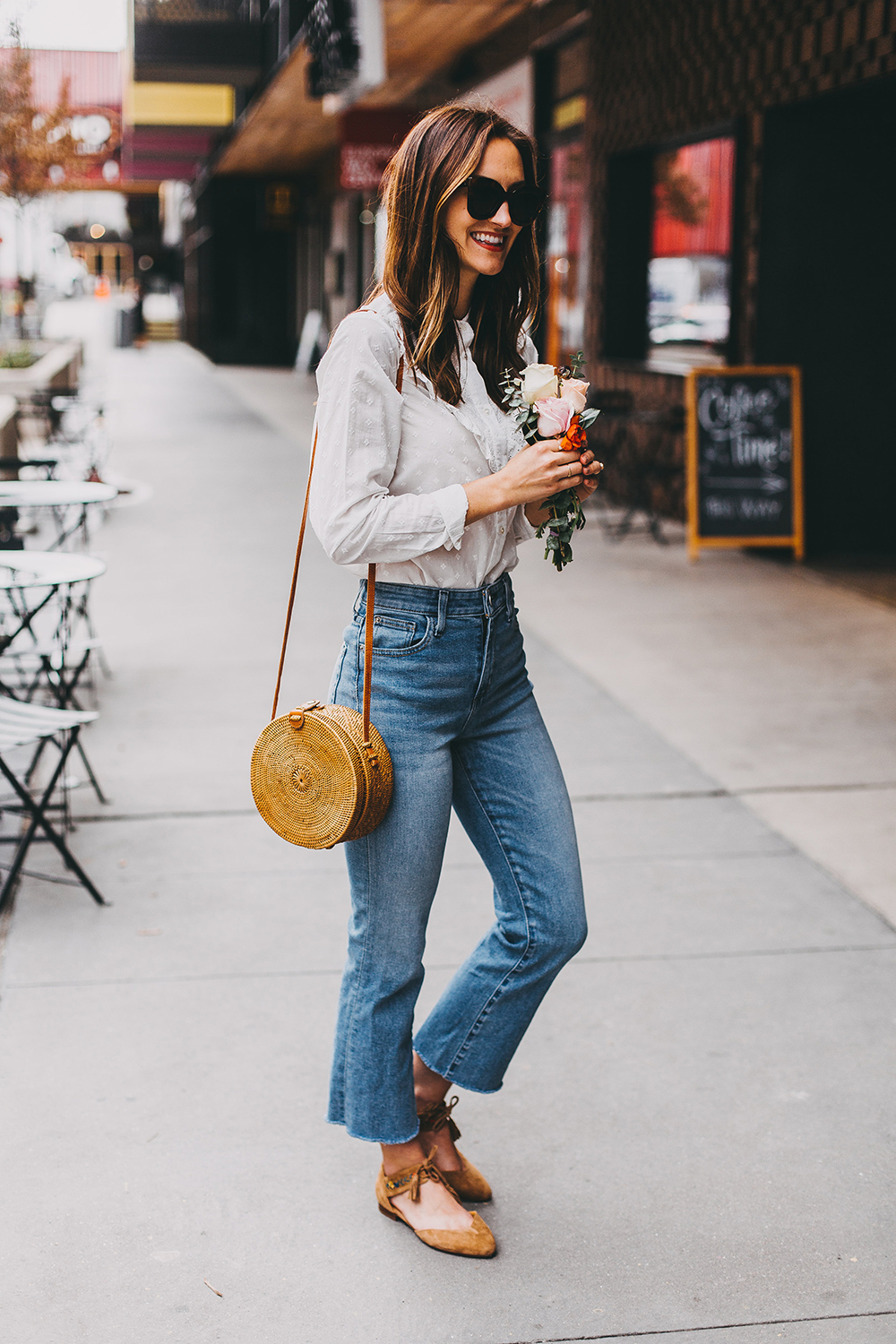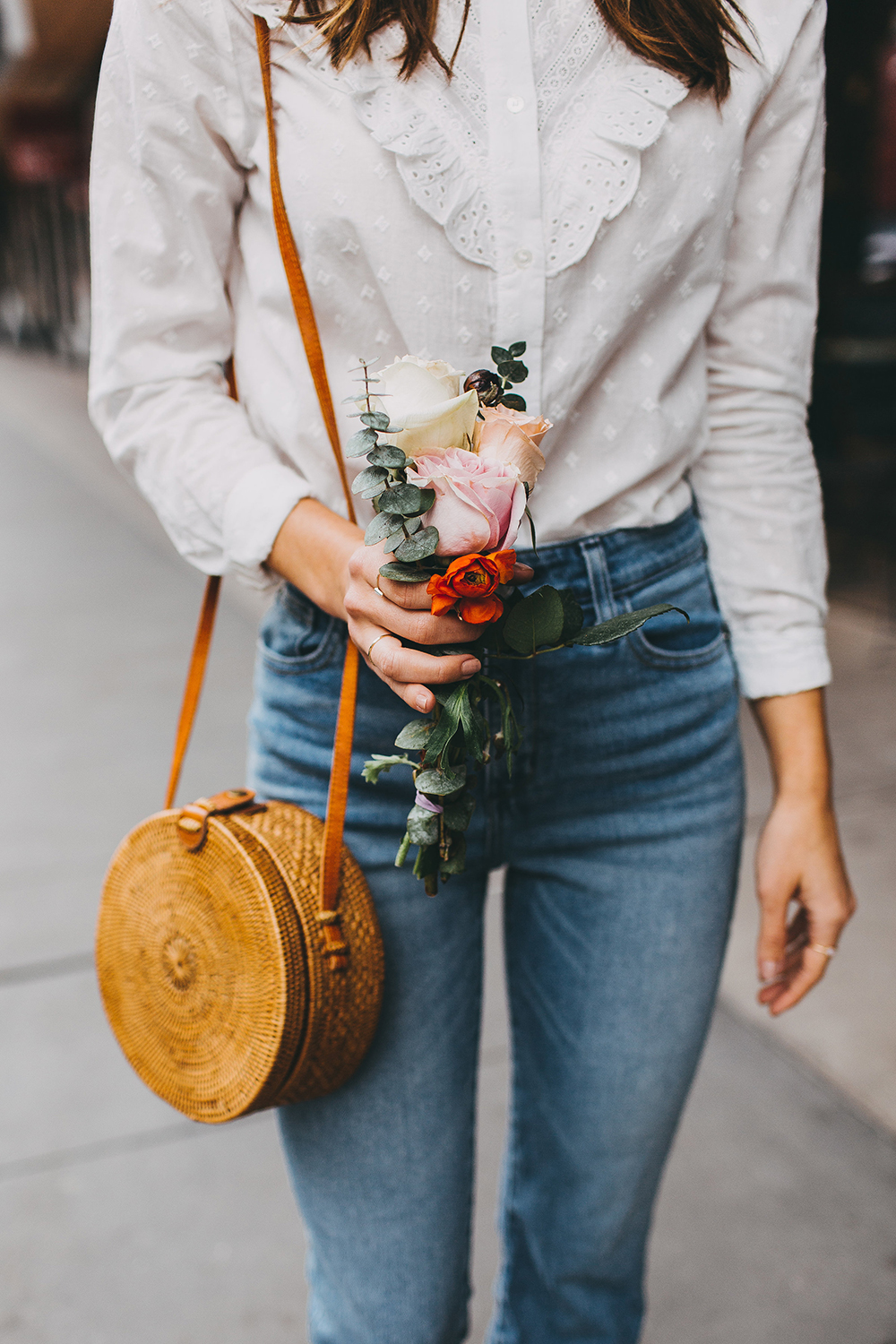 Ohh the possibilities when it comes to the perfect white blouse. Dress it up, dress it down, wear it to brunch, wear it to the office…without a doubt, it's a closet must. Though a plain white button down will do the trick, there are so many beautifully detailed additions to a classic white blouse out these days (like eyelet + ruffles) – and I can't get enough!
Ps. We were big Seinfeld fans in our house growing up and every time I wear a frilly white top I can never get that "puffy shirt" episode out of my head! Anyone else feel the same way? So funny!! Felt compelled to share, it would be a disservice to this particular blog post topic if I didn't, ha!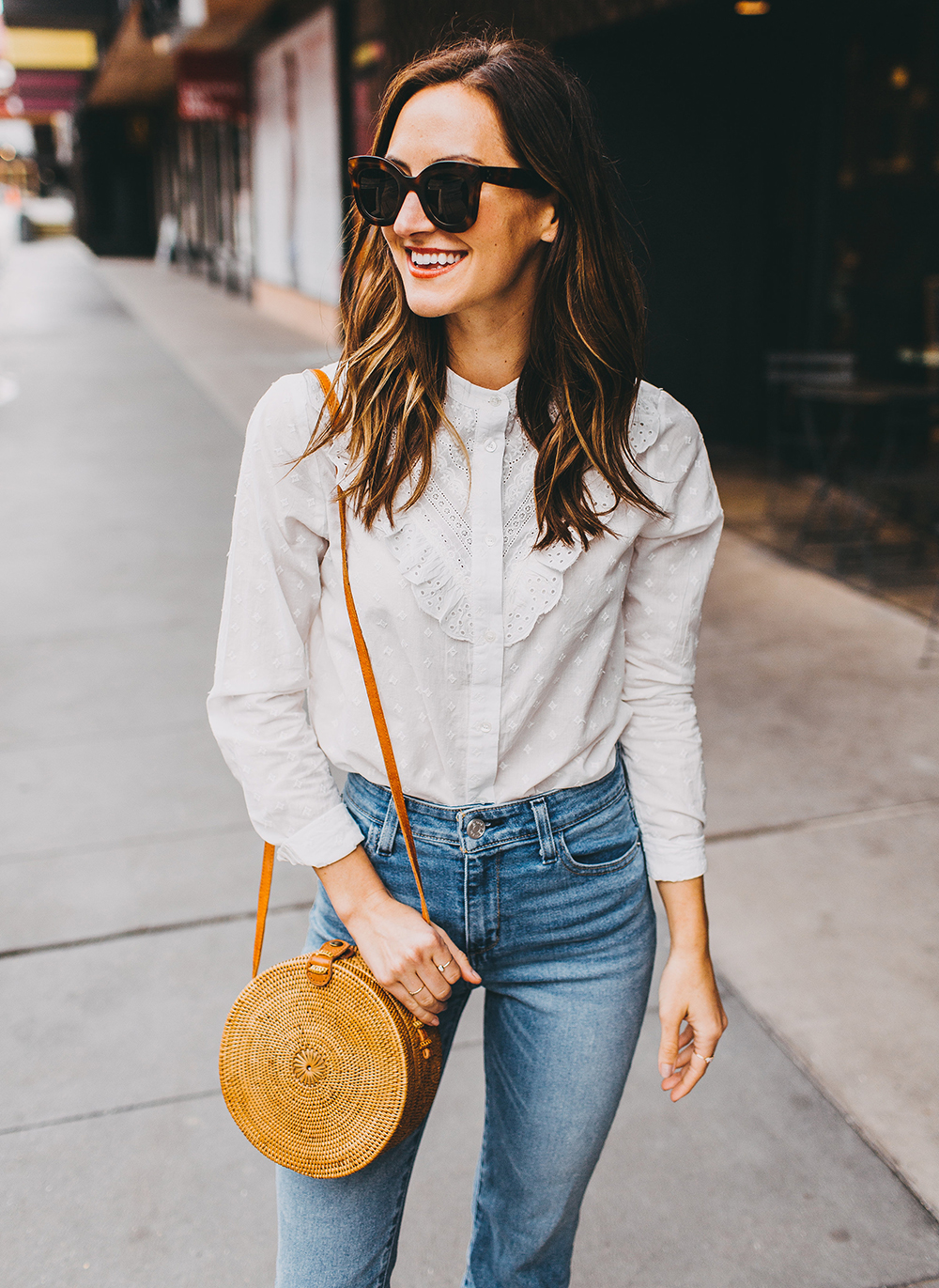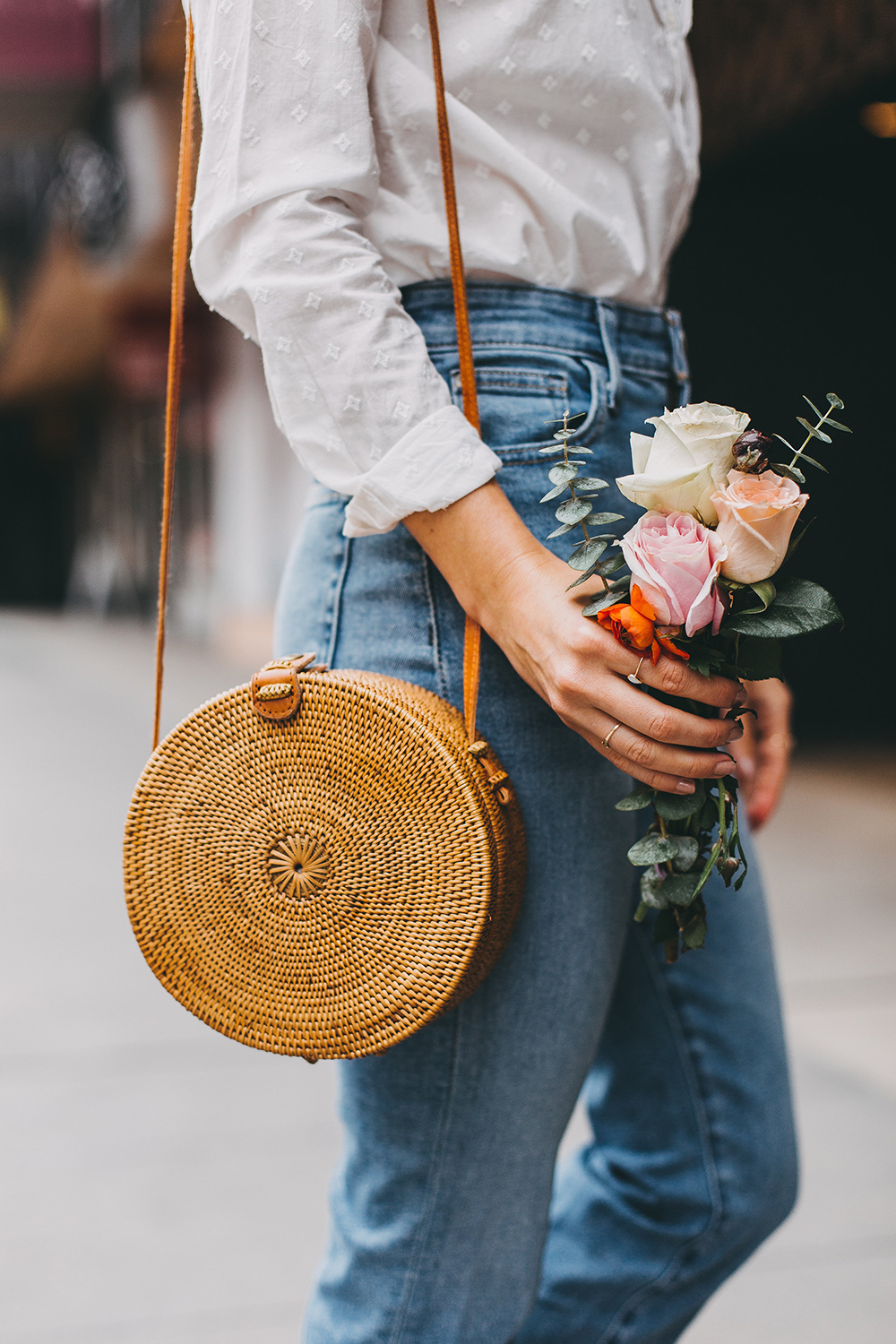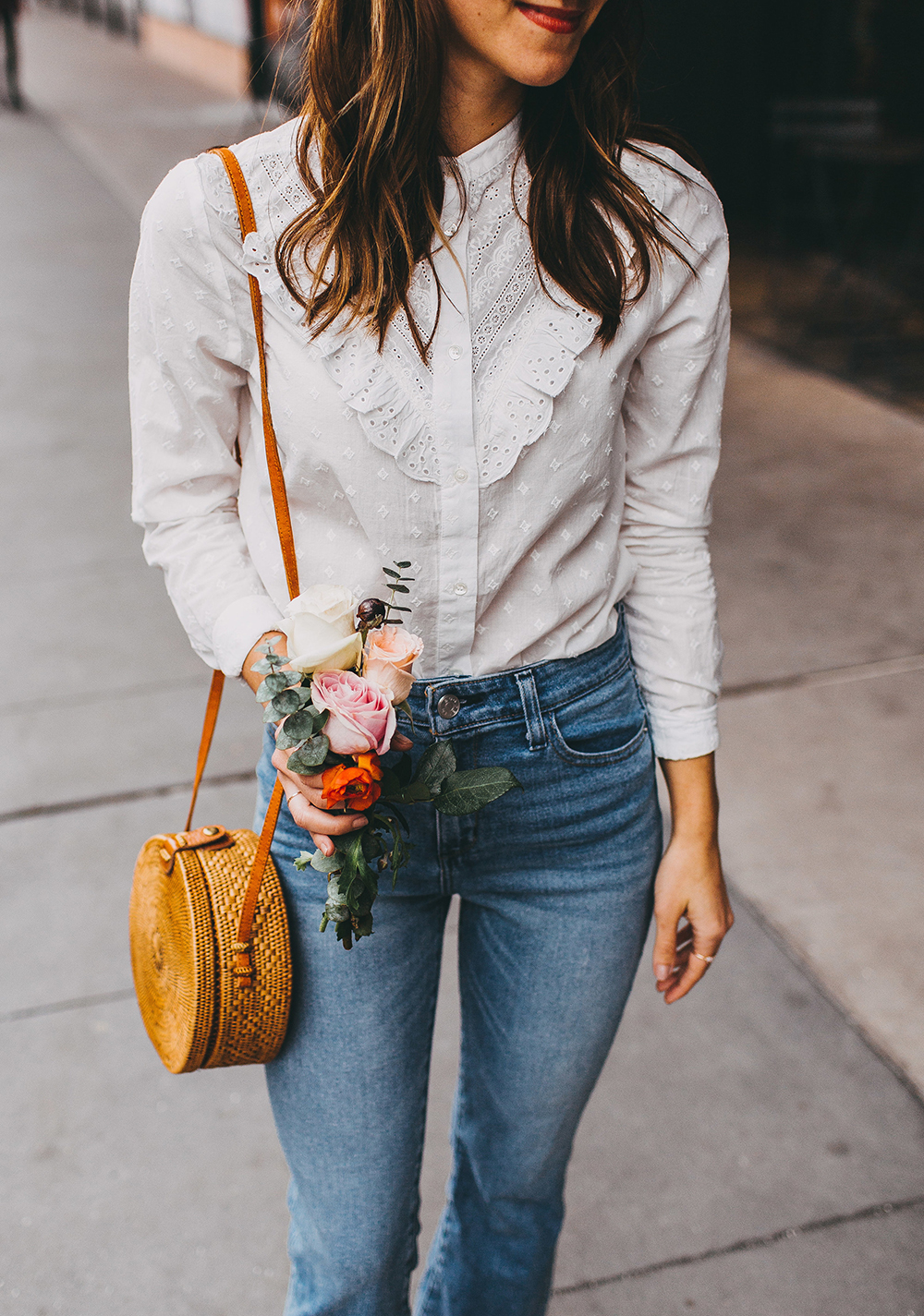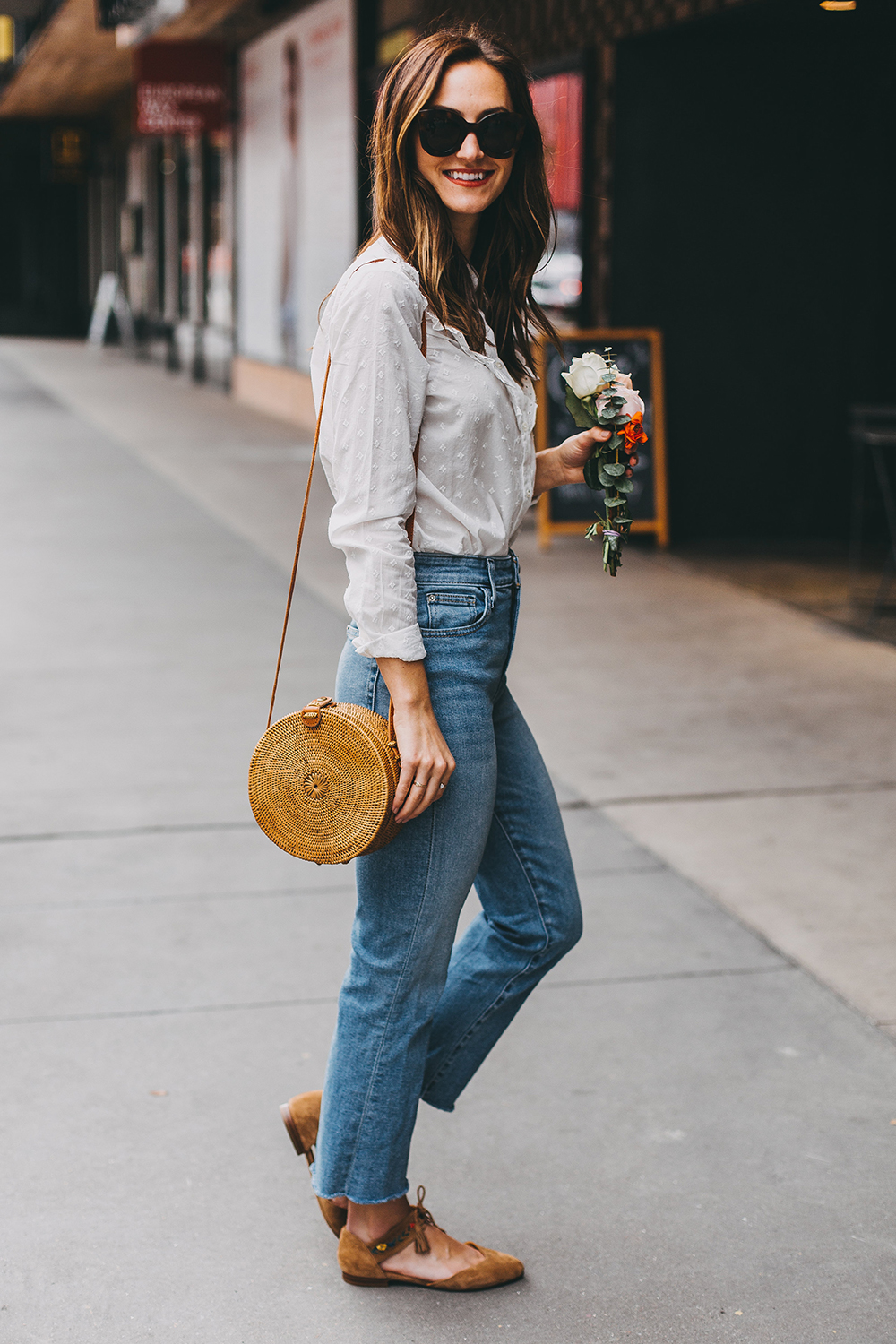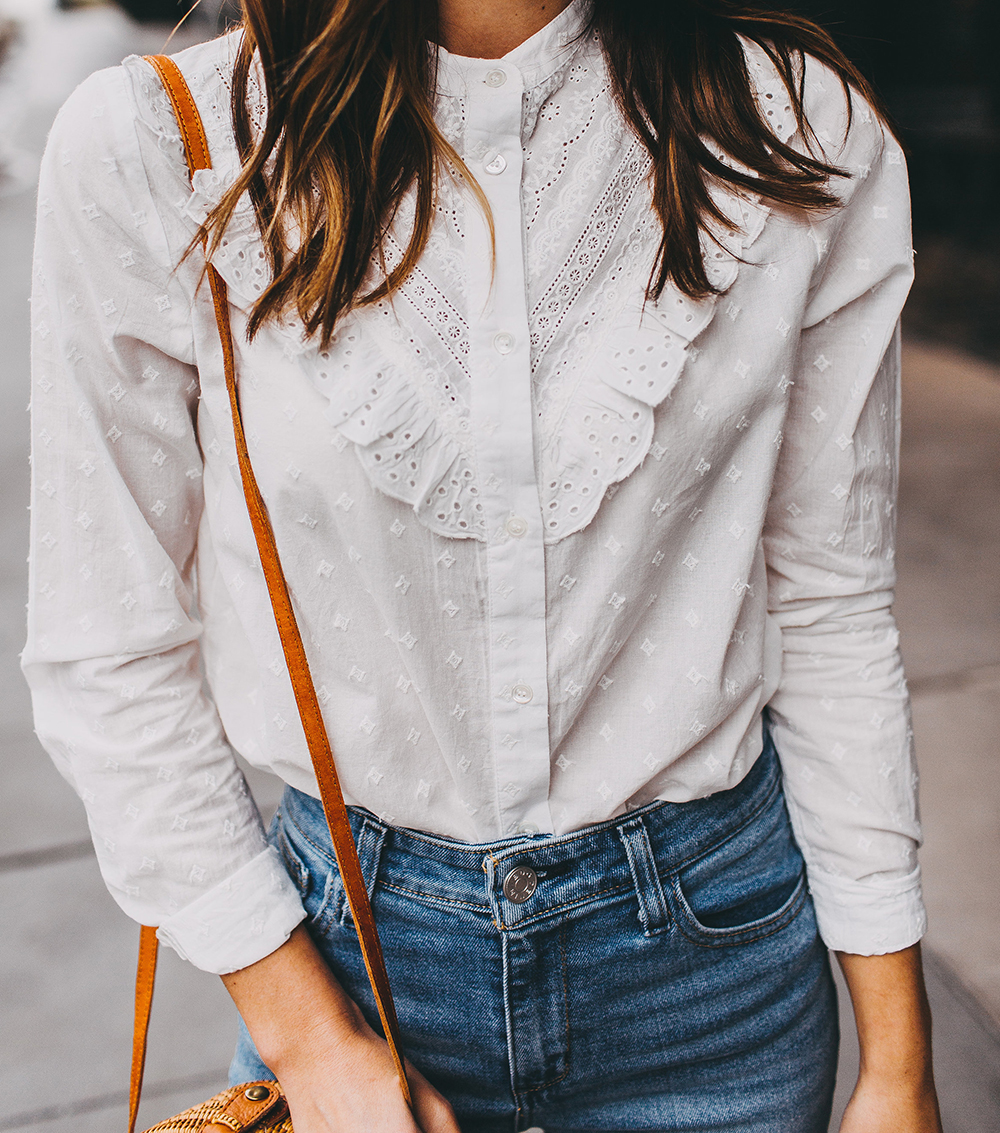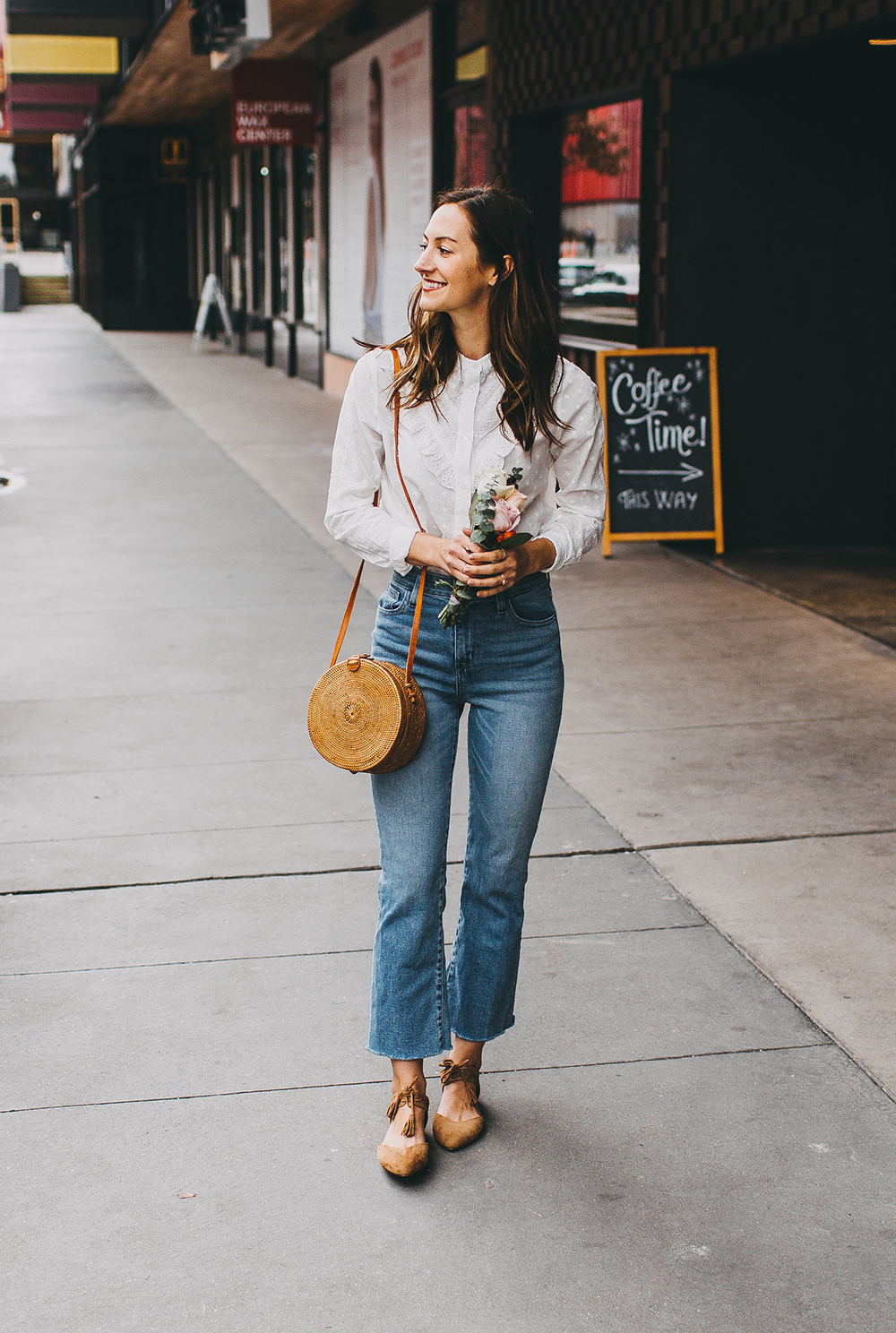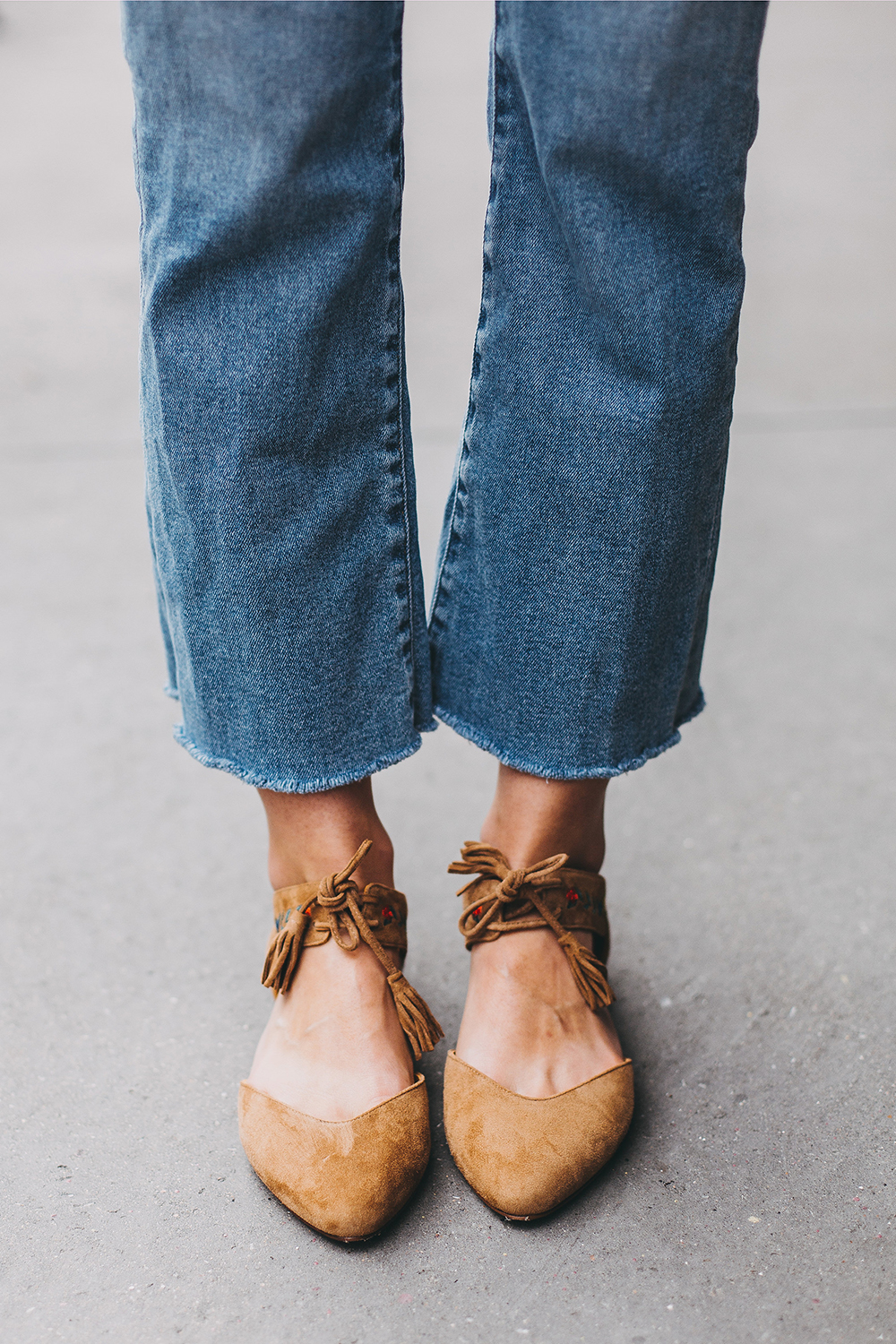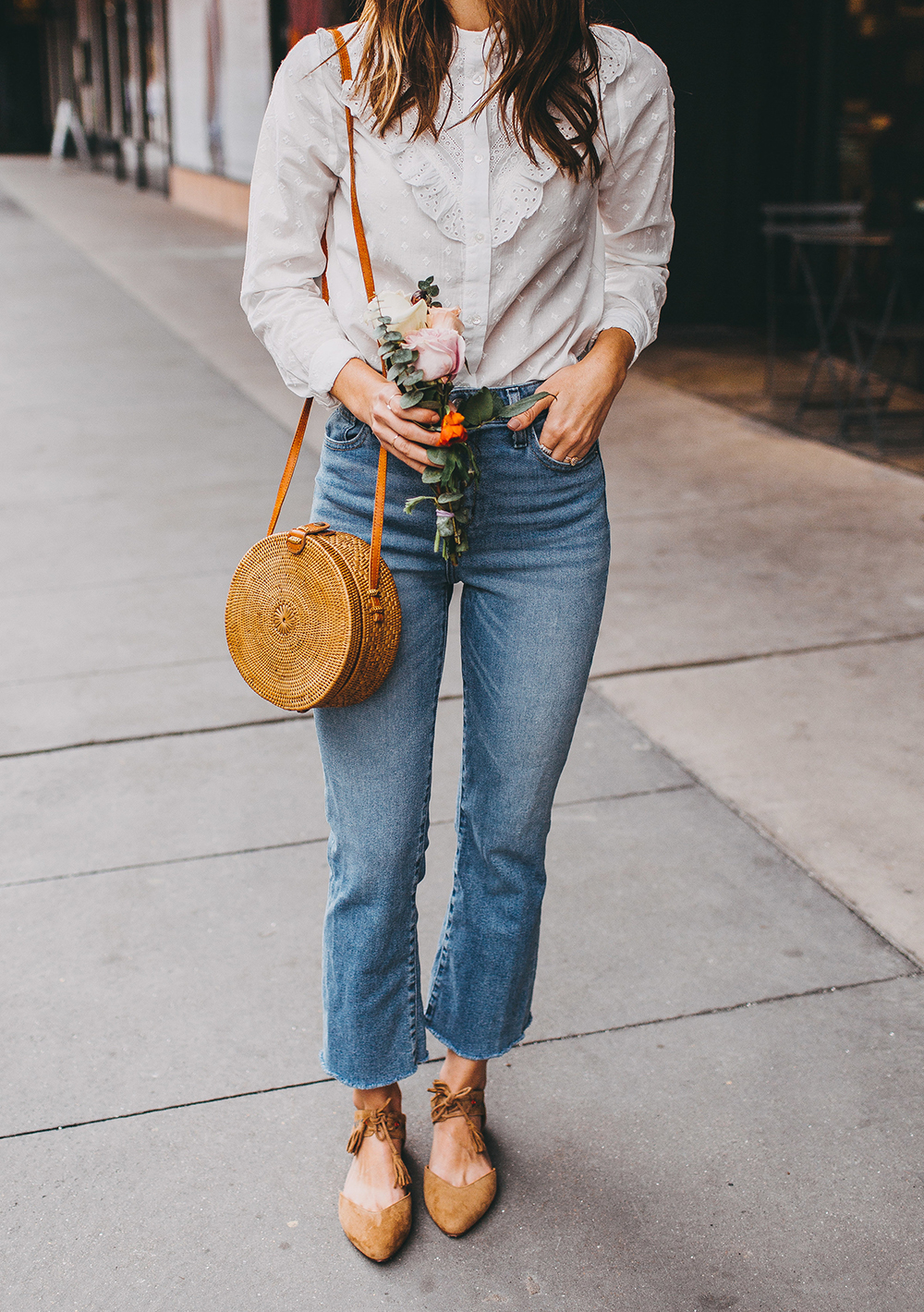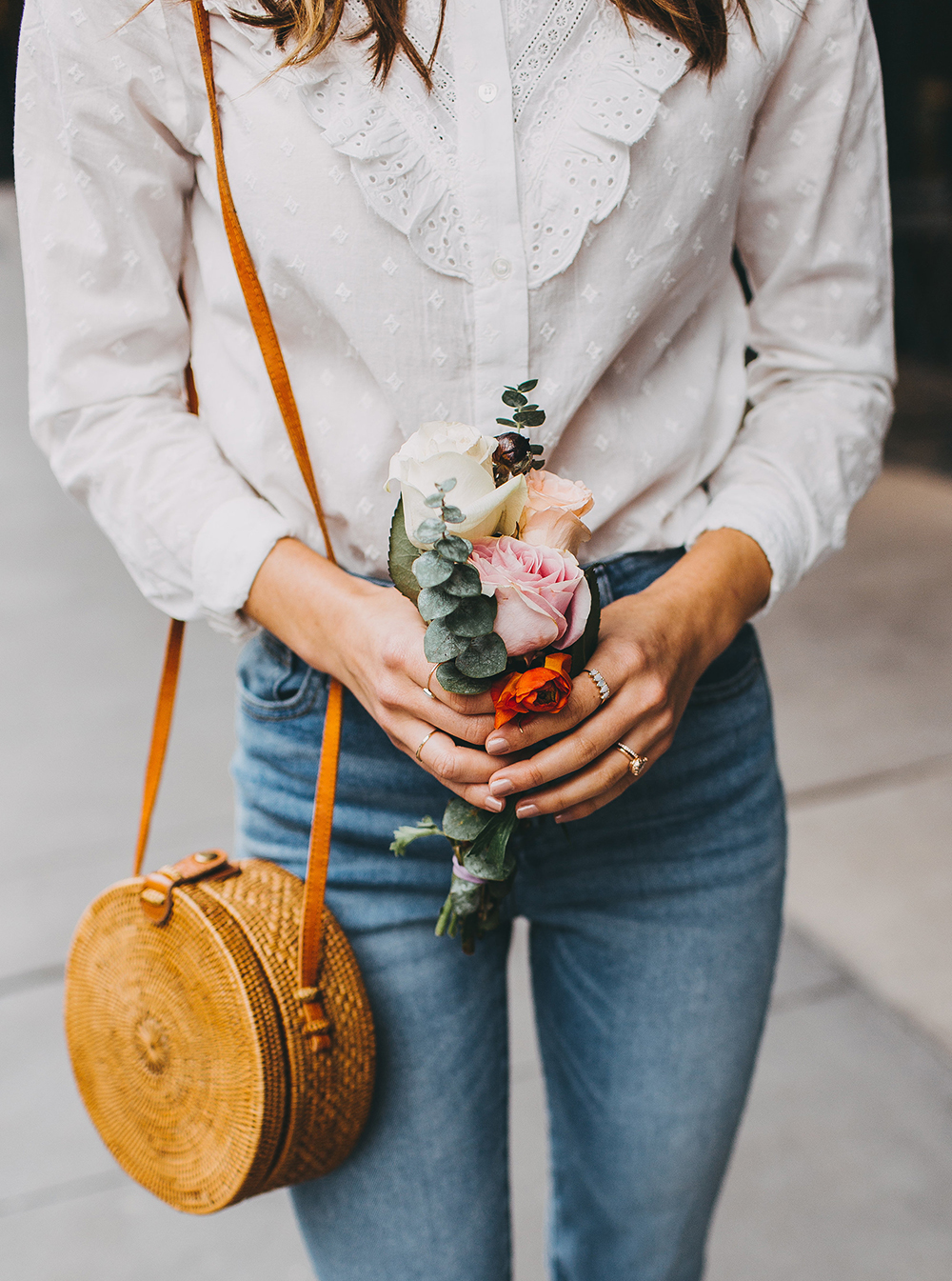 As y'all know, Austin is probably the most casual city EVER! Hence why I rarely share "evening wear" …because, well, even the nicest restaurants in town will let you wear jeans + a cute top (…and also, I'm not going to those restaurants haha!). However, when I want to feel nice and pulled together but not overdressed, every single time my go-to lately has been to pair a pretty blouse with some good jeans. I'll throw on some nice flats or heeled mules, curl my hair, swipe on a little berry colored lipstick and voila, ready to go!
My top is by Sézane (let the swooning commence) and I am so. sorry. buuut it's sold out! (I know I know, why couldn't I have posted this sooner?! Kicking myself over here, too)…BUT the good news is they have quite a few gorgeous and very similar options (like this one) which I am linking to below (as well as some more pretties from other retailers I love!). I wear a size US4 in their tops for size reference.
Those cute kick-flare jeans are from Urban Outfitters and just $59. I think I've gotten more wear out of these than all the expensive jeans sitting in my closet haha… of course it would work that way! I have these in black, too, and they're incredibly comfortable (they have some stretch, hooray!) and SO flattering.
My kicks are also Sezane and they are the word "lovely" in shoe form. I am such a huge fan of Sézane shoes, they are so dainty and unique! Lastly, my handbag is from Etsy and I LOVE this little thing! Super durable and soooo darling.
Do you have a go-to trusty white blouse? I'd love to know! …Even better if you have a link to it haha, I am always on the hunt! 😉 Hope y'all have a wonderful week, XO.
**Photos by Anna Szczekutowicz Photography
top – SEZANE (similar here, mine sold out) / jeans – URBAN OUTFITTERS (fit TTS) / shoes – SEZANE / sunglasses – CELINE / handbag – ETSY

SHOP MORE WHITE BLOUSES