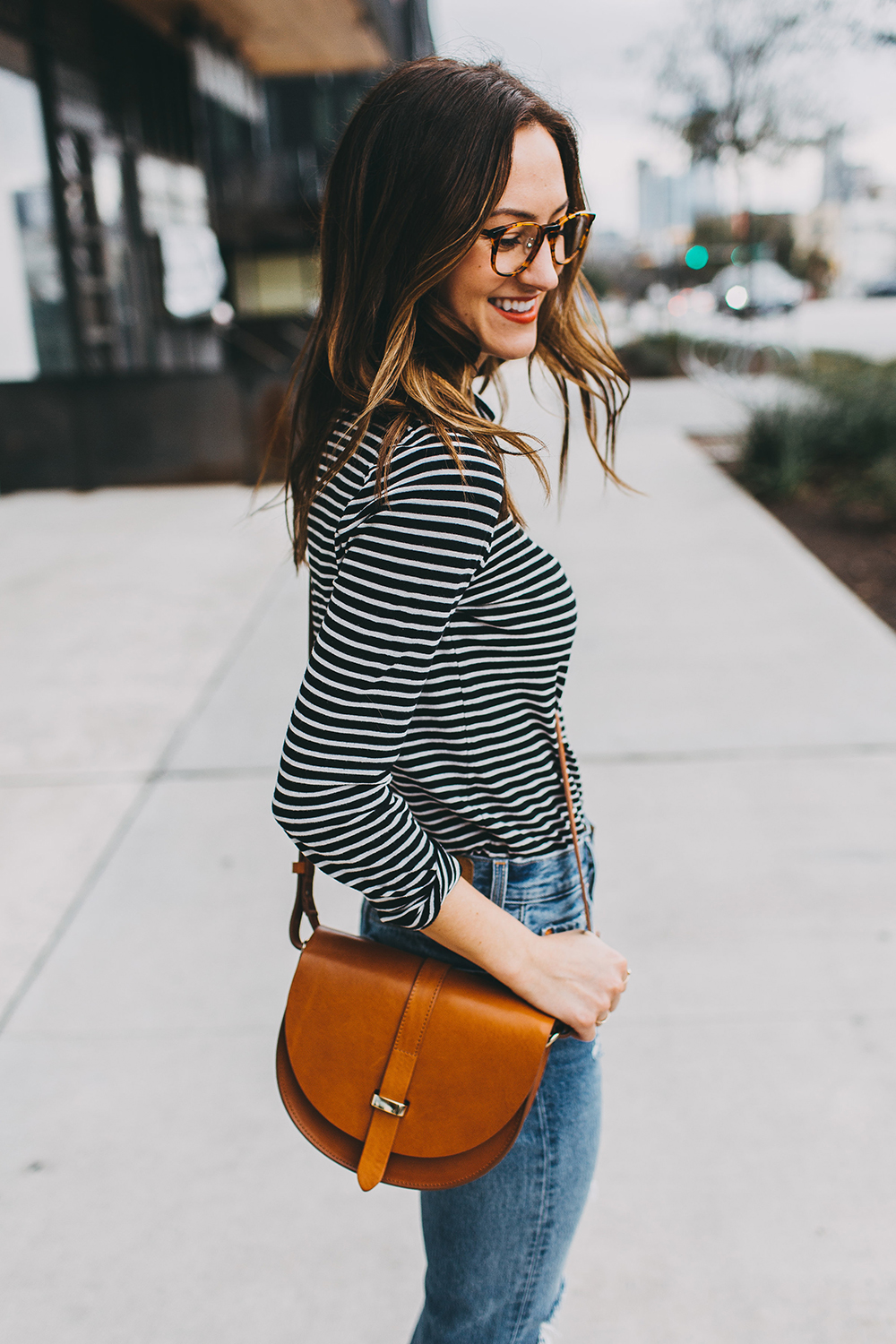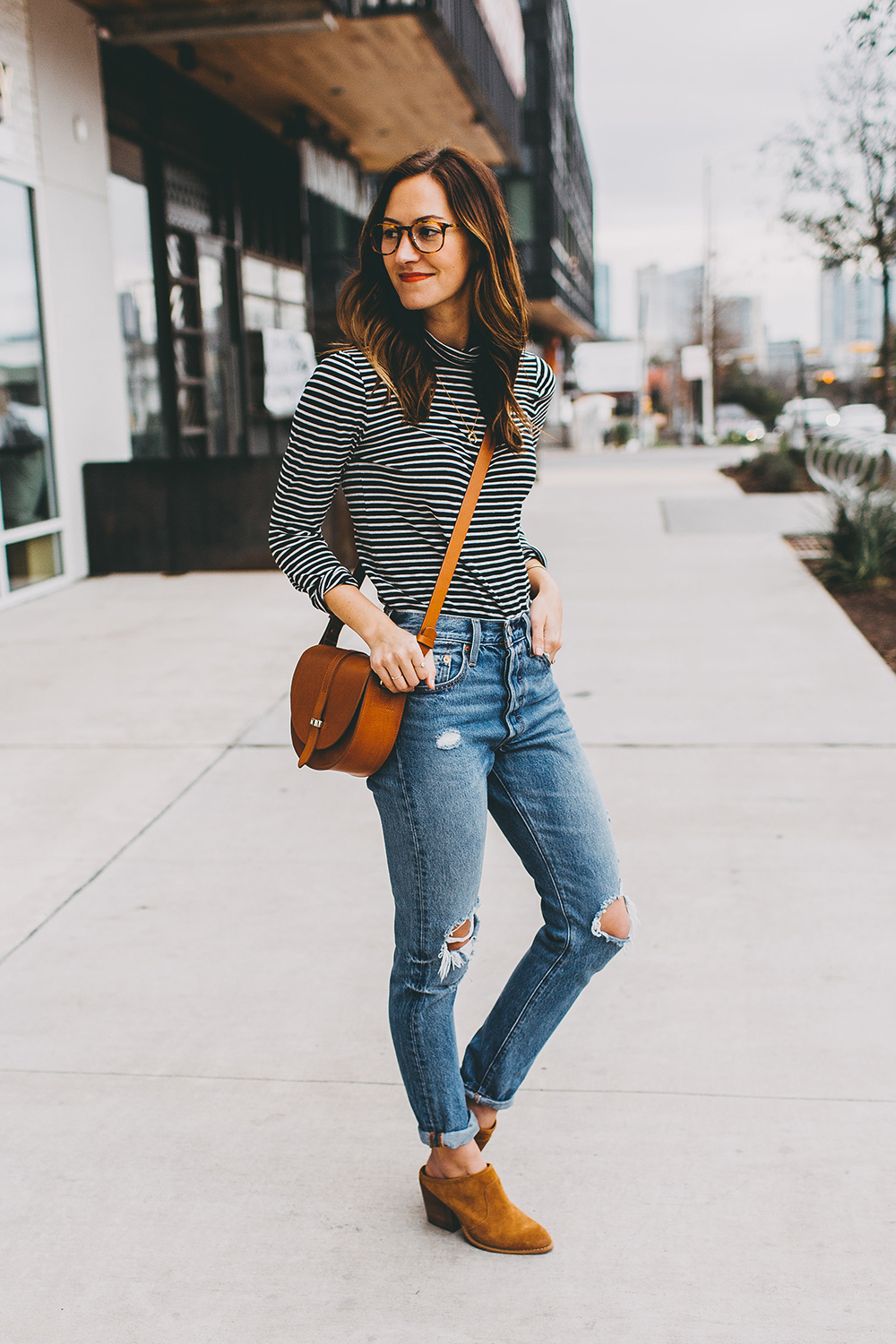 For starters, let's forgive the humidity hair action going on in this post haha. Austin doesn't know if it's hot, cold, extra dry or super humid and my hair is paying the price lately! Second…what's your "I feel most myself when I'm wearing…" outfit of choice? As you can tell from my blog and IG feed, I am a total jeans girl through and through…and this particular pair of high rise denim is one that gets worn more than the rest! Y'all know my love for stripes runs deep, and I truly can't tell you how many times I have worn this cozy top in the last few months (…no lie it's likely an embarrassing amount of times, ha!). Lastly…oh those good 'ol cognac accessories I can't seem to shake. I am officially embracing my love for this color everything and will no longer hold myself back from buying aaaaall the (tan) things!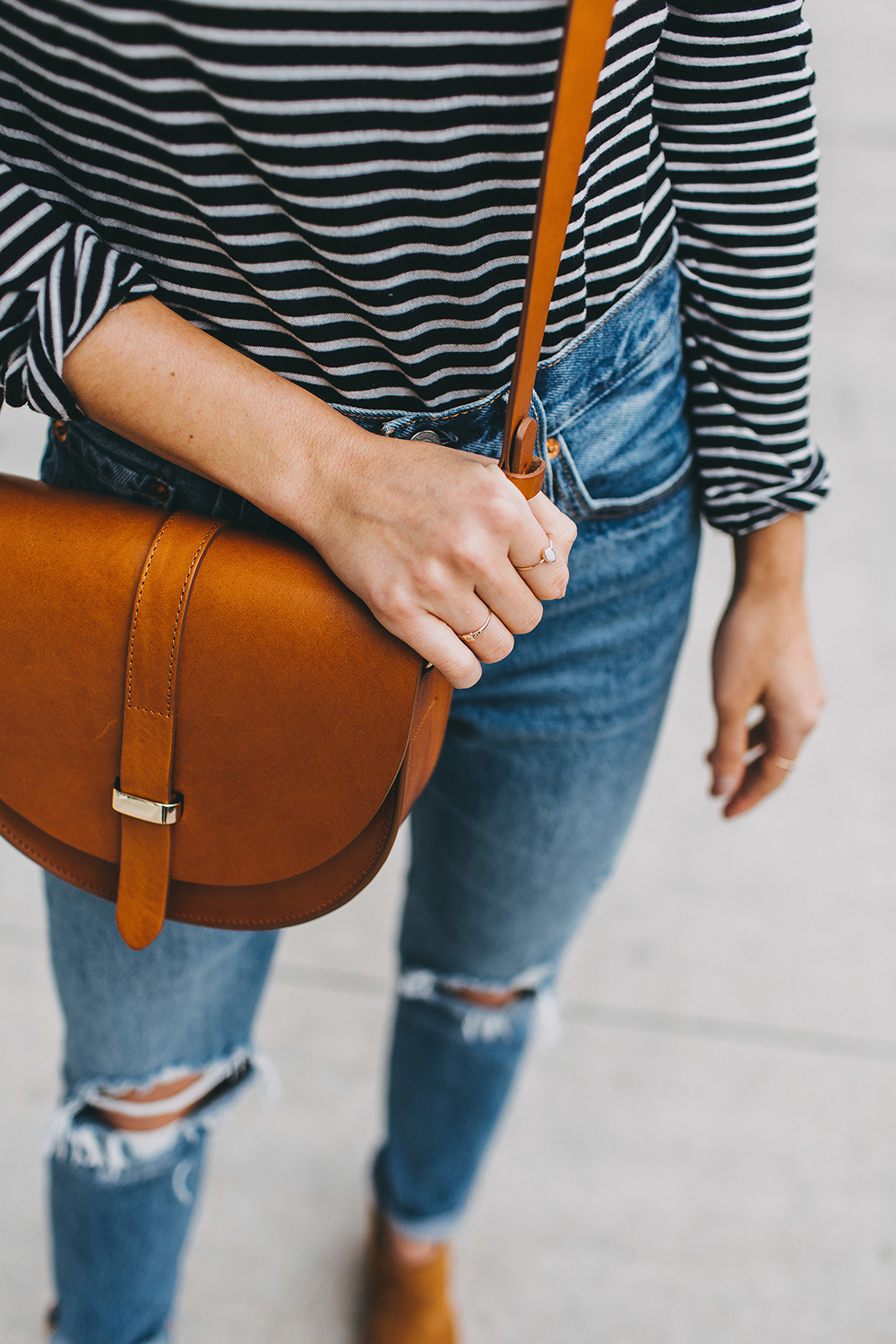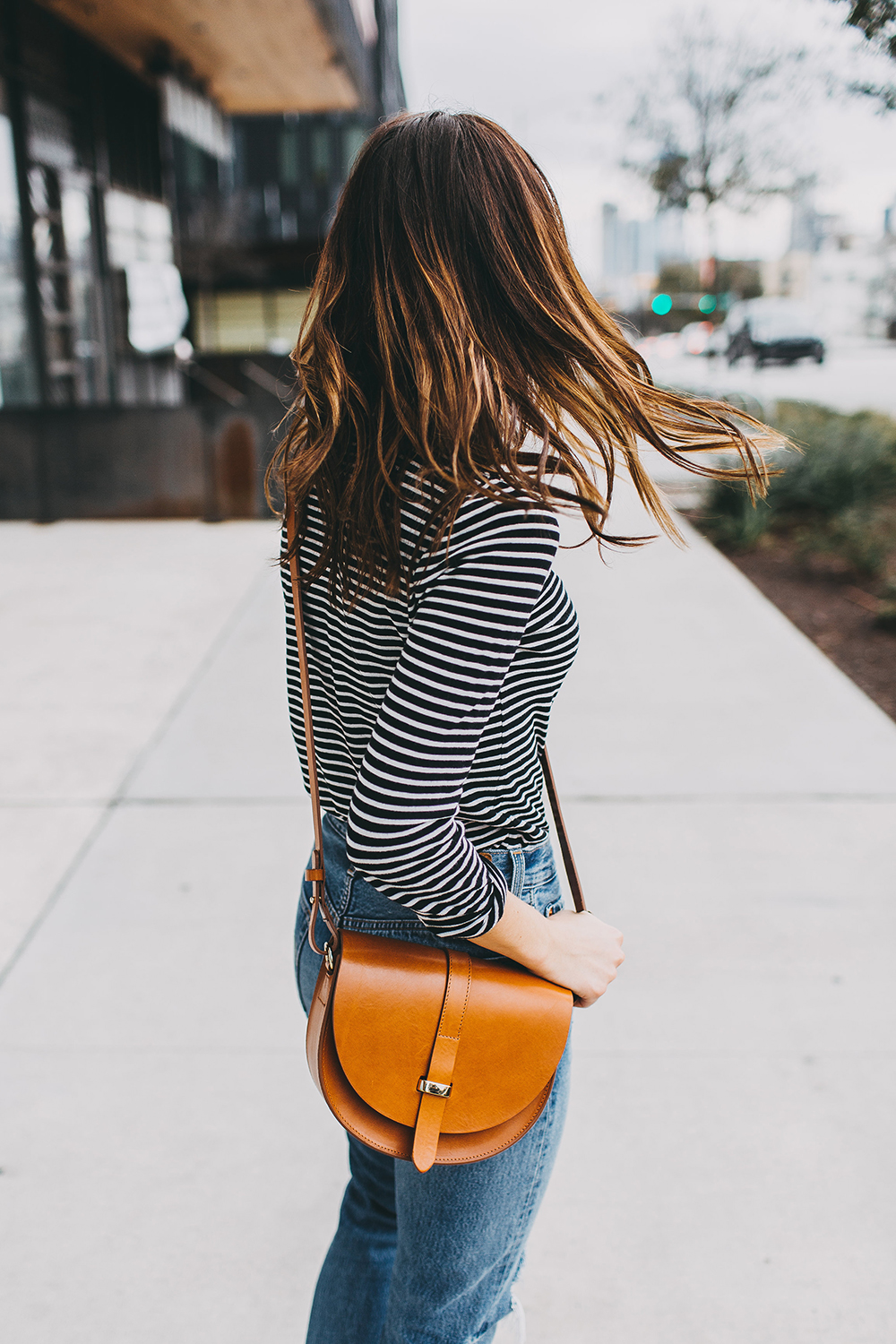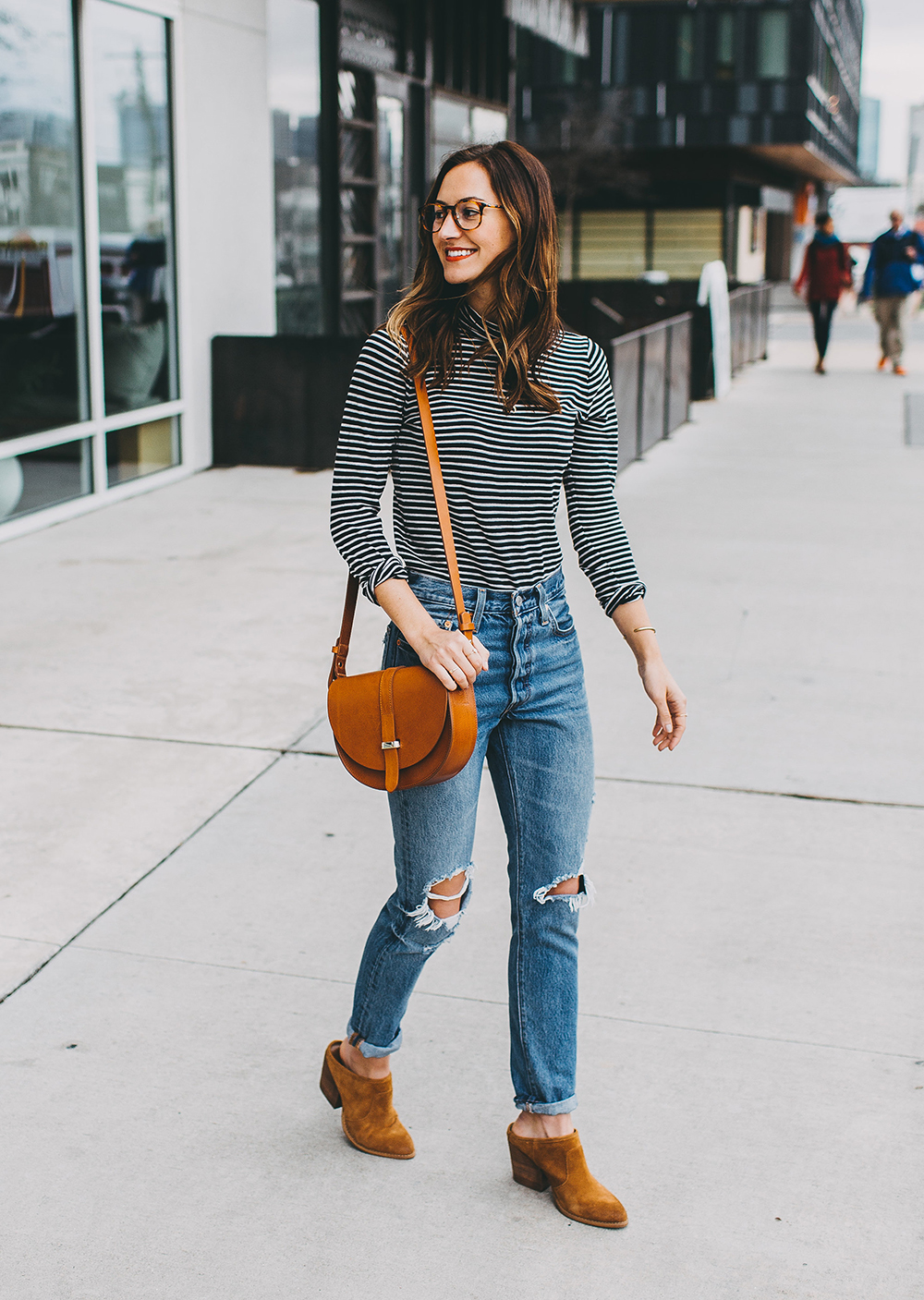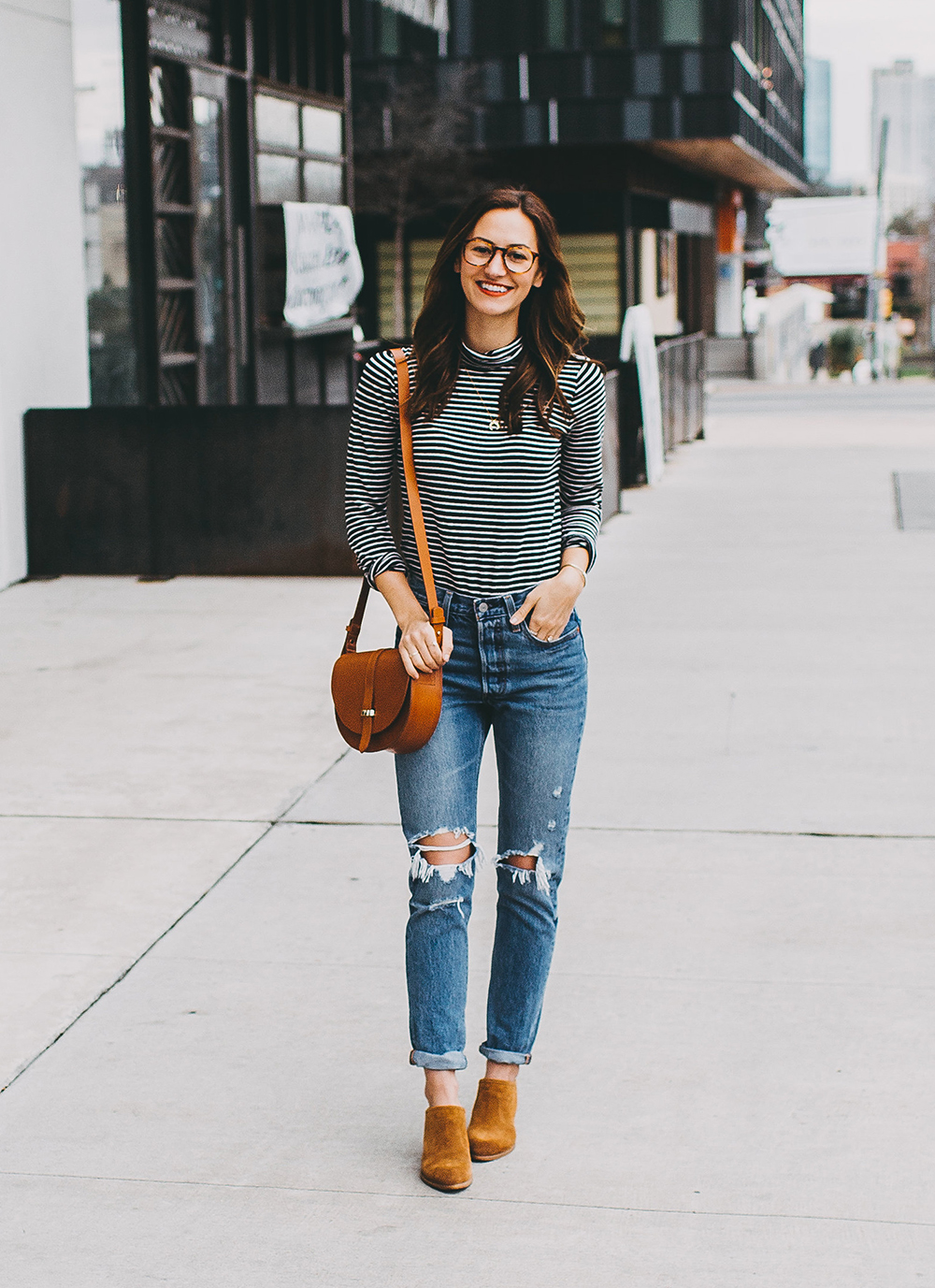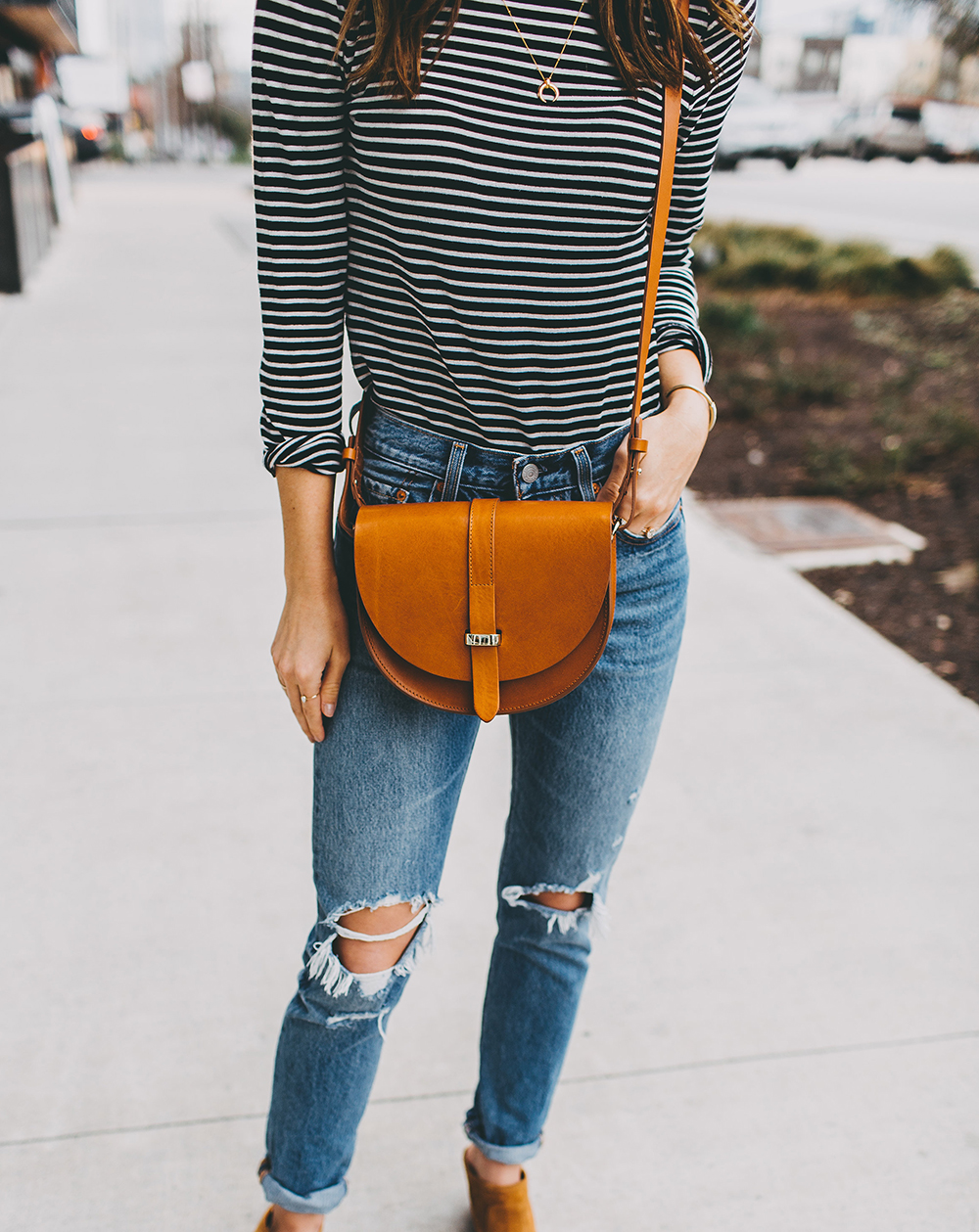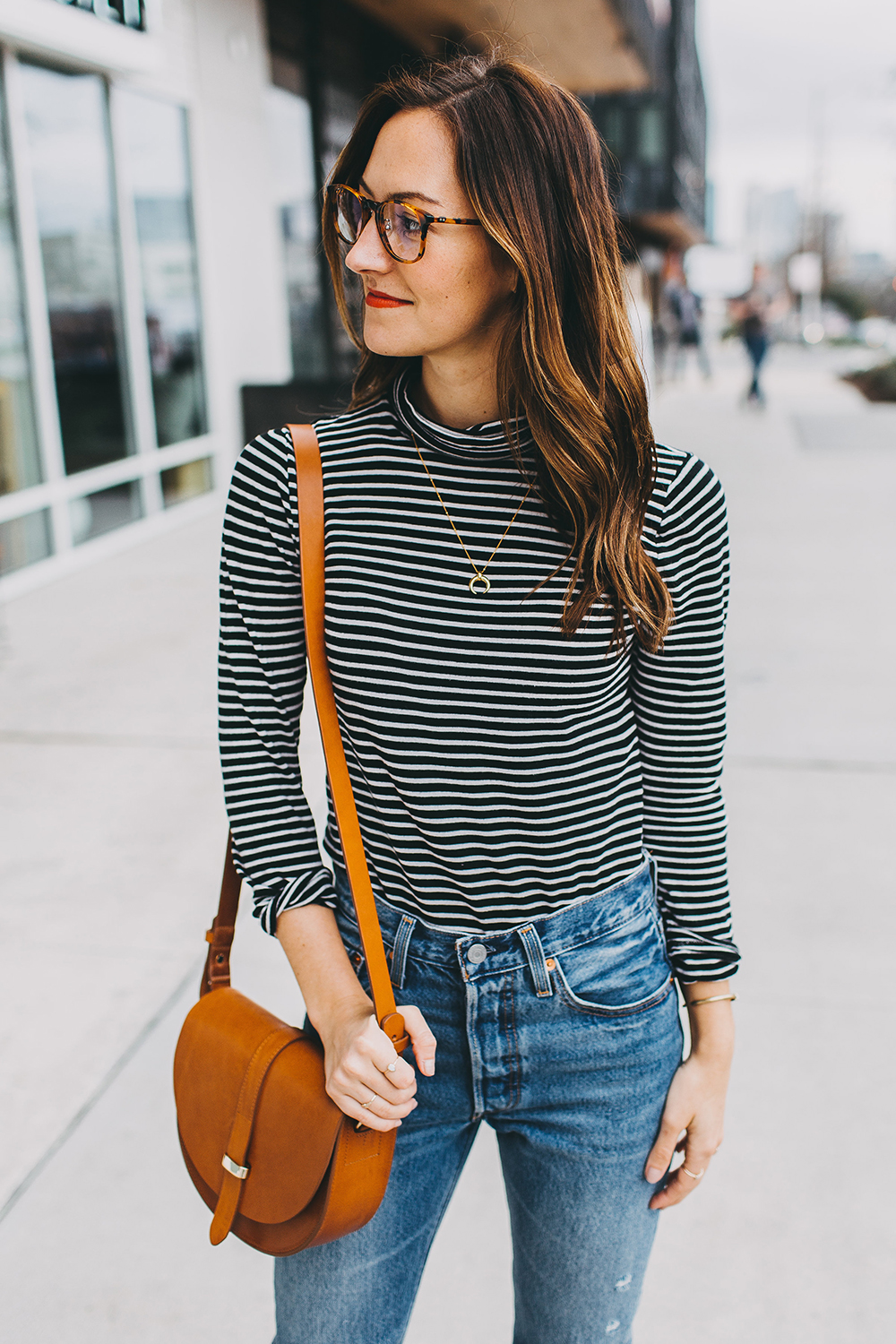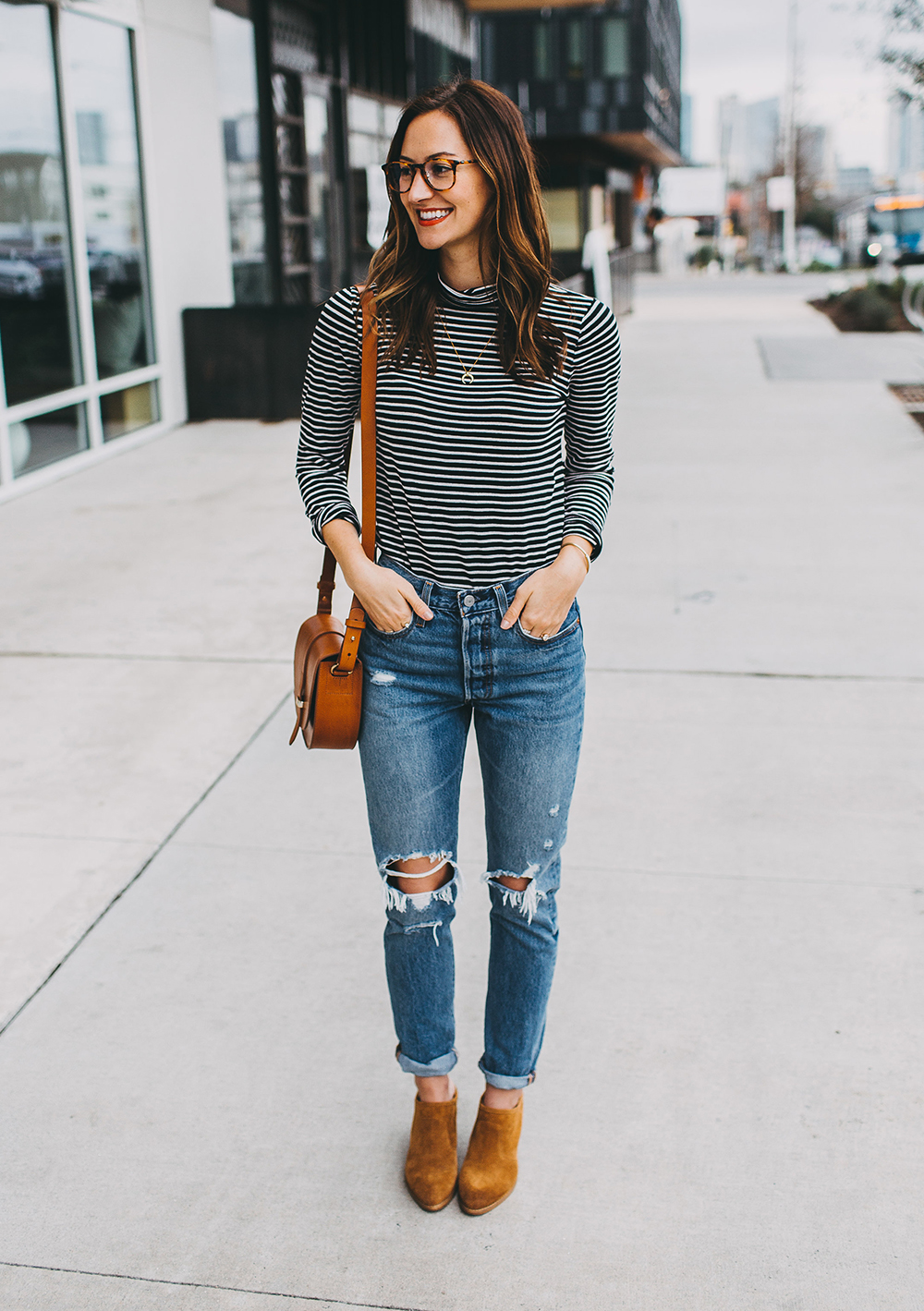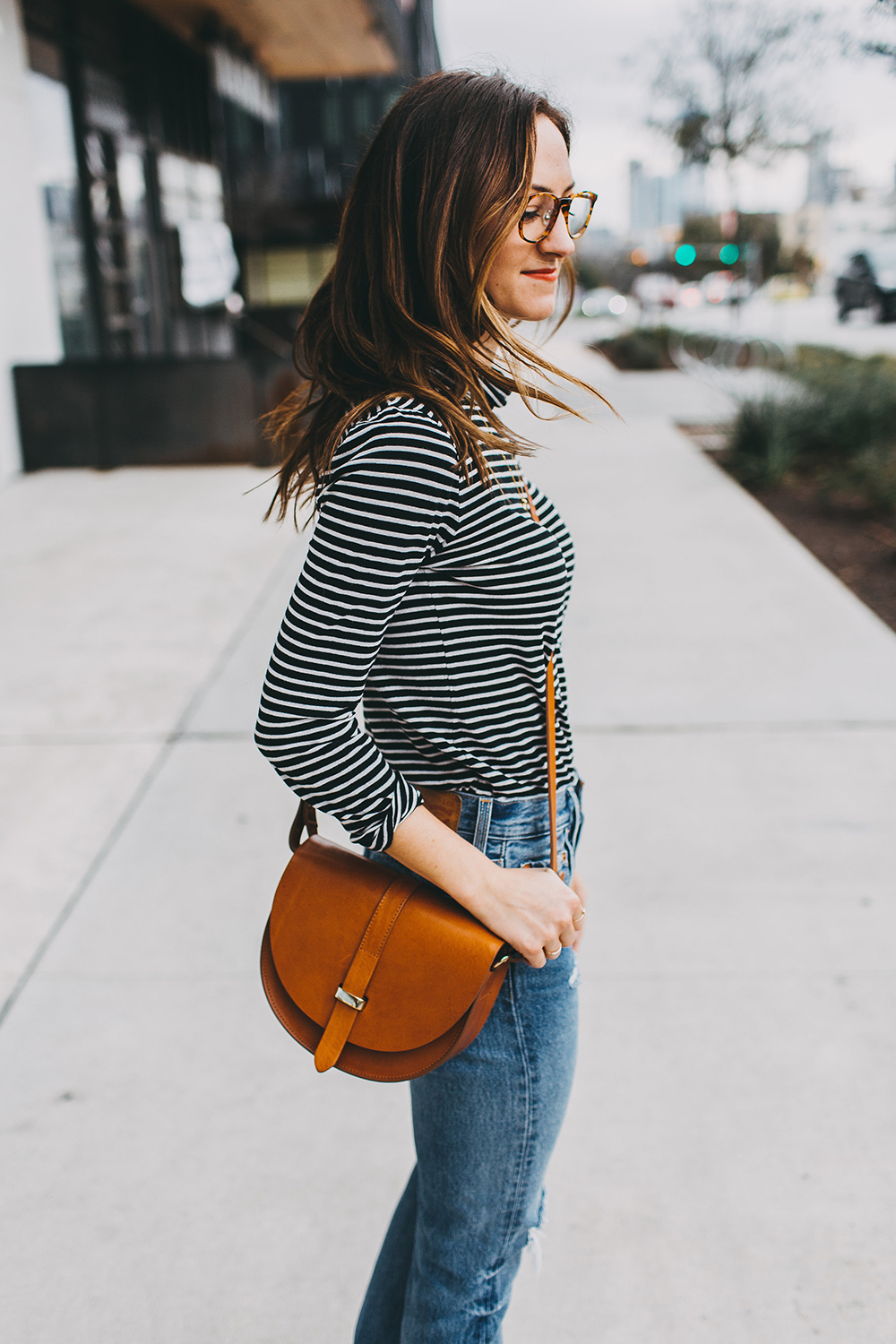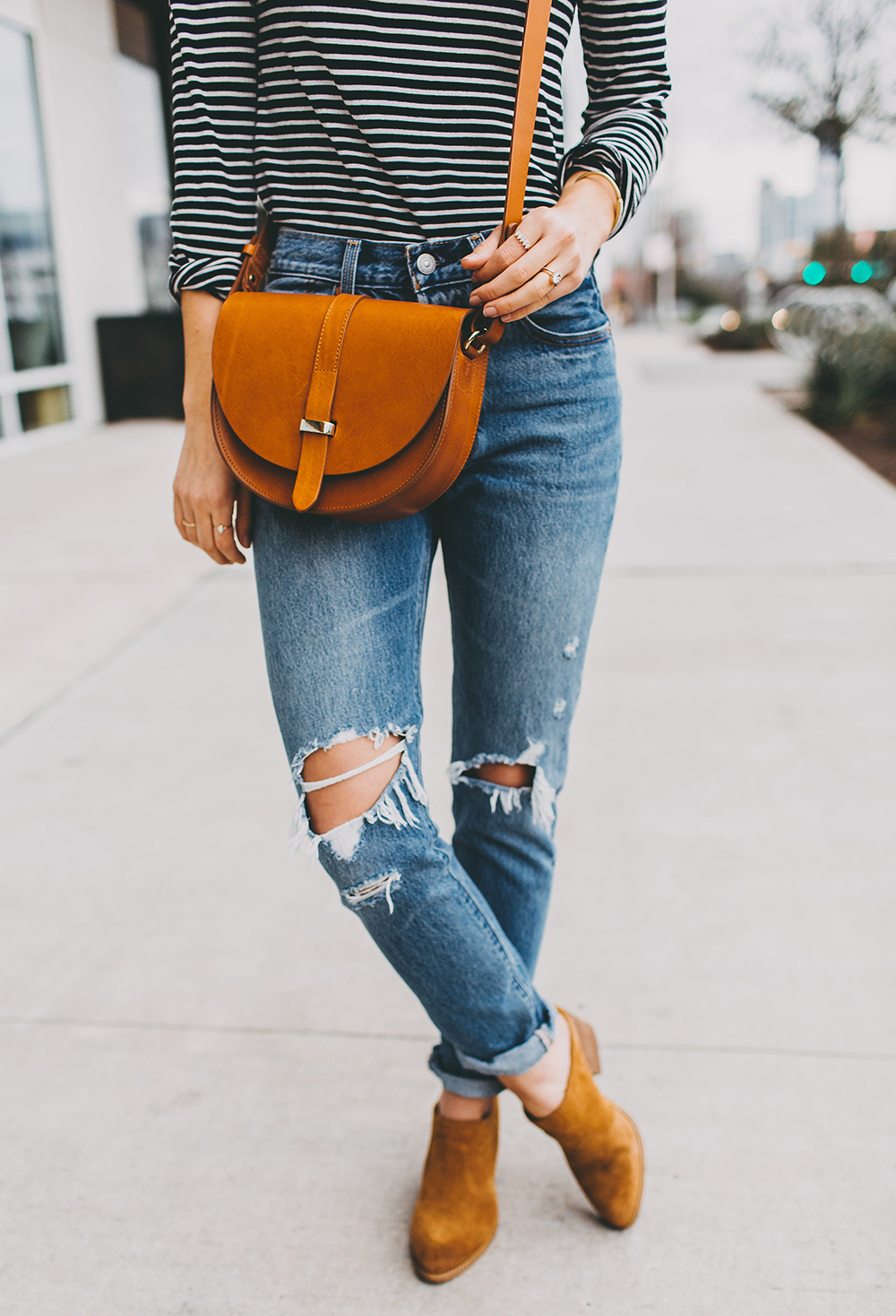 A couple of things! My shoes are old (by Treasure & Bond last year), so I am linking to a few similar options below (…the Madewell version is pretty darn close). Aaand my top is from J. Crew last year so I linked to a bunch of awesome striped turtlenecks that would be equally lovely to recreate this look!
Did you notice my new handbag? Ohh I am in loooove with all things Sezane lately! If you haven't checked them out yet (…you're welcome! 😉 ) then you muuust so we can drool over every tiny detail together. Handbags, shoes (swoon!), the prettiest and most feminine clothing… this brand is officially #closetgoals.
Lastly – do you recognize that pretty crescent necklace? I featured it in my Valentine's Day wish list post and voila…it magically appeared! 😉 Blake did good this year…with a helpful tip from me haha. LOVE the length and the quality is outstanding, such a perfect piece for layering, too.
Alrighty lovelies, I am off to go prep for my big SXSW lesson/learn session on Thursday (…omg my stomach is queasy just thinking about it! Public speaking = a major fear of mine BUT I am SO excited!!). I'll be speaking for a full 50 minutes about how to start a blog! Are you coming to the event? If so, please come up and say hello – I would LOVE to meet you!!! XO
**Photos by Anna Szczekutowicz Photography
jeans – LEVI'S / top – (mine is old) similar MADEWELL or EVERLANE / shoes – similar MADEWELL / handbag – SEZANE / necklace – MISSOMA / lipstick – MAC "Lady Danger"