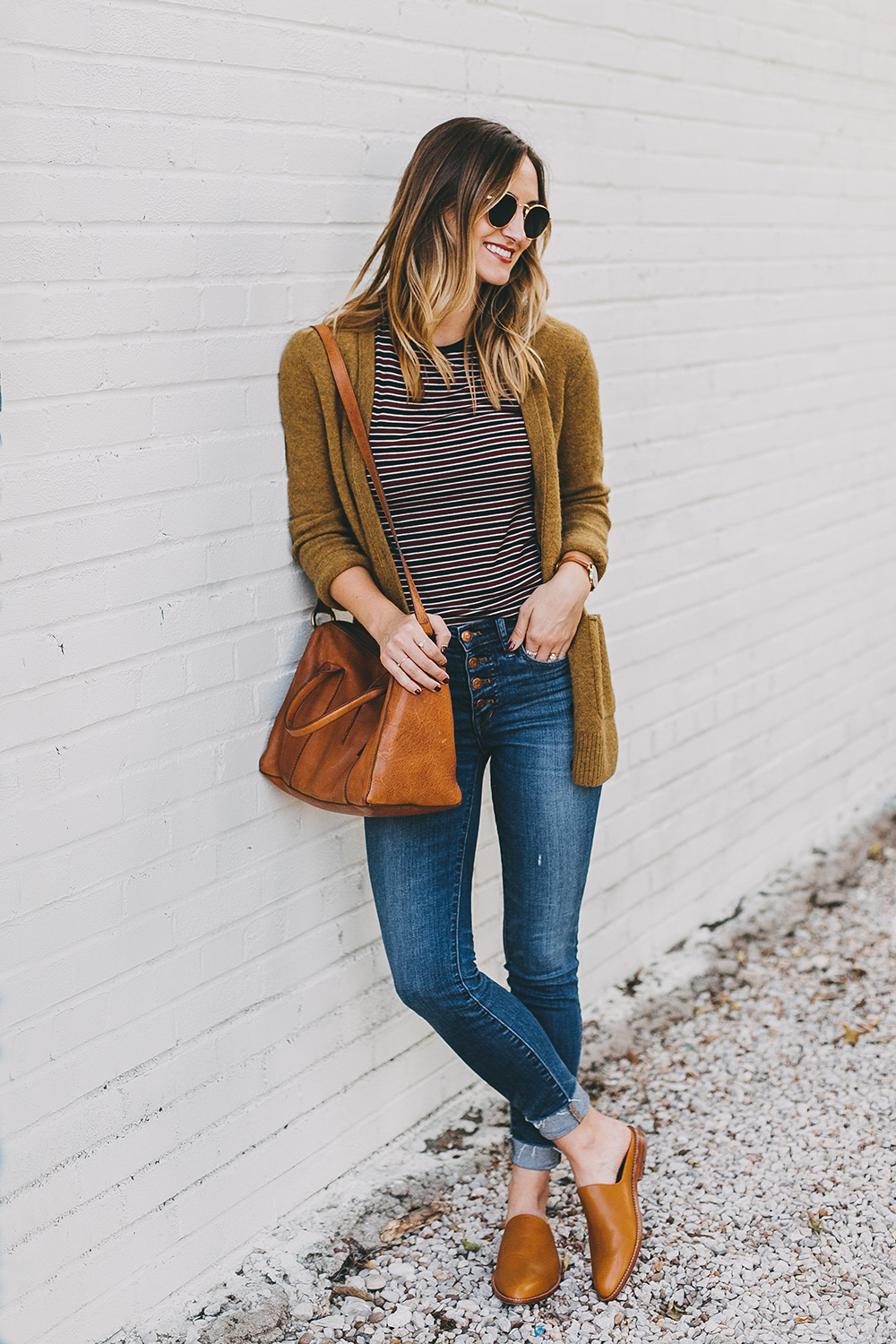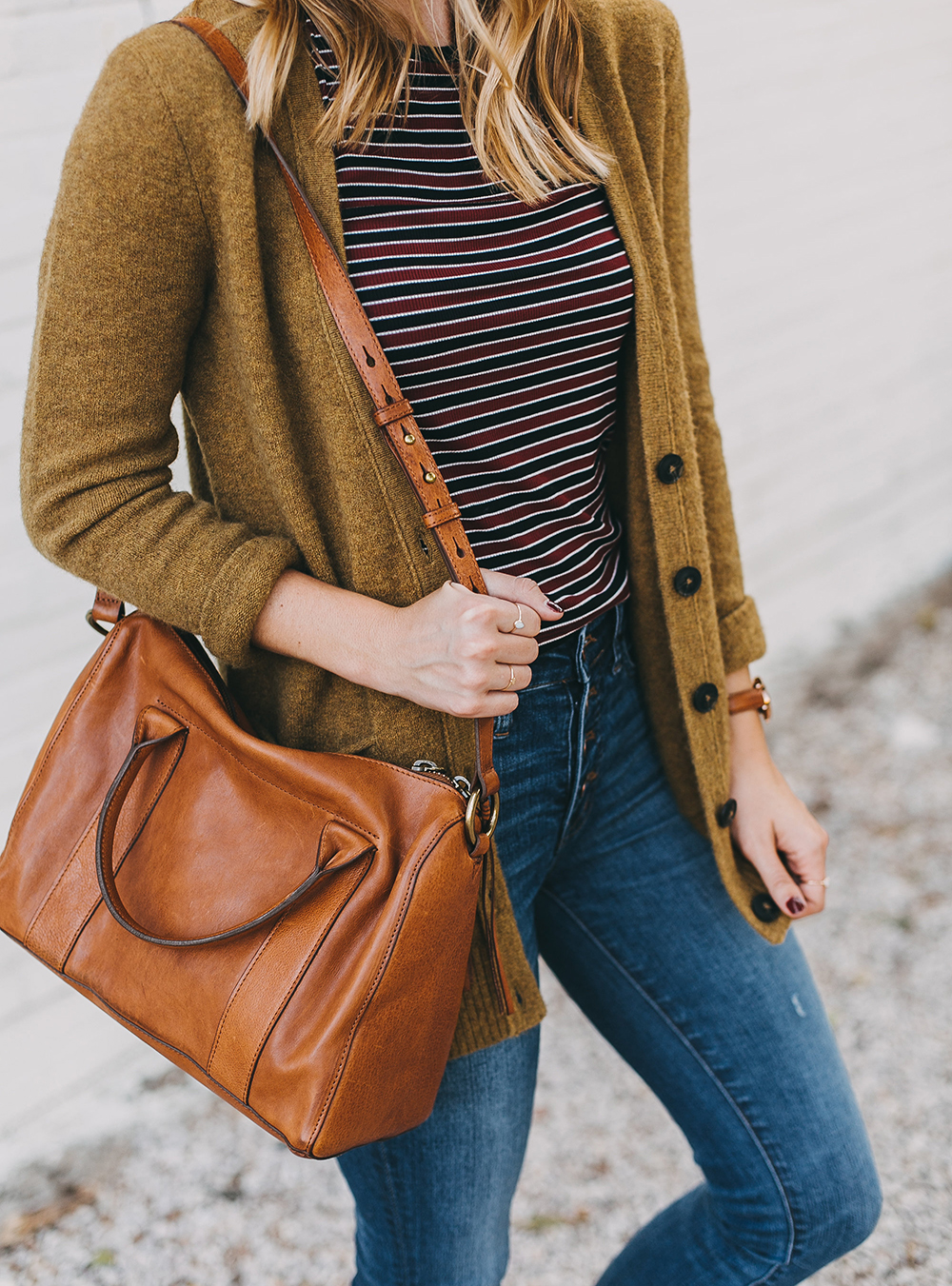 Happy weekend, friends! I hope y'all had a wonderful week…between traveling, finishing up a few collaborations and spending some time brainstorming future LL posts (lots of good stuff in the works!!), I am looking forward to spending quality time with Blake and just enjoy being home! Saturday mornings are my favorite…hot coffee, pajamas, Watson cuddles…always good stuff to wake up to. We are also hoping to finish up our gallery wall in the family room this weekend – just need a few more frames and we should be good to go! Excited to share more home decor posts in 2018. 🙂
In the meantime, I've got a lot more style posts headed your way this month! Y'all know I'm a huge Madewell shopper (…literally every time I get paid I'm like, "Here you go Madewell, take it aaaaall!" haha), and there's a reason this is one of my favorite brands. Classic, versatile, timeless, casual…basically all of my favorite fashion elements rolled into one. Ps. This is not a sponsored post, I am just such a major fan of the brand! Excited to share a few key pieces I've been wearing non-stop this season…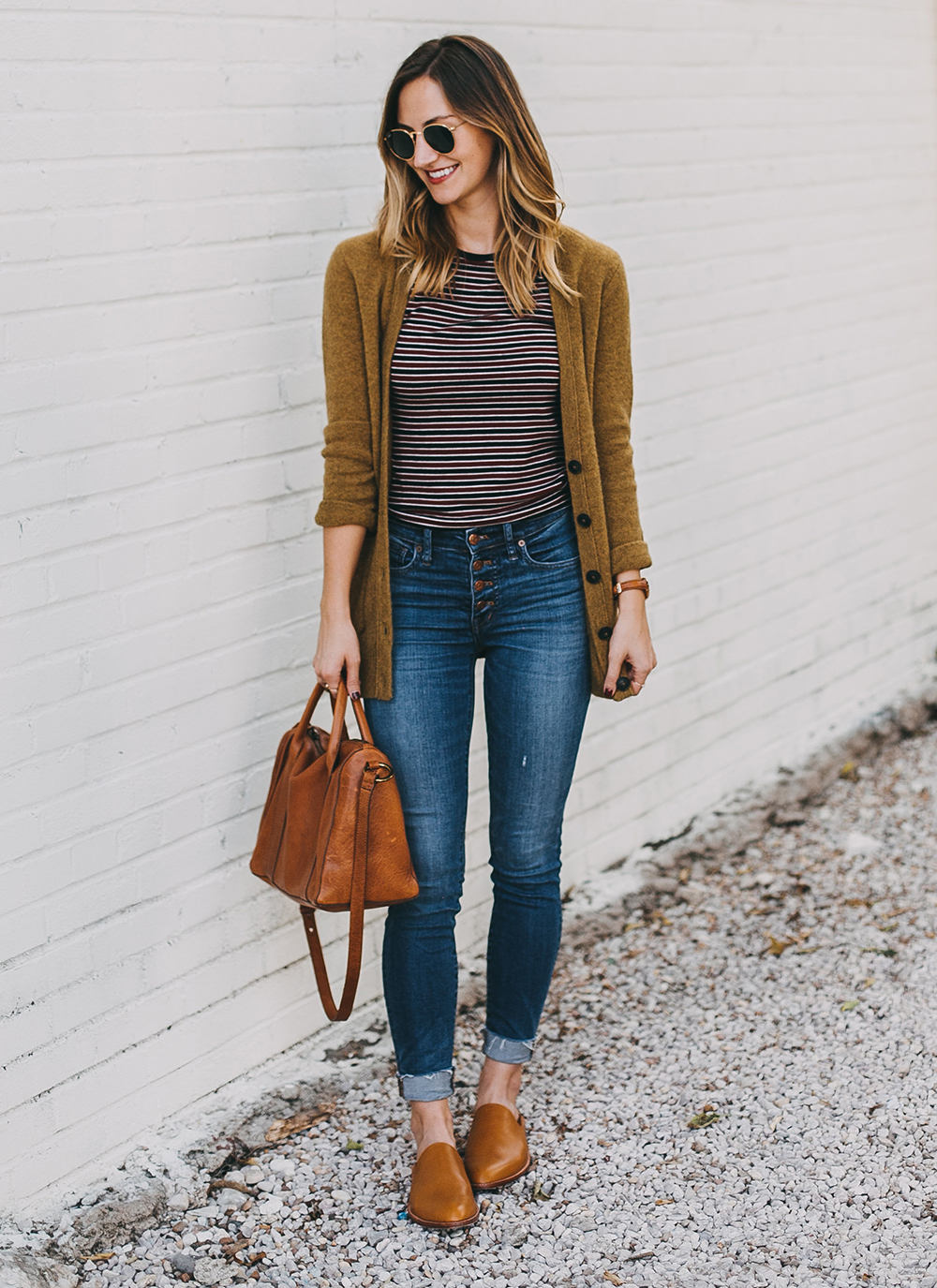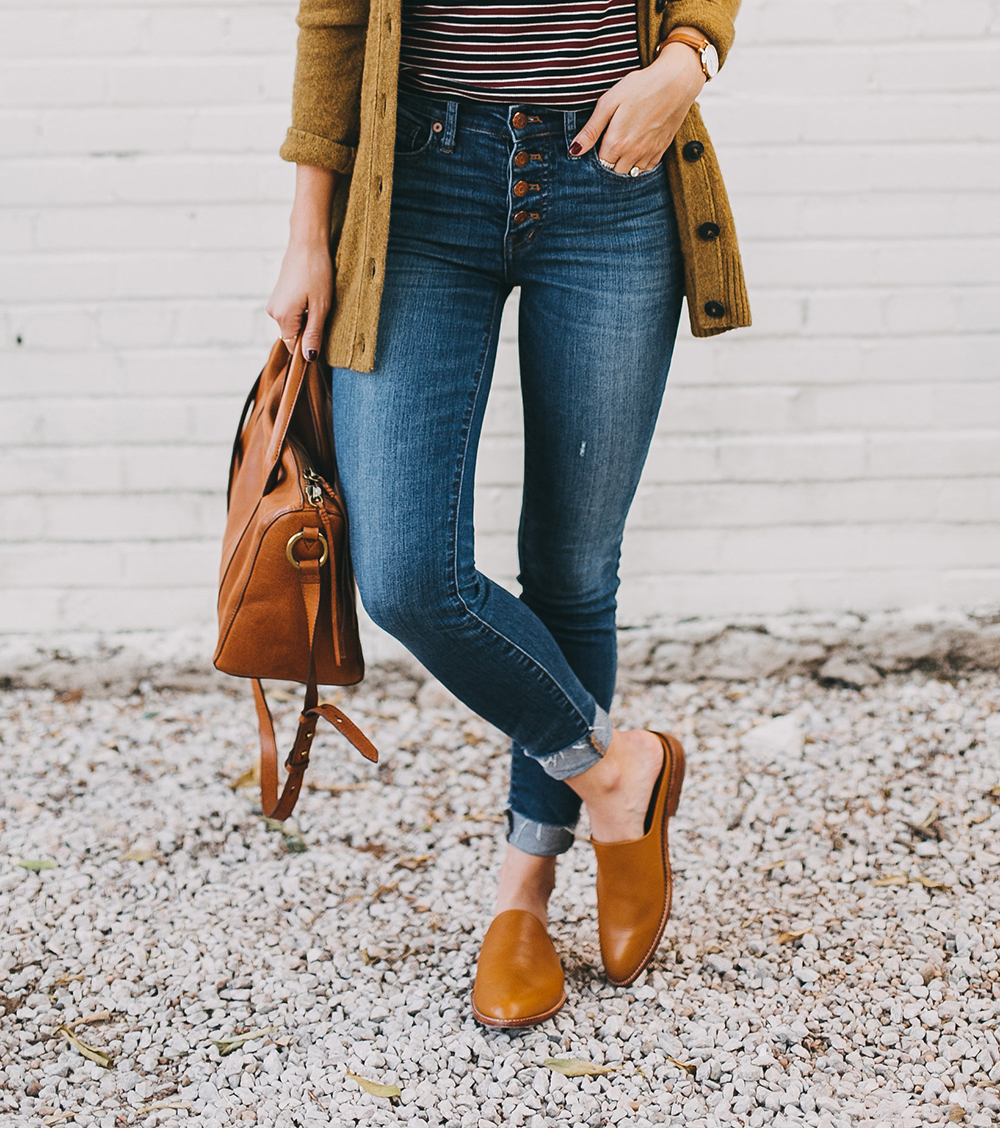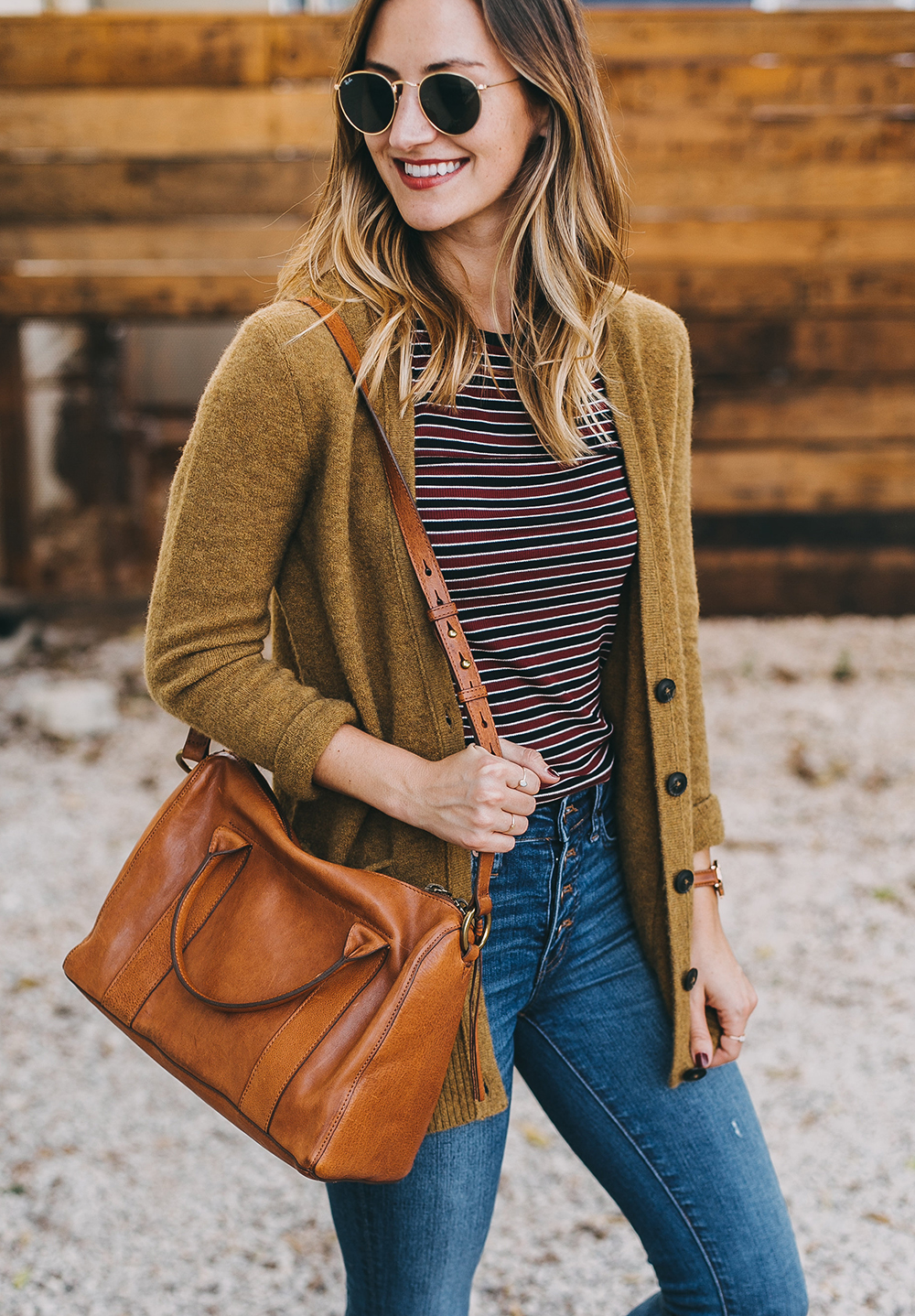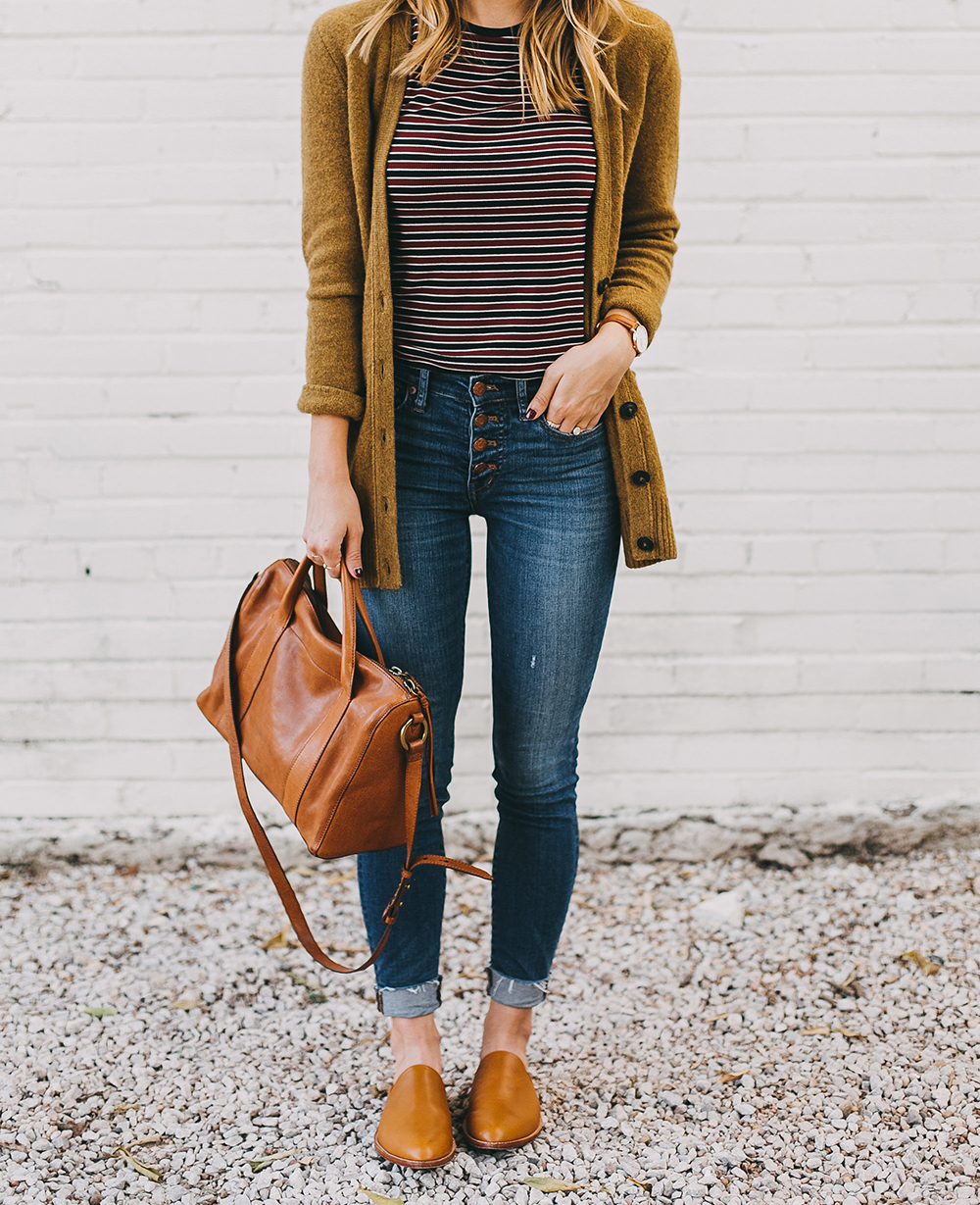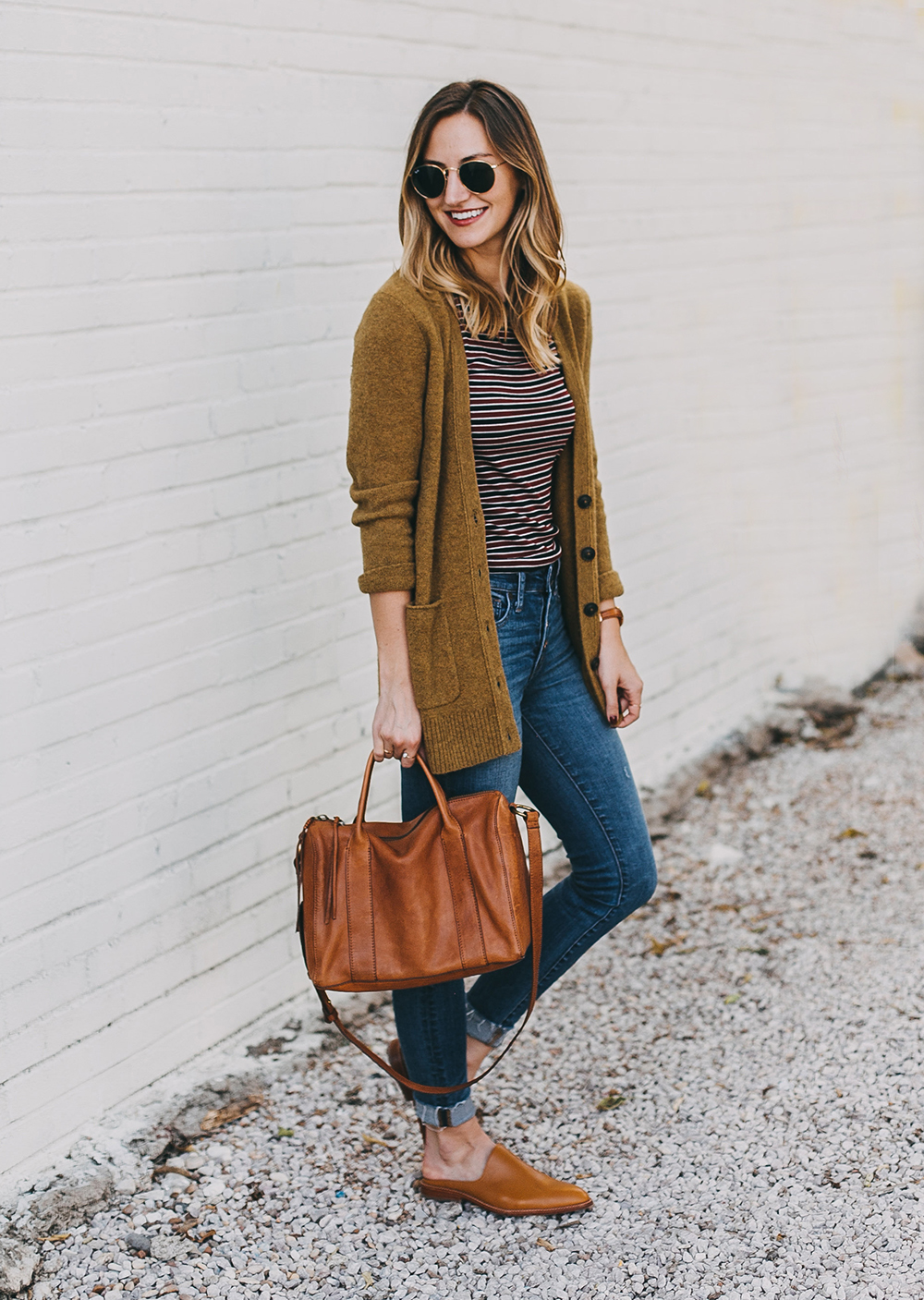 My high school self would be so proud of this outfit…I've always been such a lover of cardigans (…basically all I ever wore in high school, ha!) and this ultra cozy (super soft, no itch) grandpa cardigan is perfection. The muted mustard color (swoon!), the big buttons, the length…truly it's a must if you're a cardi kinda gal. It also comes in a few color options (…I scooped up the grey version, too).
My denim is also by Madewell and ooooh girl are these SO flattering! The rise is just right (…you can still eat to your hearts content without having your circulation cut off haha), the frayed ankles add an on-trend touch and the exposed buttons are always a win in my book. I recommend going a full size down in this style…I got a 24 and am normally a 25 in jeans. My mom and sister also got the same pair and the size down fit best for them, as well. Highly recommend for a chic pair of non-distressed denim!
Lastly – that baaaag! Handbag of my dreams and I assure you it'll make your handbag dreams come true, too. 🙂 I'm a sucker for a relaxed leather handbag (also comes in black!) and I can't tell you how many times I've been stopped out and about by folks wanting my bag details. It's a showstopper that won't break the bank (hooray!), can't recommend it enough.
While we're going top to bottom with this look, lemme just touch on the SHOES! These are magical slides by a local Austin brand called Fortress of Inca. While yes, they are a higher price point, they are 100% beautiful, high quality kicks (handmade in Peru) and sooo comfortable. These may be the shoes I wear most of all…they match everything and add such a smart yet cool and relaxed vibe to an outfit. Wonderful brand (truly, the sweetest team behind it!) and fabulous shoes. They fit TTS for reference!
Alrighty gals, that's a wrap on the week! Can't believe Christmas is just a couple weeks away…still so much to do! Alas, tonight I am forgoing holiday stresses and am very much looking forward to a relaxing dinner with my hubs. 🙂 Wishing you a fabulous weekend, XO!
TEE – FOREVER21 / jeans – MADEWELL / cardigan – MADEWELL / shoes -` FORTRESS OF INCA / sunglasses – RAY BAN