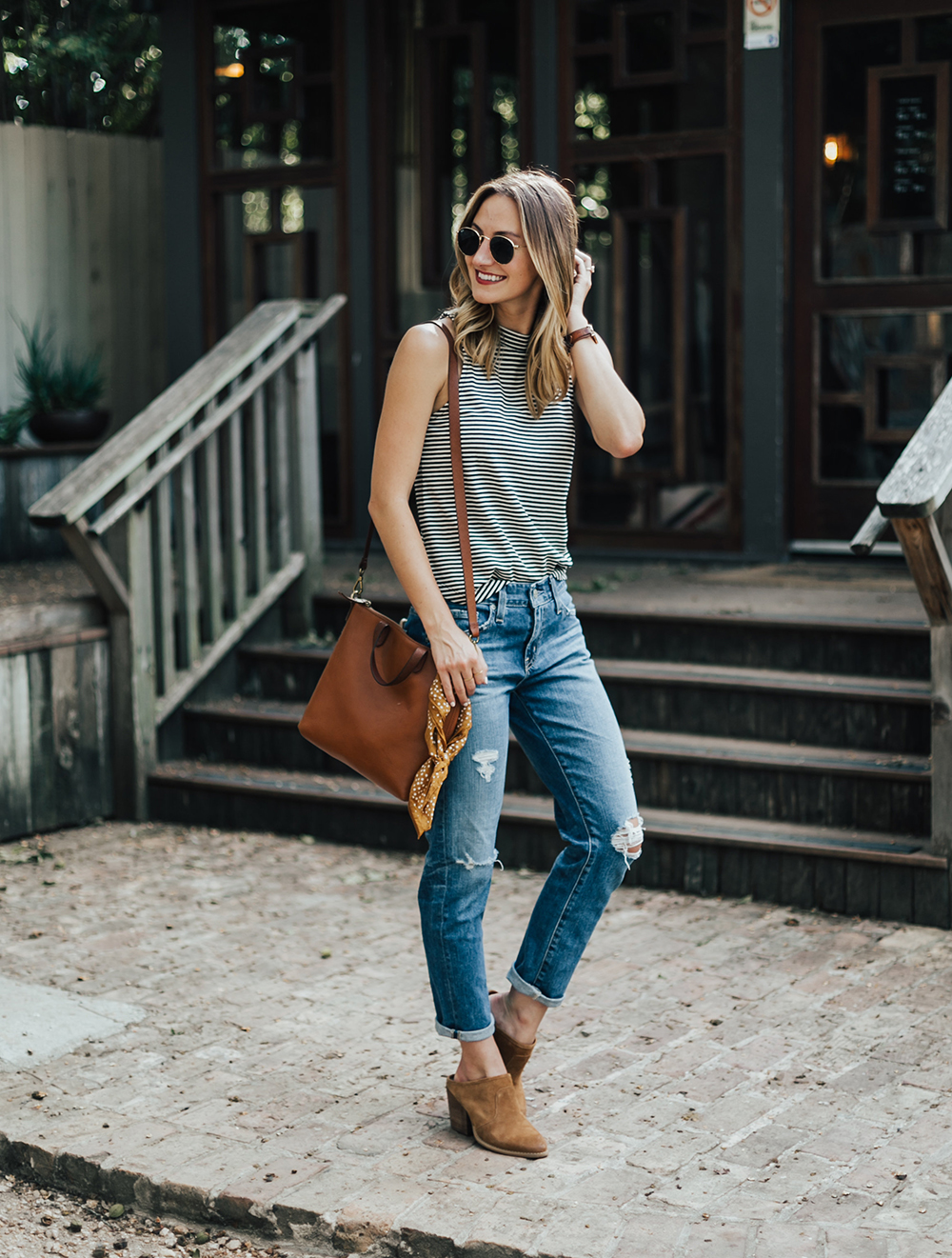 Hey ladies! Pardon my radio silence over the past week…things got kinda hectic in my world (to put it lightly! One of those "I need 10 of me" kind of things…), so it was time to take a step back from posting content and instead focus on creating some good stuff headed to LL very soon! Currently I am taking the weekend to recenter and get organized…I've just spent the past three hours at a random Starbucks in South Austin listening to everything from Odessa to Beyonce and finishing strong with new John Mayer, as I buckle down and knock out emails + photo edit (our laundry room is DONE! And so are the photos – wahoooooo!). Anyways…life is good, I am alive and the caffeine has kicked in…nothin' like some quality tunes and a cozy coffeehouse nook…my happy place!
Anyhoo – I hope y'all have had a wonderful weekend thus far! I also want to say thanks for sticking with me this week even if I didn't get a blog post up…I am always so amazed by the positive feedback on my site and Instagram even when I've been a hermit for a few days on end. Grateful for every single one of you!
Aaand now that the mushy stuff is out of the way… 😉 let's get to these JEANS!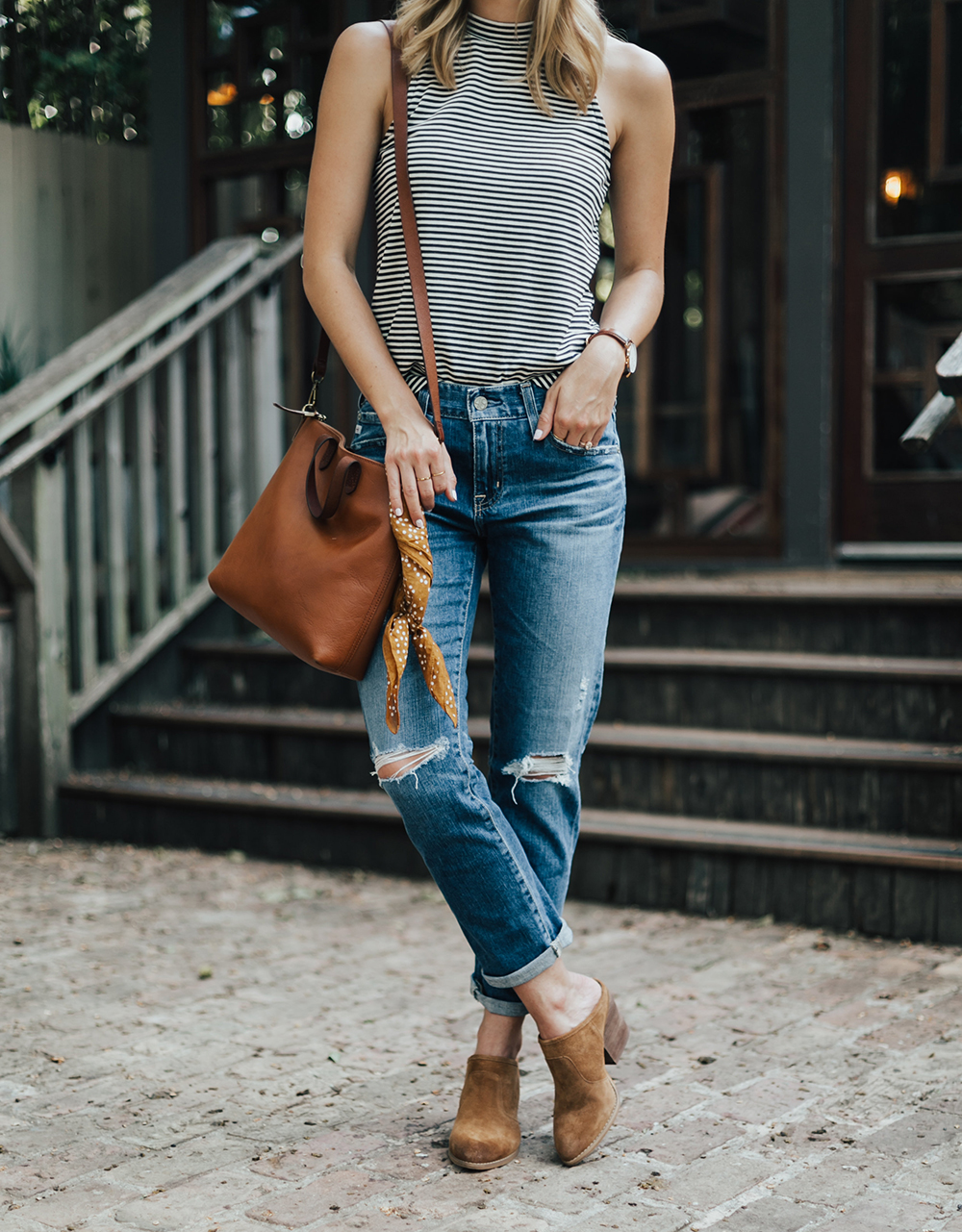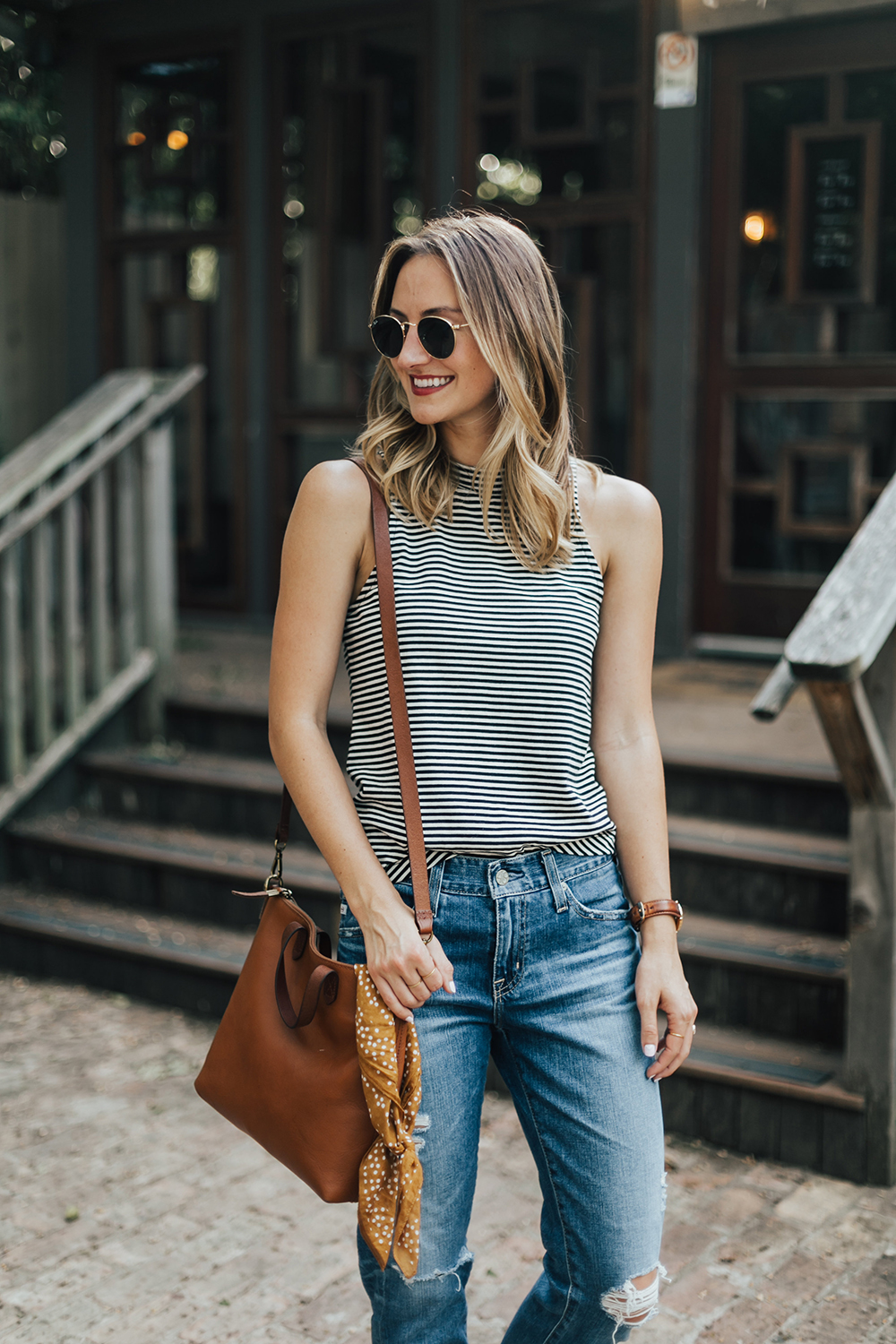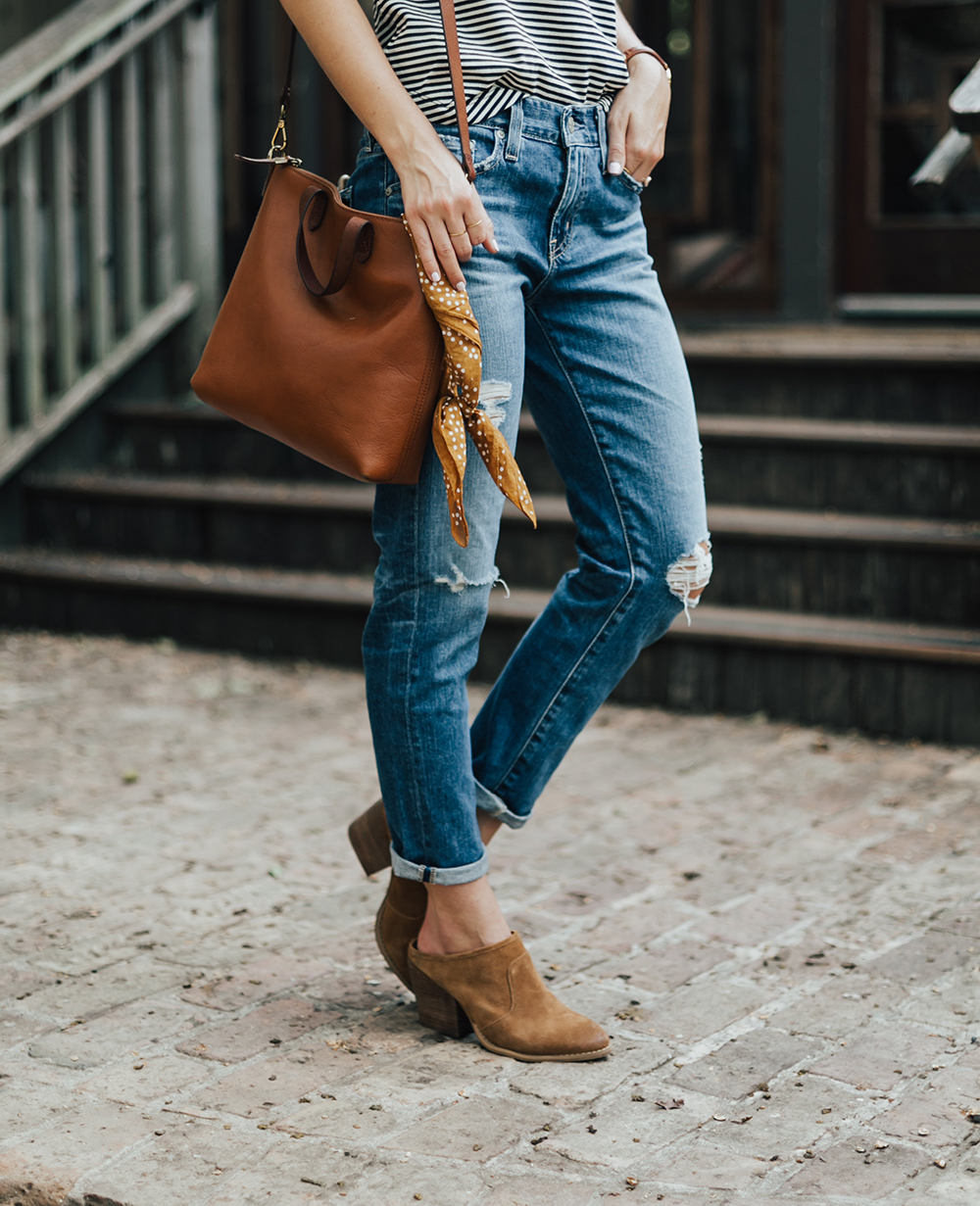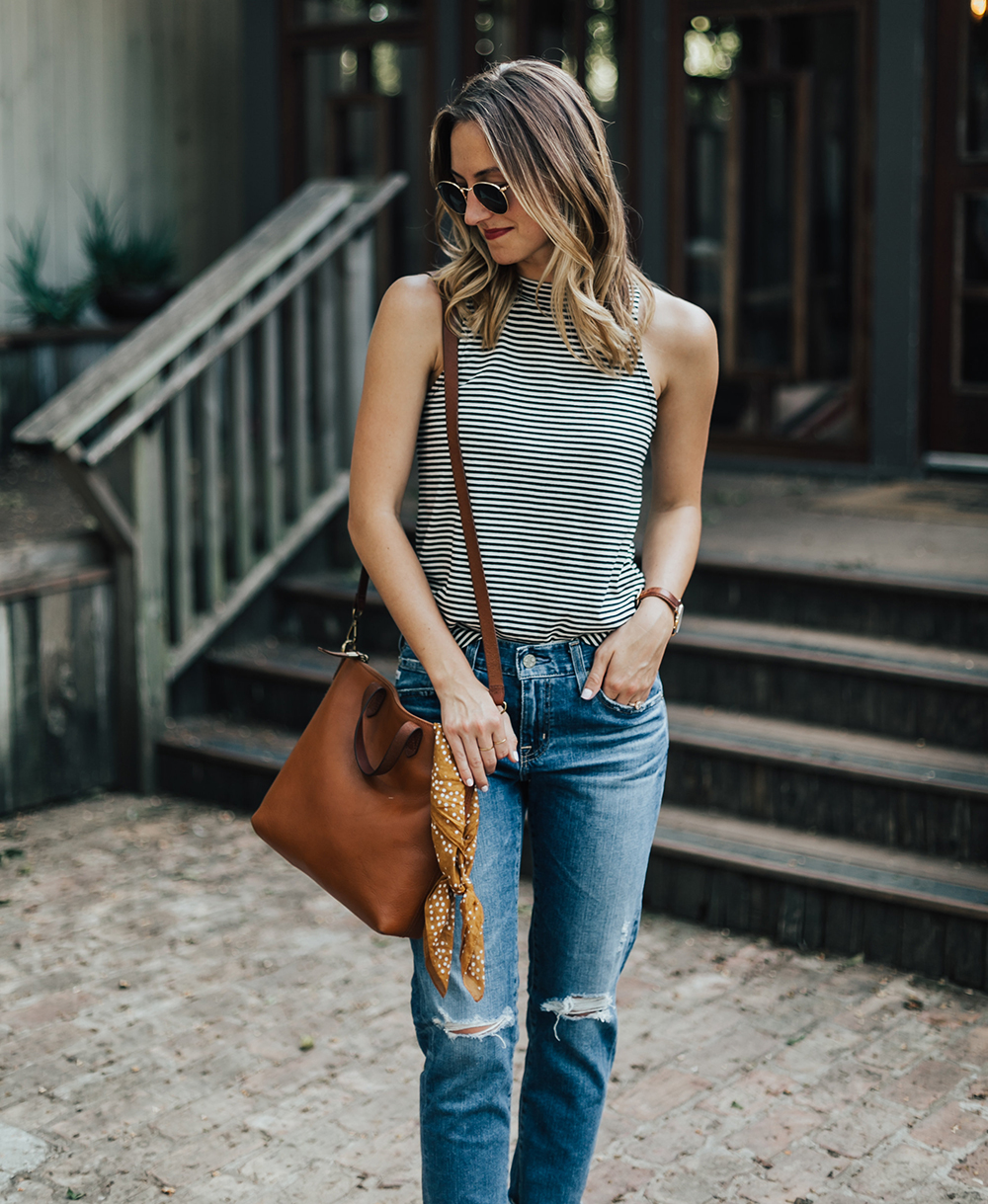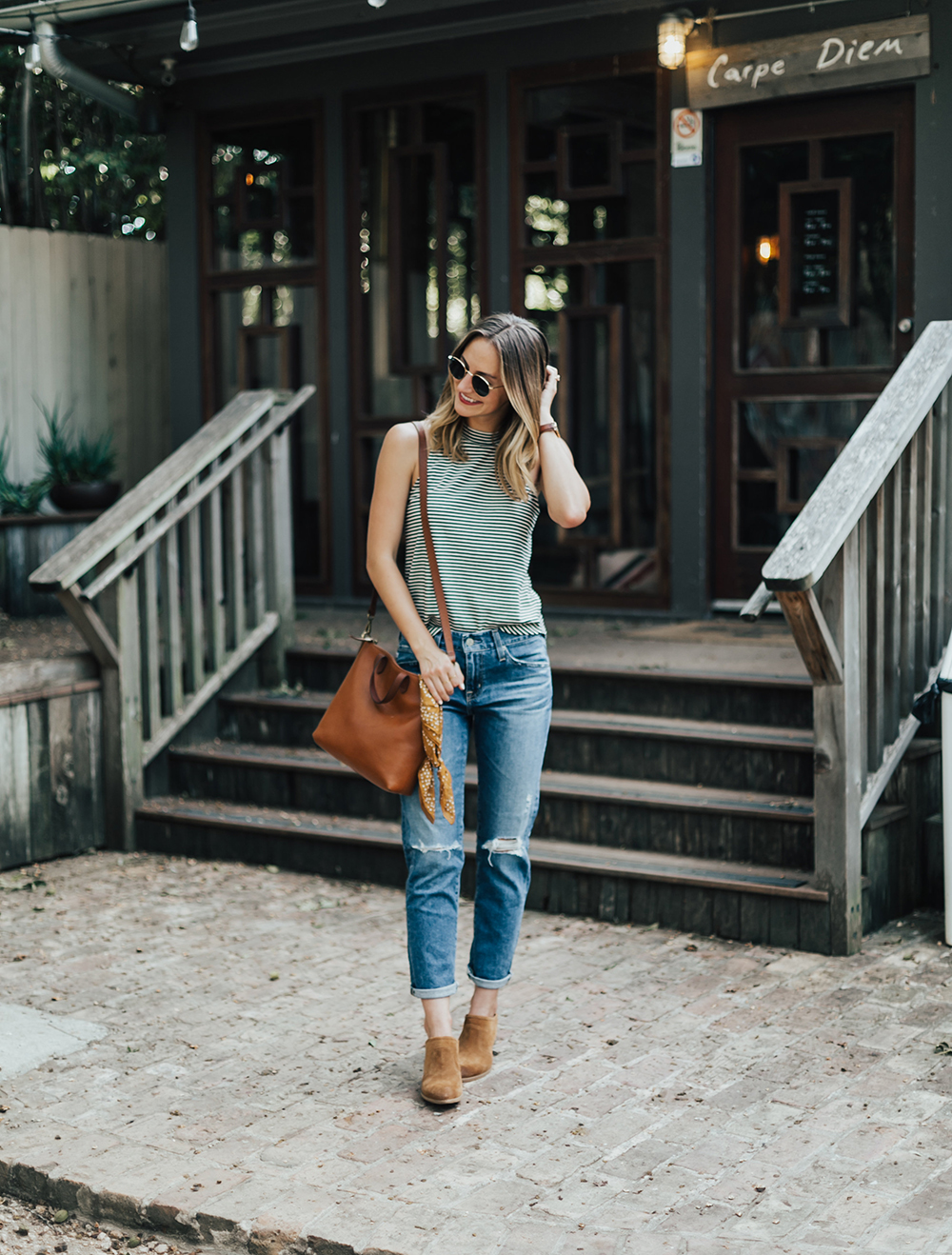 My hunt for a fabulous pair of boyfriend jeans has been a long one…with a lot of returns (hello, serial online shopper over here) until THESE. The fit is flattering and "effortlessly slouchy" which also means SO. COMFY. Not gonna lie, I am a big fan of granny-panties (perhaps I am over-sharing here…) and when you find a pair of denim that doesn't require a thong and also look amazing – you buy them. Immediately. And wear them aaaaall the time. Special shoutout to AG Jeans for creating these casual, comfortable, wonderful jeans! They fit true to size (I'm wearing size 25 and am 5'6 for height reference). Oh, and the best part? They're on major SALE and now 40% off!!! (I bought them full price, so kudos to you if you get them discounted!).
My striped top is Madewell (surprise surprise! 😉 ) and my shoes are discontinued from last year – so I linked up a couple of similar options for ya below (like this pair by Splendid, nearly identical!). Love a good pair of tan mules, they go with everything and add such a fashion forward touch!
Alrighty friends, that's a wrap on this one. Hope your weekend finishes strong! XO
**Photos by Brandon Hill Photography
top – MADEWELL / jeans – AG JEANS / shoes – similar SPLENDID / handbag – MADEWELL / sunglasses – RAY BAN