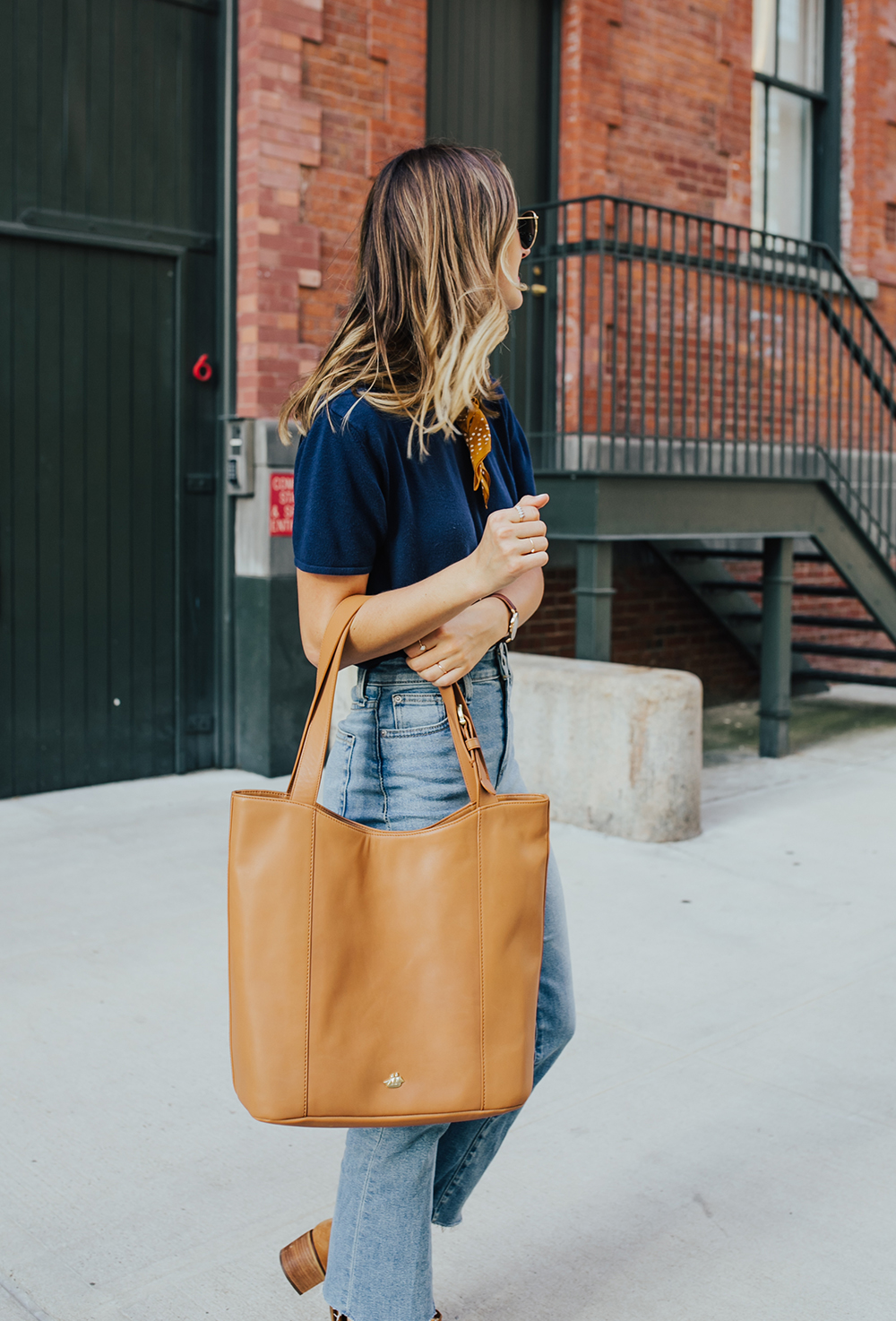 Sorry for the radio silence on LL this week (…and my Insta feed), I've had a bad case of the flu that pretty much kicked my butt! Not going to lie, as awful as I've been feeling, I think it's my body telling me to "cool muhh jets" and literally do a whole lotta  n-o-t-h-i-n-g  for a week straight. So! That's exactly what I've been doing. Movie watching, Netflix and actual chilling (Masters of None is SO GOOD!), going to sleep at 6pm for the past five days straight. Blake has been the best care taker and sweetest husband…I definitely lucked out, he is a true gem!
Switching gears…let's talk about this look! High rise + cropped flare jeans (omg I am not wearing skinny jeans, it's a miracle!), the cutest mustard neckerchief and a goooorgeous tote bag in my favorite color…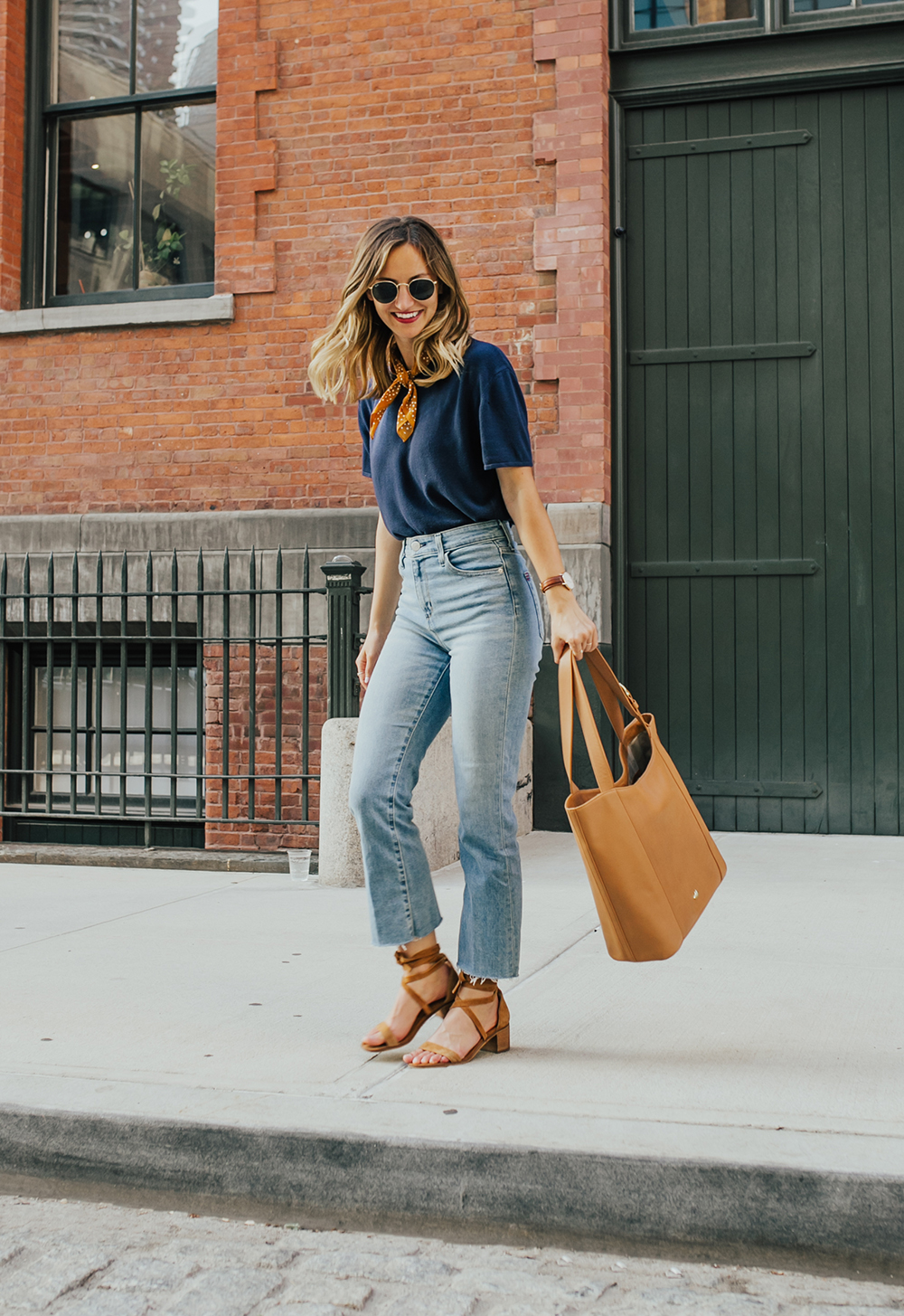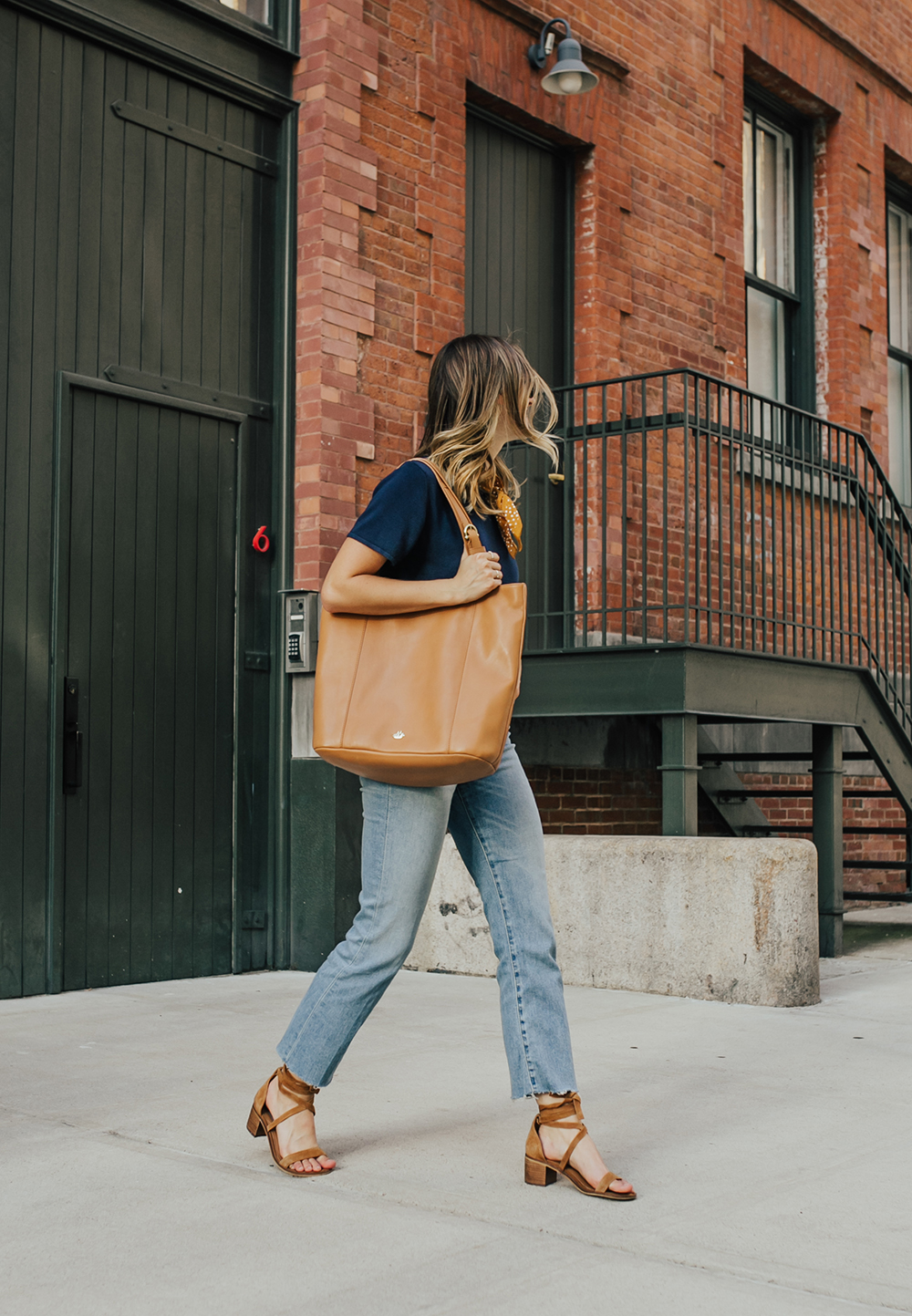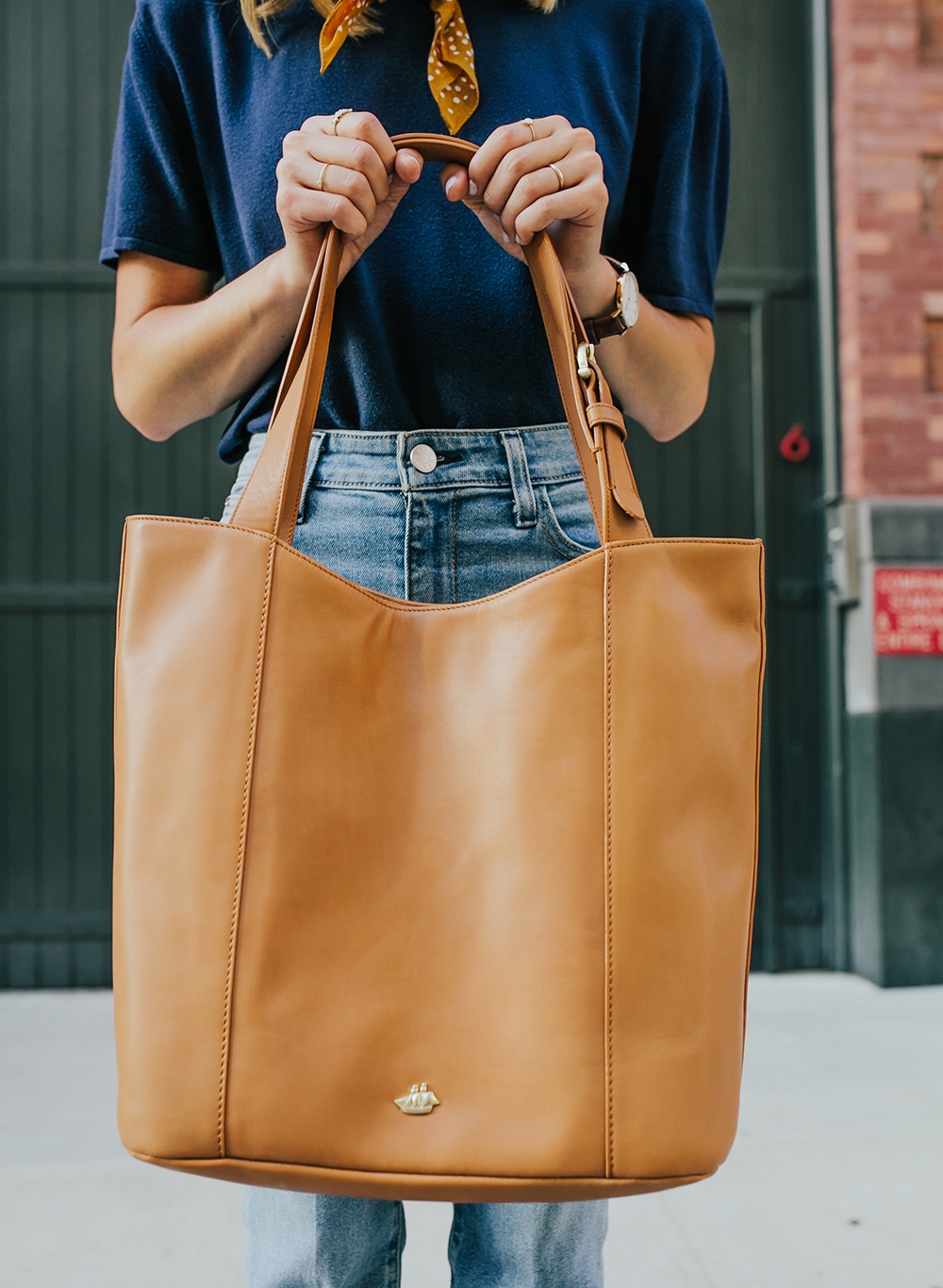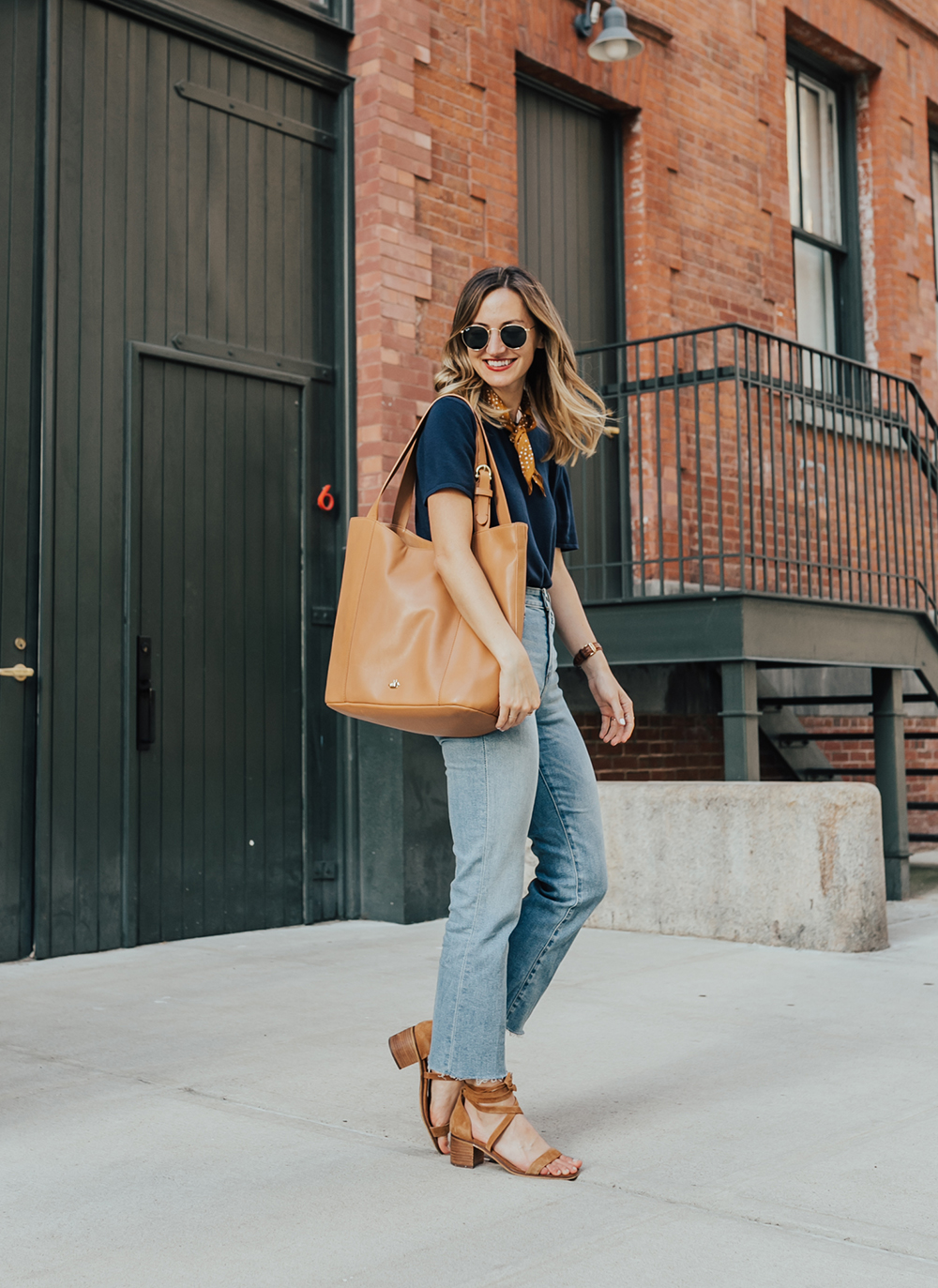 A few weeks back while in NYC, I met my friend Ben for lunch in Tribeca. It's such a beautiful part of New York! (…Also the same area Tay-Swift lives in soooo…you know it's gotta be good, ha). We strolled to get sandwiches, check out a J.Crew sample sale (heaven!) and snapped a few outfit shots along the way. I love spending a few days in the city, there's such a fun energy about it…not to mention simply walking ALL over the place is the best workout ever, ha!
Did you notice that gorgeous tote bag? (…I mean, how could you miss it?!). You guessed correctly if you knew it was Brahmin…and this pretty is THE perfect travel tote. It held my DSLR camera, laptop, notebooks and wallet/essentials in it while traveling. I brought it along with me through Europe, as well, and received so many compliments from folks passing by along the way!
My jeans are by Urban Outfitters and I am LOVING the new fit! I scooped these up in black, as well…seriously the cut is perfection…fashion forward, flattering, on trend…they're fabulous!
I borrowed the top from Ben…he's got a killer closet filled with the best tees! Loved the navy, cognac and mustard combo together. Isn't that always the case – you pack your closet for a vacation and then borrow from your friends on the first day…seems to be how we travel, ha!
Alrighty, y'all…back to Nyquil and the TV! 😉 Happy Friday, friends – wishing you a wonderful, restful weekend – XO
**Photos by Benjamin Stelly
top – ZARA (similar HERE) / jeans – URBAN OUTFITTERS / scarf – MADEWELL (similar HERE) / shoes – STEVE MADDEN / tote bag – BRAHMIN / sunglasses – RAY BAN