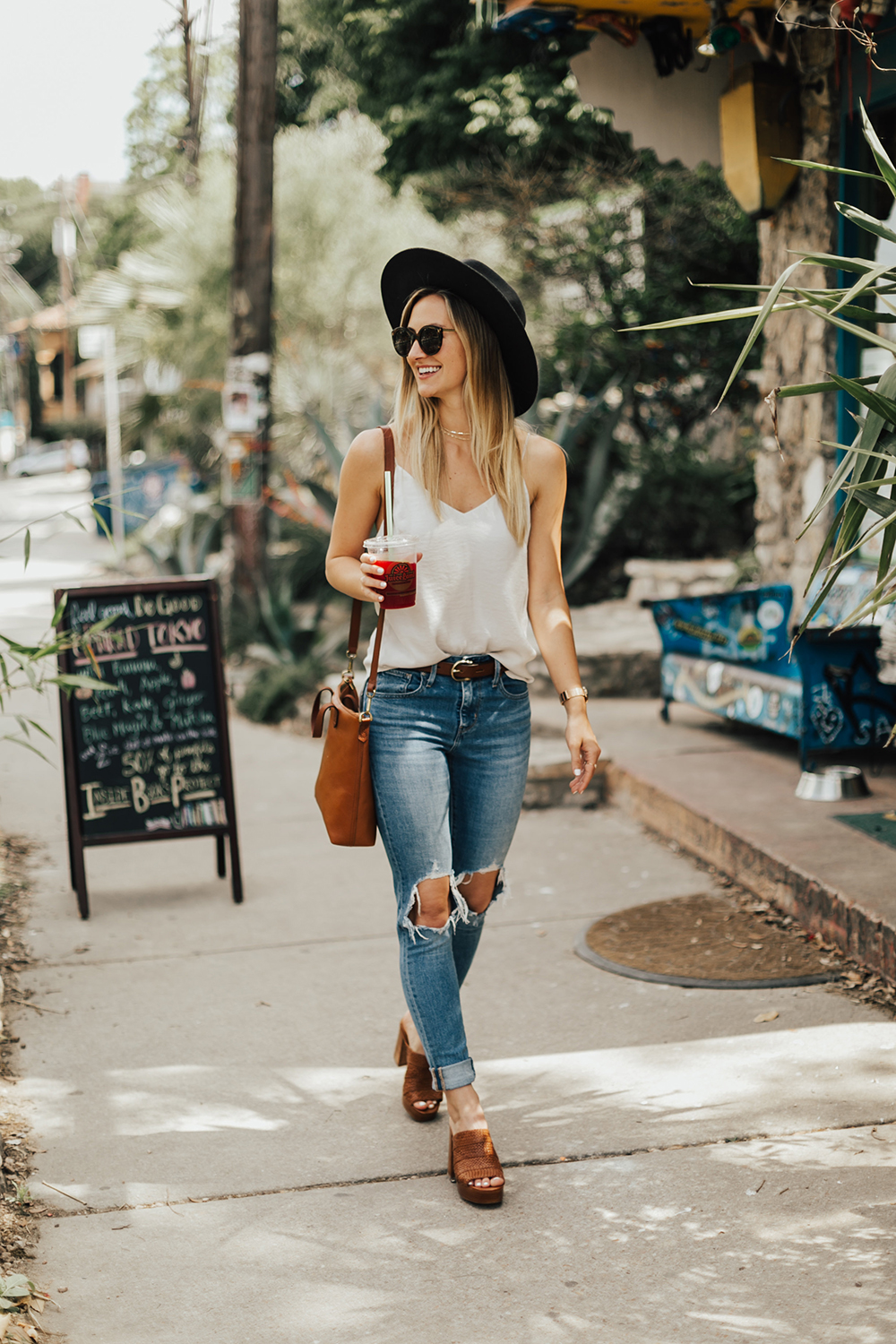 Hey gals! Hope your weekend is off to a fabulous start! After a week of absolute madness (no really, 100% shambles in our abode…ah!), we are officially on our way to SCANDINAVIA with Princess Cruises!!! I am currently writing this post from the airplane, patiently awaiting a cold beer so I can slowly get into vacation mode. 😉 I'll be partnering with Princess for the next 13 days as we visit Denmark, Finland, Sweden, Estonia and Russia…can't wait to share all of the magic on my blog and Instagram feed – so stay tuned! (Ps. We're going with quite a few of the same bloggers from our last trip with Princess to the Mediterranean – sooo OMG I am so excited to see everyone again and give giant bear hugs!).
Now that I've shared our big travel news (…I've basically been bursting at the seams to tell you guys about our trip!), let's switch gears and get to this adorable spring-to-summer outfit…How cute is that ivory satin cami? I've been super into dainty satin tops lately, and this one was just too pretty to pass up (…and also very affordable!).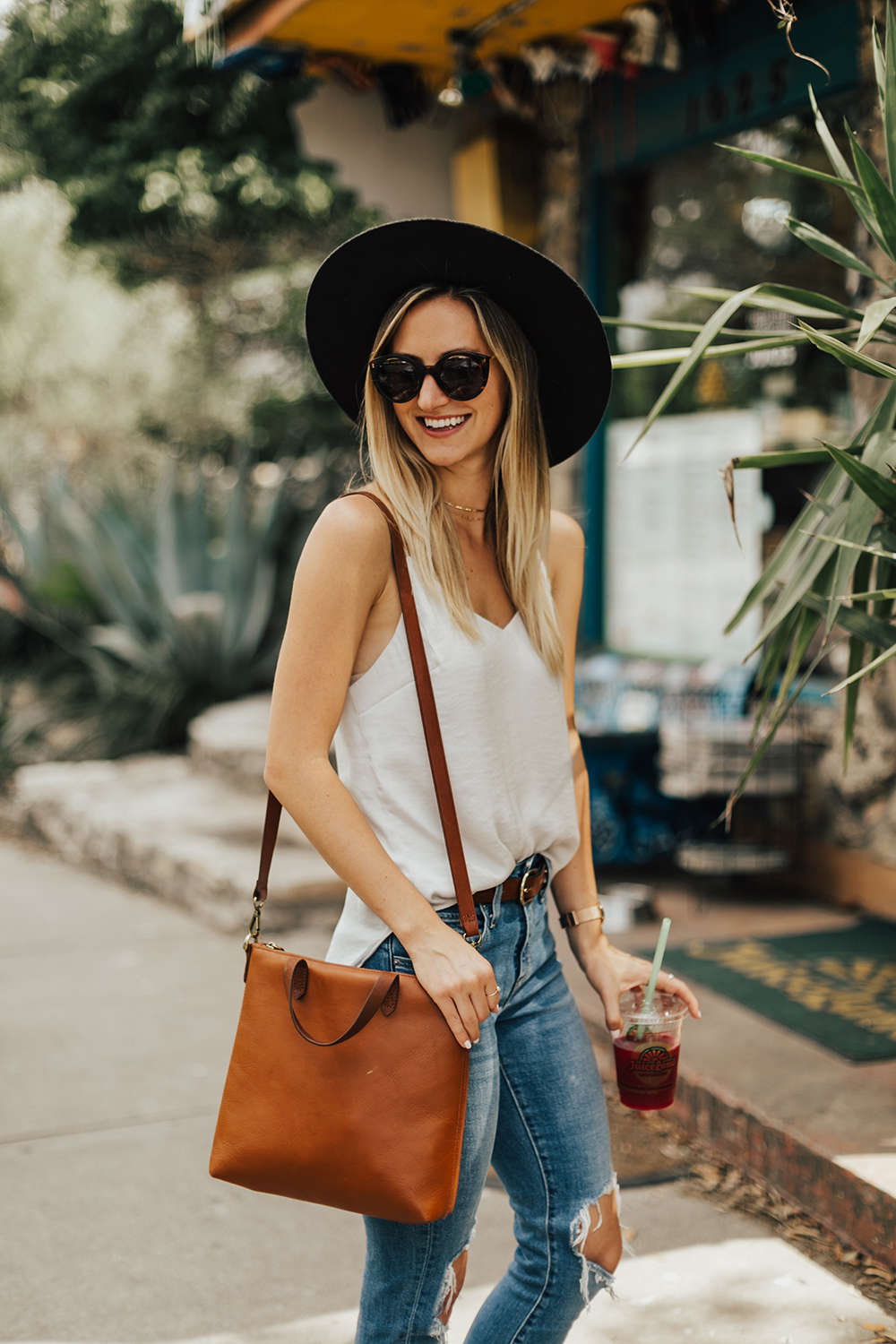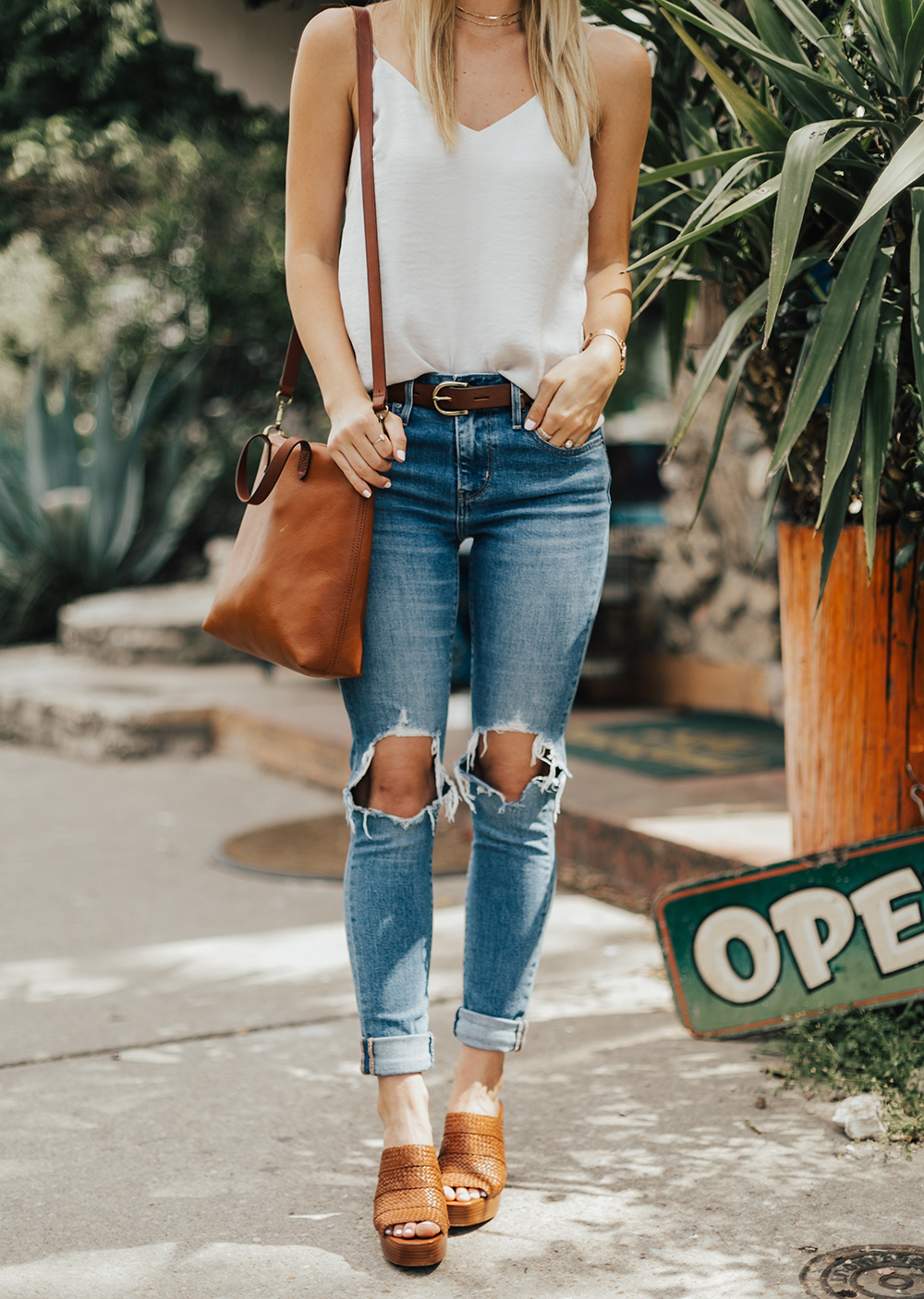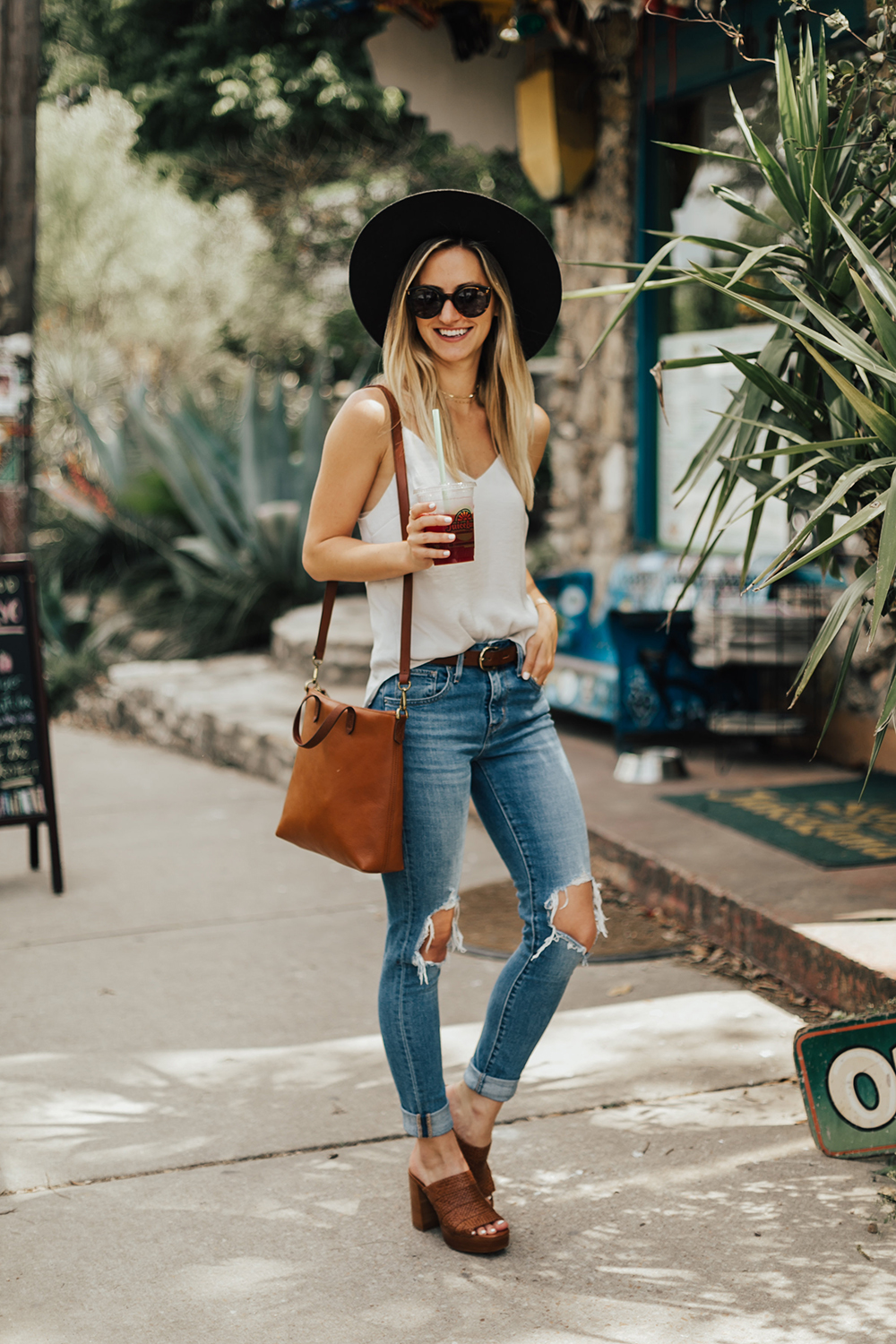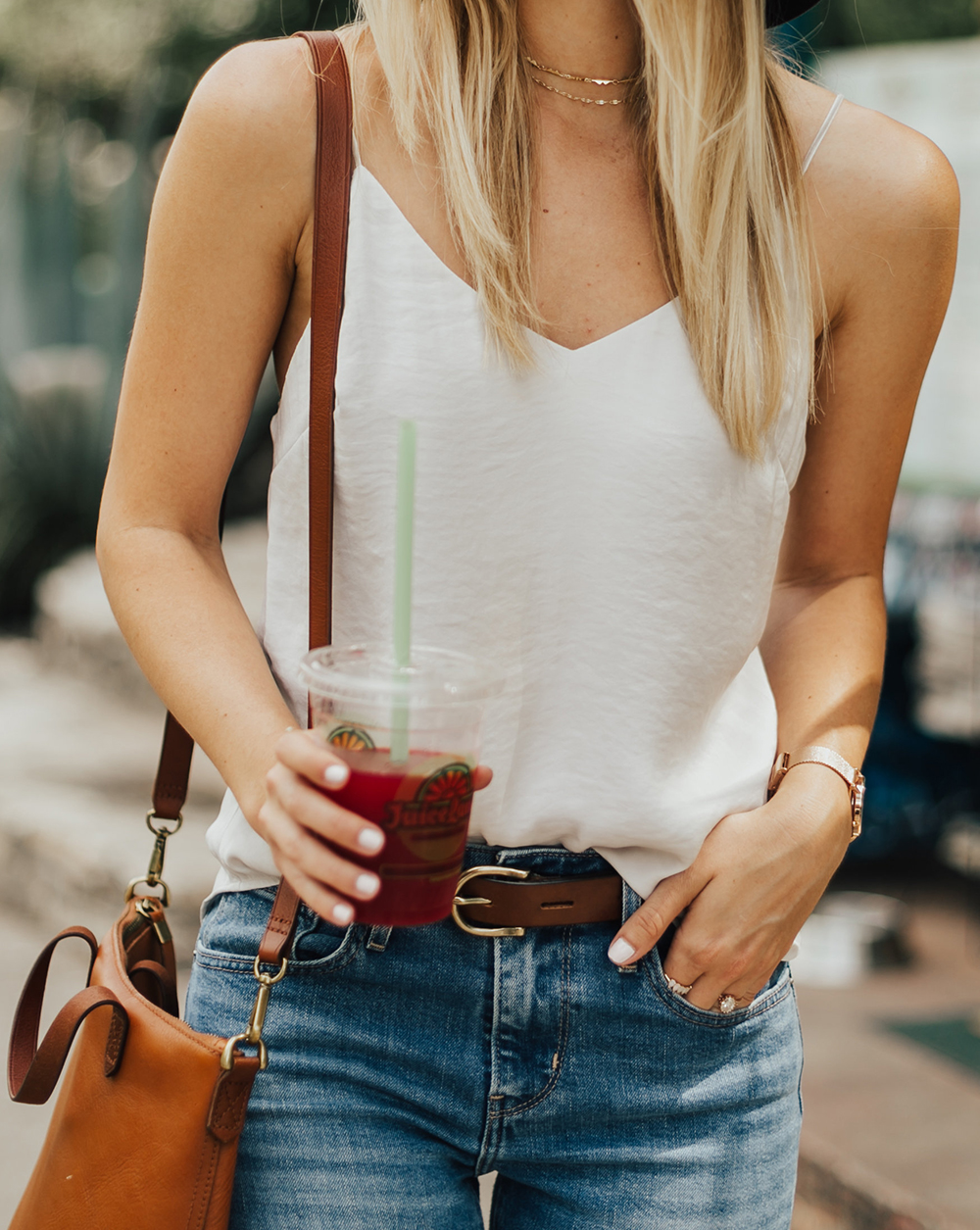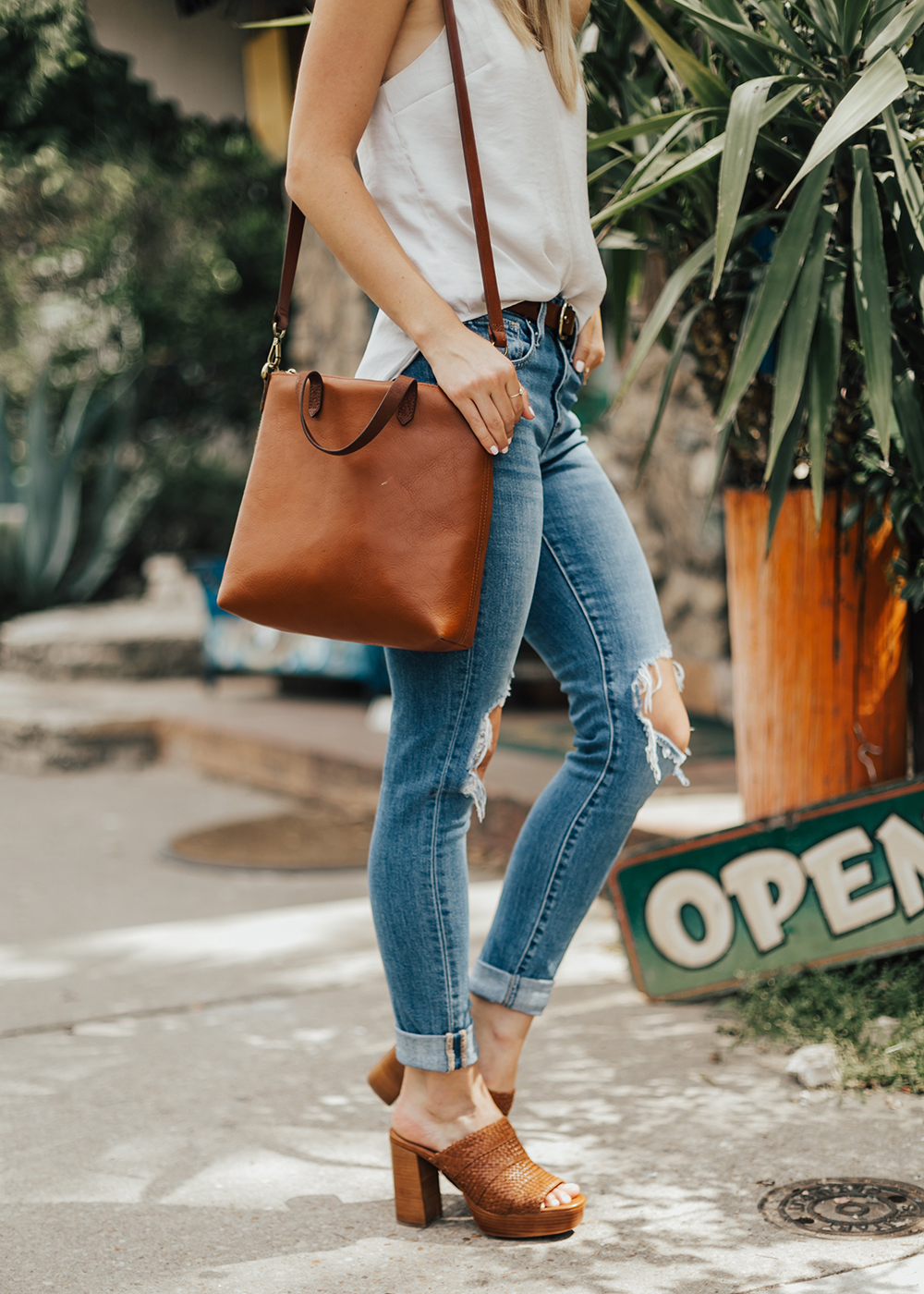 Urban Outfitters has quickly become one of my favorite retailers for everything from summer dresses (like this ridiculously adorable midi dress), to basic tops that turn into closet staples. I love that this cami can be worn casually with jeans and a fun wide brim hat, but that it could also be dolled up tucked into a pretty pleated maxi skirt (that's cinched at the waist) with a clutch and heels for date night. Or, you could pair it with black skinny jeans and a leather jacket for a fun, edgier look. Clearly, this thing is versatile!
I paired the top with my favorite Levi's jeans (just $88!), that have a 9" inseam, so they're still considered high rise jeans, but not quite like "mom jean" status (…which is usually 10"+)…ha! Hey, I still love mom jeans, too…but where these hit is very comfortable and extremely flattering.
I'm also wearing my favorite Frye platform mules….I know I say this every time, but SERIOUSLY are these not stunning?! Still not over them, they're just too good! Lastly, that adorable hat is from Madewell (of course…I can't stay away! 😉 ) and we played Sisterhood of the Traveling Hat with it during SXSW…gotta say, it looked pretty darn perfect on ALL of my girlfriends…sign of a good hat choice!
Alrighty friends, time to put my laptop away and pick a movie to watch…I look forward to these long, international flights because it means I am basically forced to relax, ha! Have a wonderful weekend! XOXO
top – URBAN OUTFITTERS / jeans – LEVIS / shoes – FRYE / belt – MADEWELL / handbag – MADEWELL