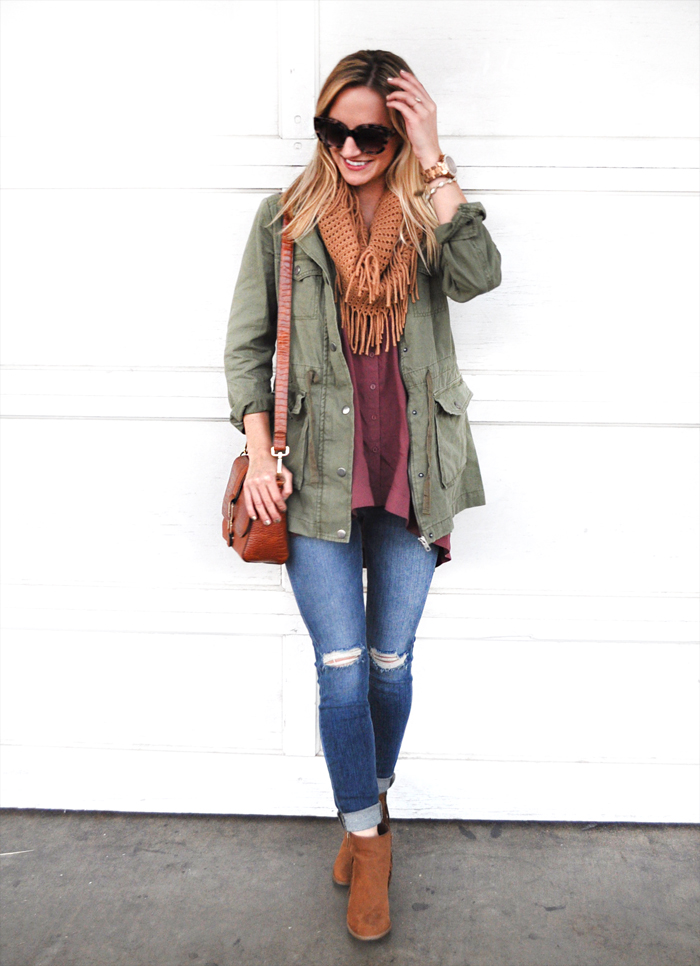 Another thing to love about cooler weather? Layering! Pair a utility jacket with a button up tunic and top it off with a cozy fringe scarf – viola, ready to take on that crisp fall air! Once you get inside, nix the jacket and keep the scarf over the top for a cute and casual look, perfect for the office or lunch or a grocery run…hey, really whatever you're up to! Given that we're neaaaaring the end of 80 degree temps in Austin and hopefully moving into the 70s here soon, rocking a button up tank with a jacket will definitely suffice the current temperature. Side note: how cute would this button up tunic be under a chunky cardigan sweater? Love the versatility from just one key piece that takes you from season to season!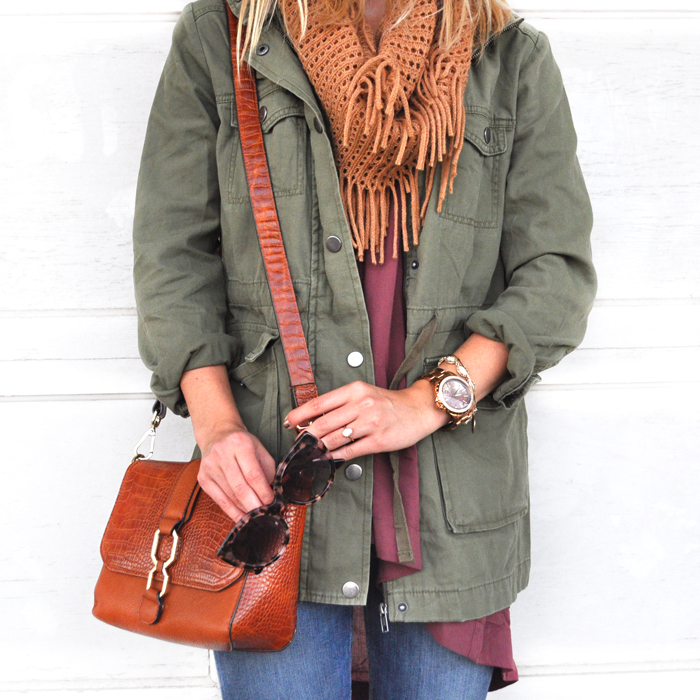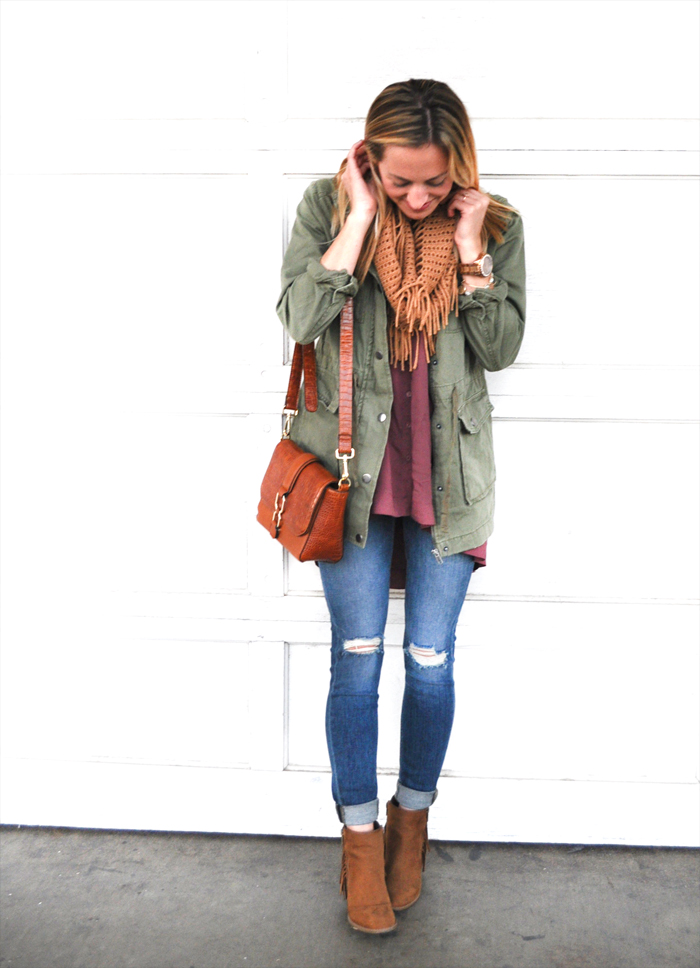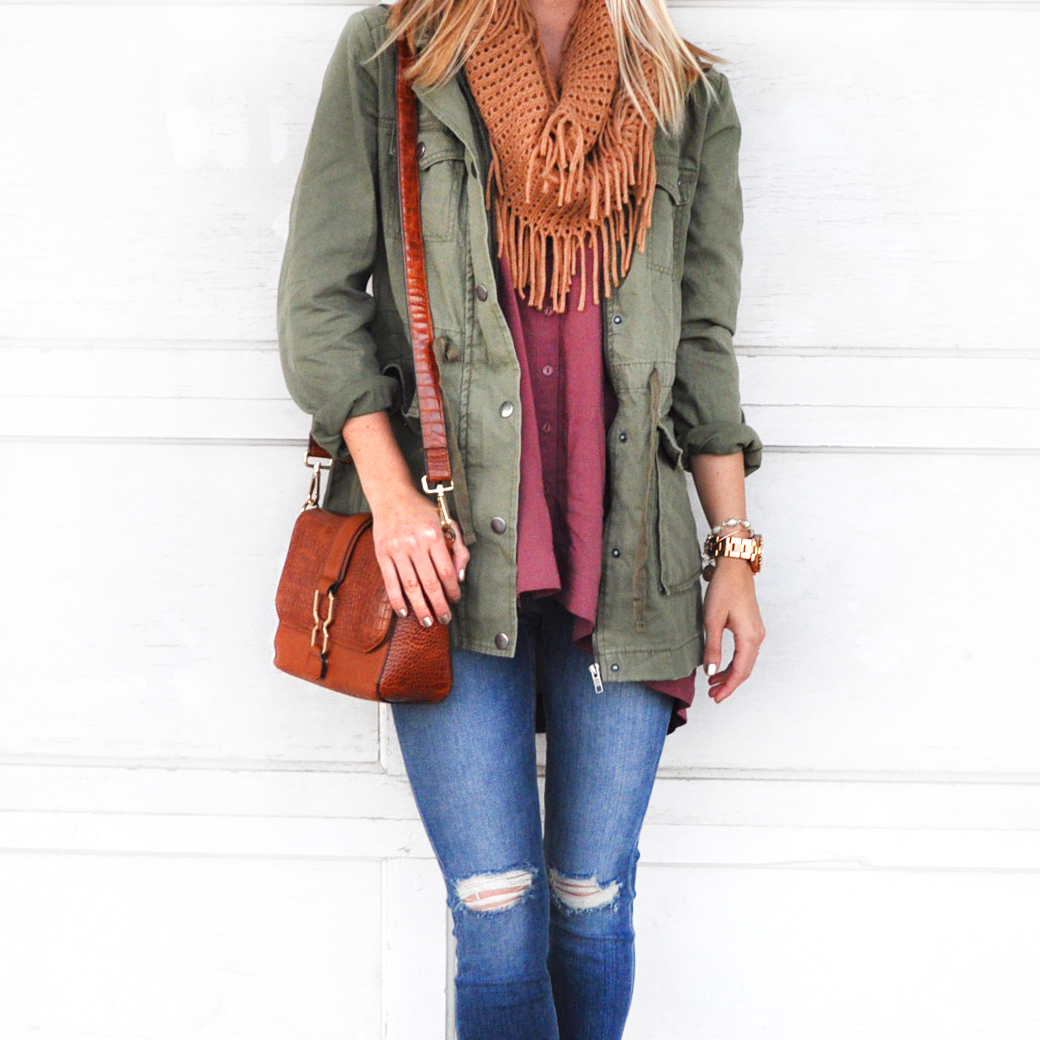 I paired the top (in the color "marsala" …really though, I just love saying that word ha!) with my Joe's distressed skinny jeans, a green utility jacket, fringe scarf (SO comfy!), brown embossed handbag, Toms sunnies (these are new and soooo fun..love the oversize frames!) and finally, my fringe booties.
One major thing I like to keep in mind as I'm buying pieces to build my wardrobe is, "how can I wear this in multiple ways?" to get the most bang for my buck! As you can tell, I like re-wear pieces over and over and style them in different ways to show how one item can go a very long way. Here are some ideas for these pieces:
Jacket – layer over a chunky sweater or even a breezy shift dress
Top – a great stand alone piece with jeans or wear with leggings and riding boots + add a scarf and jacket if it's cold out!
Jeans – the go-to skinnies, these things go with anything
Booties – wear with jeans, dresses, skirts…these things are fairly new for me and I've worn the heck out of them, super love booties these days!
Scarf – add some dimension by pairing it with a plain white v neck tee, layer over a dress or make a jacket even cozier with the scarf
Hopefully this post provides some fall layering inspiration and gives you more insight as to how to re-wear pieces in multiple ways. After all, that's the goal in building your wardrobe!
jacket – nordstrom / scarf – bp / top – lush / shoes – indigo road or similar sam edelman / jeans – joes / sunglasses – toms / watch – michael kors / purse – topshop