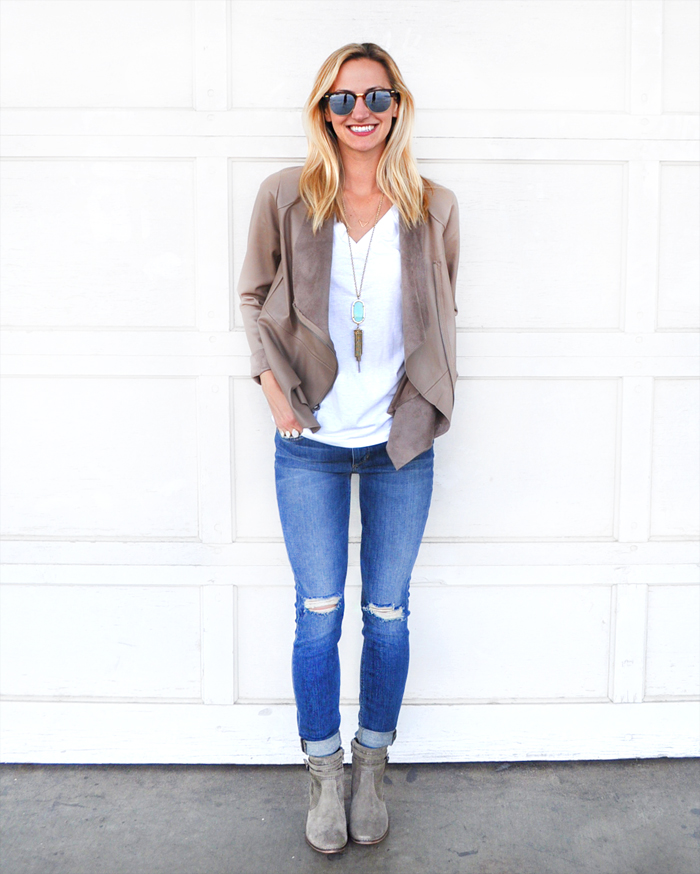 Hello there! Before I get into the outfit details regarding this cute fall look outfitted by Saint Bernard – I wanted to share that I'll be hosting a big 'ol holiday shopping shindig this Thursday October 22, 2015 from 6-8pm at Saint Bernard off 2nd Street in Austin! I would LOVE to see you/meet you if you're in Austin, so mark your calendar and come have a glass (or two…) of champagne with me as we shop to benefit the American Cancer Society! I ensure a good time, adorable clothes/gift options (trust me, this store is tuhhh die!), cookies and free beverages to suffice those post-work needs. (Hey, I know how that goes!) – not to mention it's all for a great cause!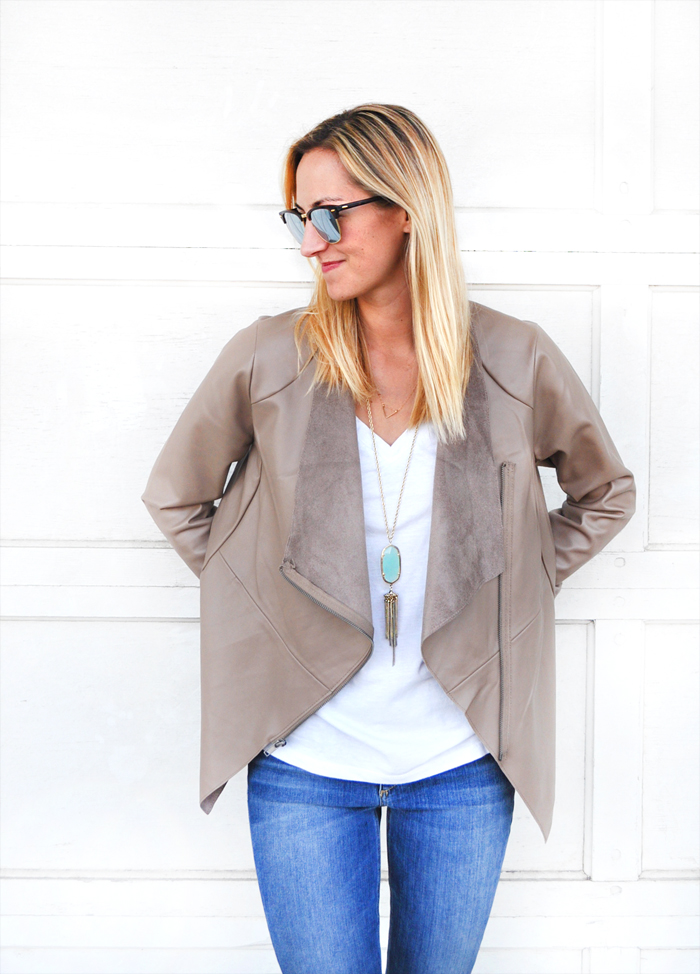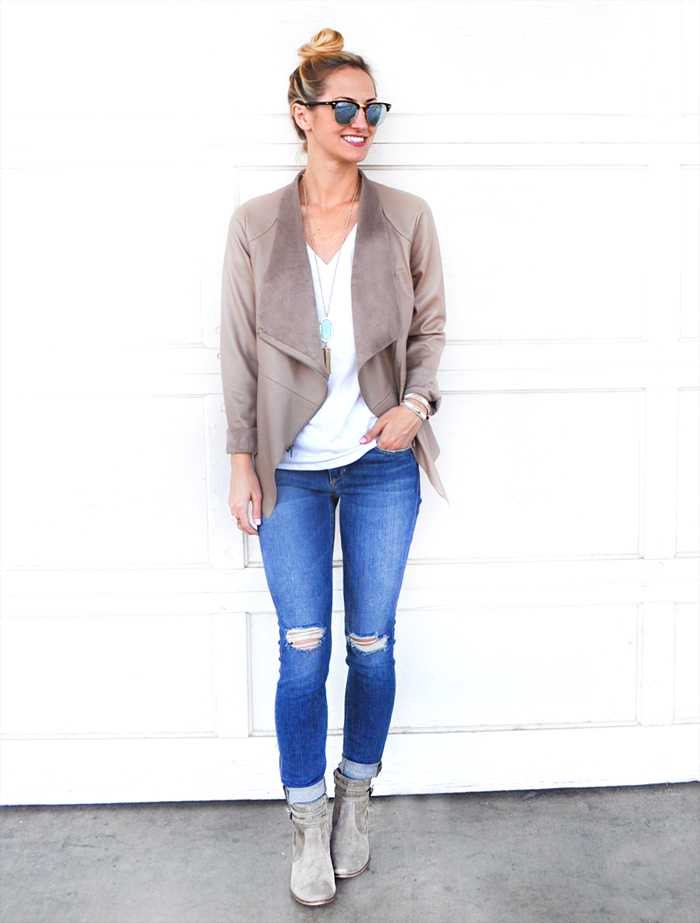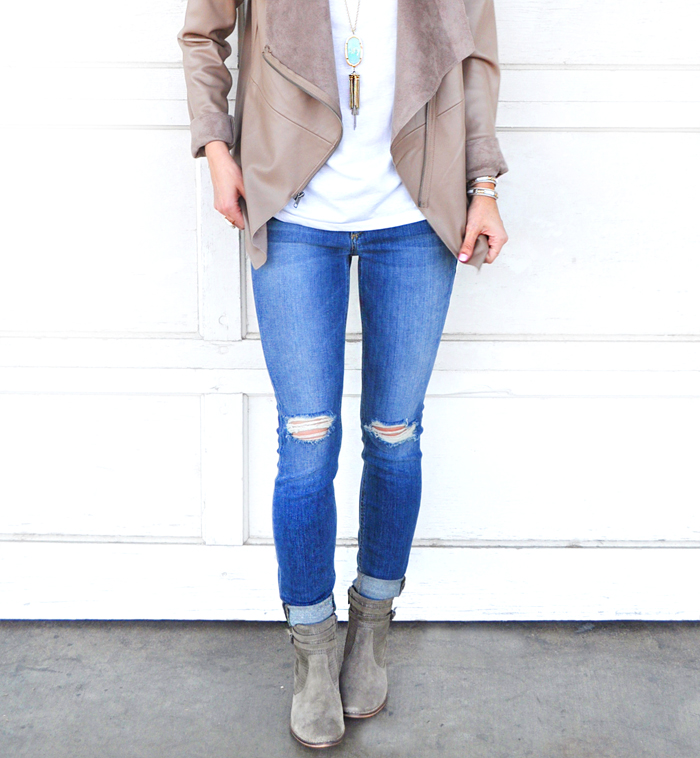 Speaking of – this adorable look (the jeans, booties and jacket) is head to toe from Saint Bernard and this is the outfit I'll be wearing to the event…so, you'll definitely be able to recognize me now, ha! 😉 The jeans are by Joes and are literally INCREDIBLE. Absolutely deserving of all caps (and the price tag), I promise. They are so soft, comfy and flattering, and I really love the distressed knees, too. It's funny because when I was looking at their jeans selection, I initially gravitated towards the solid, non-distressed styles given that I work in an office setting – but now that I'm part time, I decided to get extra crazy (can you sense my sarcasm? 😉 ) and go with the edgier pair…and I am in LOVE.
The jacket is by a brand called bb Dakota and it is beyond fab-u-lous! I immediately gravitated towards the pretty neutral color because it can be worn with so many different outfits – over a dress, paired with a tee and jeans, worn with leggings and a flowy tunic…aka, this piece goes a long way in your wardrobe! It's also a super chic silhouette that really elevates a look, which I'm trying to be more cognizant of as I continue my styling journey.
As for those booties? These gorgeous kicks are by Seychelles and they are stunning! (If you don't see your size at Saint Bernard, you can shop more sizes here). Okay, so clearly I am a fan of this whole outfit – but really, when I wear these booties I feel like a million bucks. For one, they're flat booties, so they're extra comfortable, and two, the color is different yet a neutral that can be worn time and time again. I like things that are more unique but still just as wearable as a brown or black pair of boots. The quality of these is really top notch, too, which is always a big win in terms of a good shoe investment that goes a long way!
In case you're interested in my sizes: the jeans are a 26, the jacket is a medium (I've got really broad shoulders for my frame!) and I wear a size 7 in shoes.
Loving this casual fall outfit? Shop it below and don't forget to stop into Saint Bernard on Thursday evening, I'd love to see your beautiful faces!
jeans – joes / jacket – bb dakota / shoes – seychelles (more sizes here) / v-neck – madewell / triangle necklace – similar nordstrom / fringe necklace in chalcedony – kendra scott / sunglasses – ray bans / bracelet – stella & dot / double ring – kendra scott