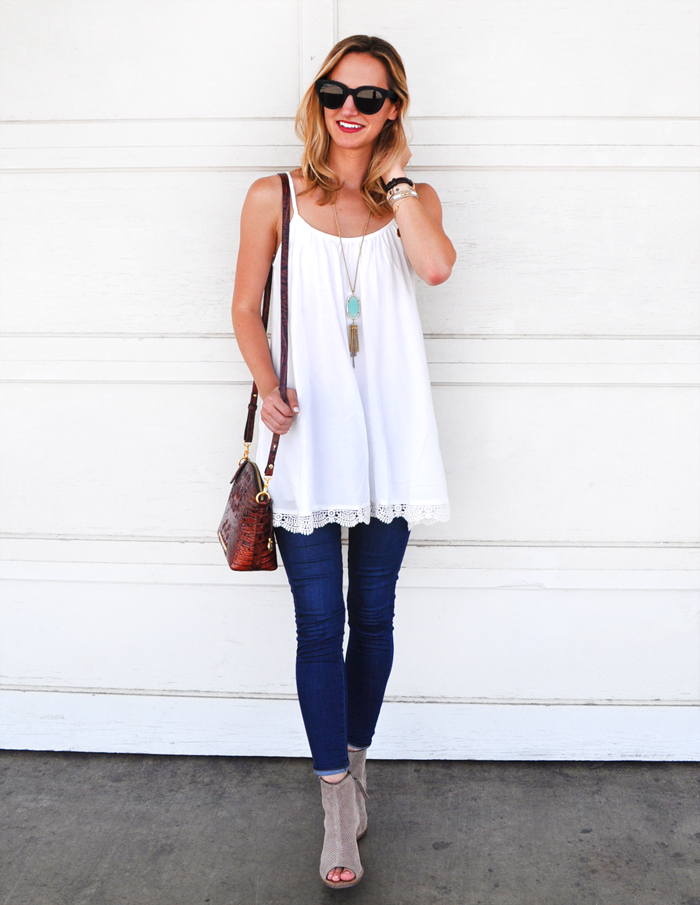 I've been scouring my closet lately for pieces that I can seamless transition from summer temps to fall weather and I came across this airy crochet trim dress from Lookbook Store – just $27! I loved this as a cute little dress with sandals for summer and realized that the length is actually very flattering with a pair of skinny jeans, too. When I shot this look, it was (no joke) 100 degrees out, but if you follow my Instagram, you'd have seen that I shared a picture where I layered an army green jacket over this outfit to give you a glimpse at how you can really wear this as cool weather heads our way.
A go-to pair of jeans is a must for any season, and I'm wearing my absolute faaaavorite pair from Topshop (a great price point, too!). I love the color and these are ultra flattering. Ankle booties are my number one pick for fall, and the ones you see above have been my trusty side'kicks' (ha.. 😉 ) since last year. So comfy and the color goes with anything, I highly recommend these! My purse is by Brahmin and I know what you're thinking…isn't that an "old lady" brand? And my answer to you is yes, absolutely, and for good reason – these things last forever…and old women are fabulous…! I worked at Norstrom when I first graduated college (ya know, that whole, "okay so I have a journalism degree…what now?" thing..!) and I always really admired Brahmin for the high quality, durability factor, but they never had a purse that felt youthful…until I spotted this one last year and had to have it! Some of the ladies I would help while working there told me they'd had their bags for 10+ years…that's pretty incredible for a $200 handbag…yes, please!
Shop my outfit + accessories below – wishing you all a wonderful Thursday!
dress – lookbook store / jeans – topshop / booties – toms / purse – brahmin / necklace – kendra scott / sunglasses – toms / watch – daniel wellington / wrap bracelet – stella & dot / bangle bracelet – alex & ani