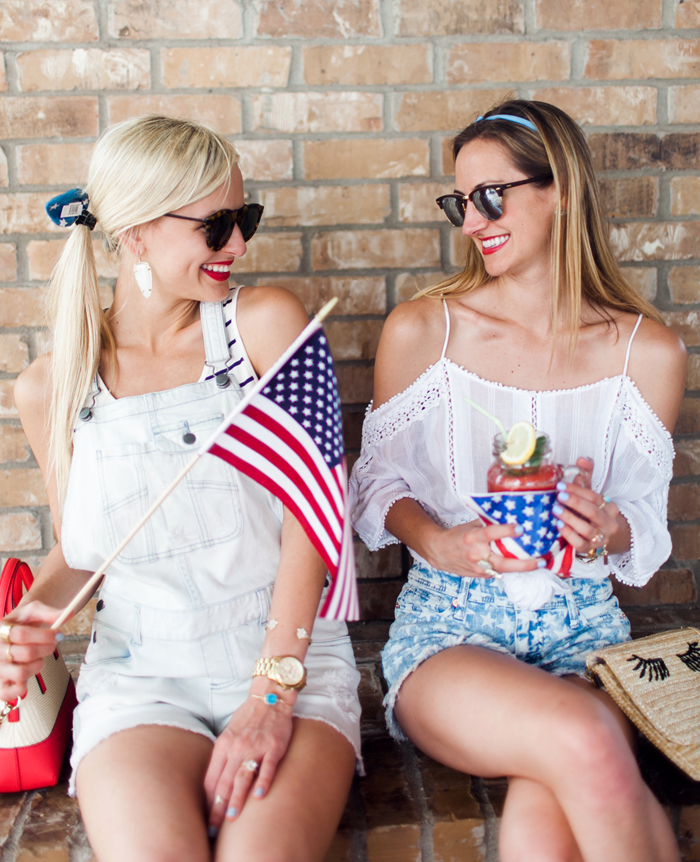 Hey there, darlin's! The 4th of July is fast approaching and one of my best friend's and fellow blogger Lauren of Vandi Fair and I decided to join forces for a fun & festive shoot!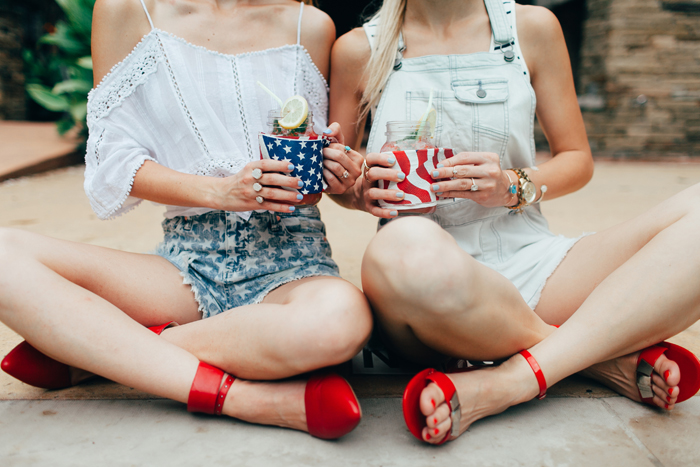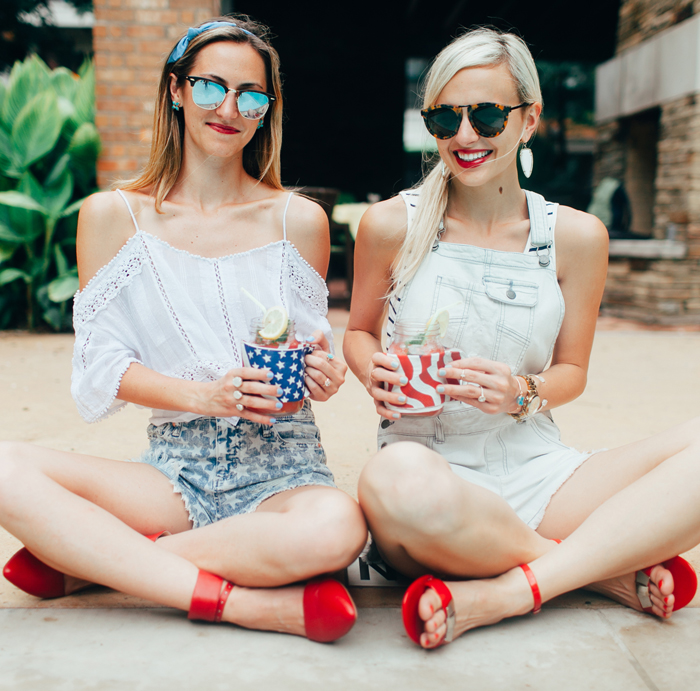 If you're like me and online shop half the time, you'll want to order your outfit items or accessories days in advance to avoid hefty shipping fees and most importantly, make sure you receive your pieces in enough time to actually wear them on this celebratory day!
Lauren is rocking some ridiculously adorable overalls (or rather, "shortalls") and paired them with a blue and white striped crop-top, then added Kendra Scott earrings, her Karen Walker sunnies and a precious little star-printed bow in her hair. SO cute!
I'm wearing a pair of star-covered high waist shorts (y'all…these are only $20!), a flow-y off-the-shoulder top that I actually tied a knot in to make it into a crop top right about my waist, some fab pointed toe red ankle strap flats, and finally, a cute denim headband and my reflective Ray-Ban sunnies!
It's always fun to get a little festive during holidays like this one…after all, there aren't that many you can be so theme-y with! (Ps. Do you like all these "-y" words I am making up? Ha!). Enjoy our picks and hopefully you can pull some fun ideas out of this post and find a look that feels "you" and suits your personality! Click on the images/links below to shop our 4th of July outfits 🙂 –
My look:  TOP: Nordstrom  /  SHORTS:  Target  /  HEADBAND: Nordstrom  /  EARRINGS: similar Kendra Scott /  STATEMENT RING: Kendra Scott  /  NAIL POLISH: Essie  /  SUNNIES: Ray Ban  /  FLATS: Chinese Laundry
Lauren's look: OVERALLS: Nordstrom  /  CROP TOP: Nordstrom  /  PONYTAIL BOW: Nordstrom  /  SUNNIES: Karen Walker  /  SANDALS: similar Kate Spade  /  EARRINGS: Kendra Scott  /  NAIL POLISH: Essie  / CUFF BRACELET: Kendra Scott  /  WATCH: Michael Kors
Hey there, darlin's! The 4th of July is fast approaching and one of my best friend's and fellow blogger Lauren of Vandi Fair and I decided to join forces for a fun & festive shoot! If you're like me and online shop half the time, you'll want to order your outfit items or accessories days in […]