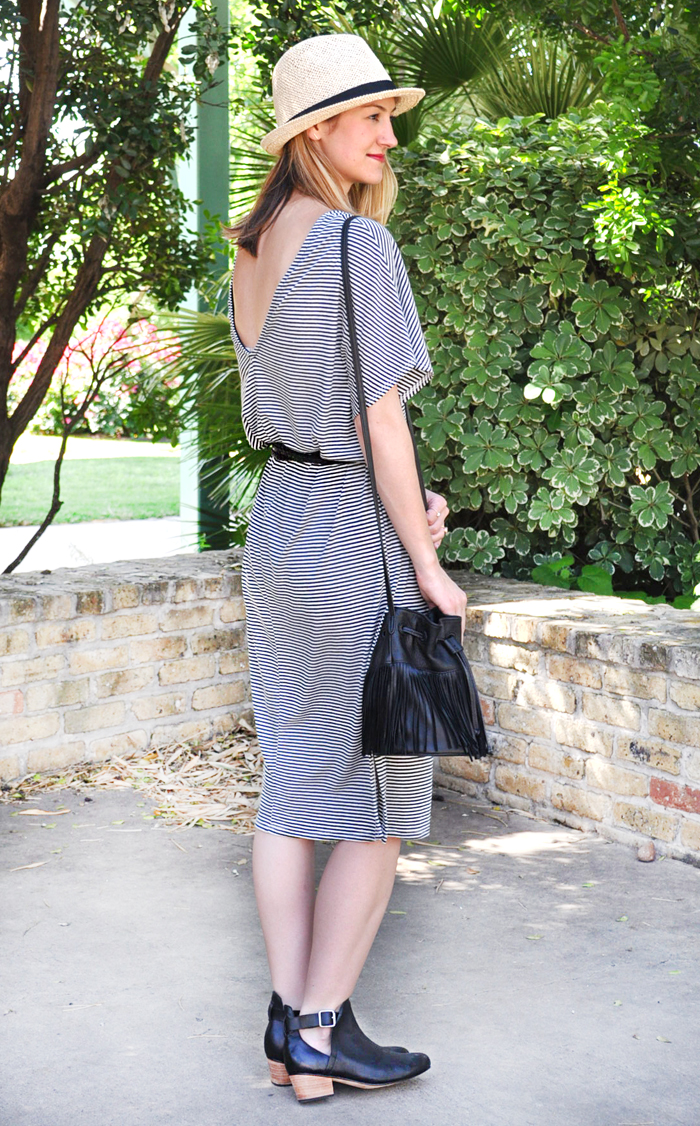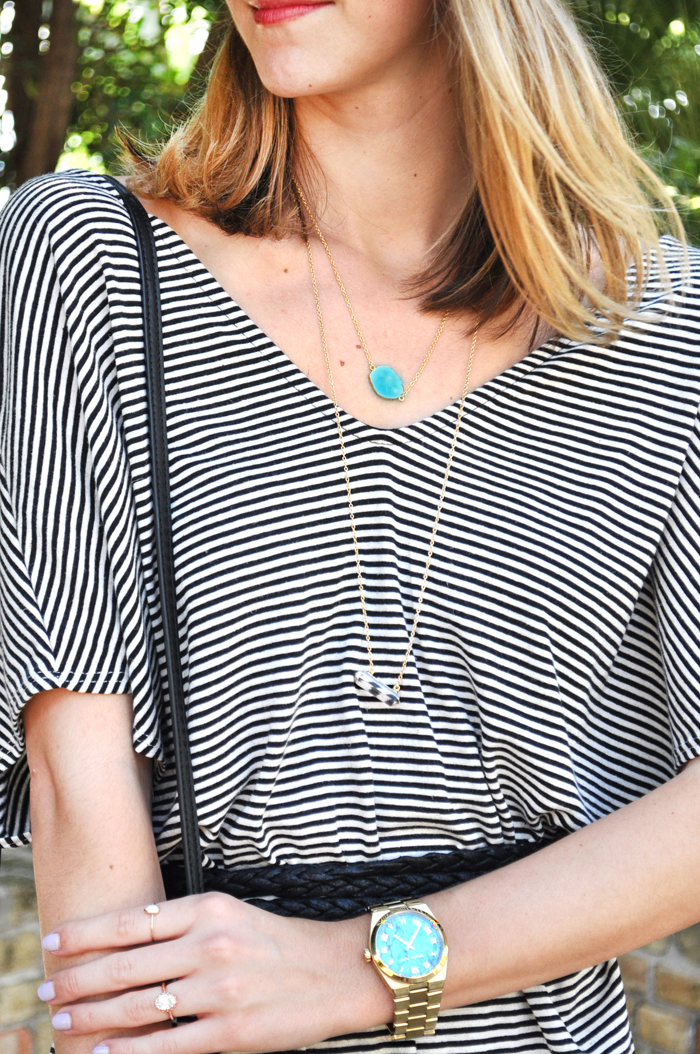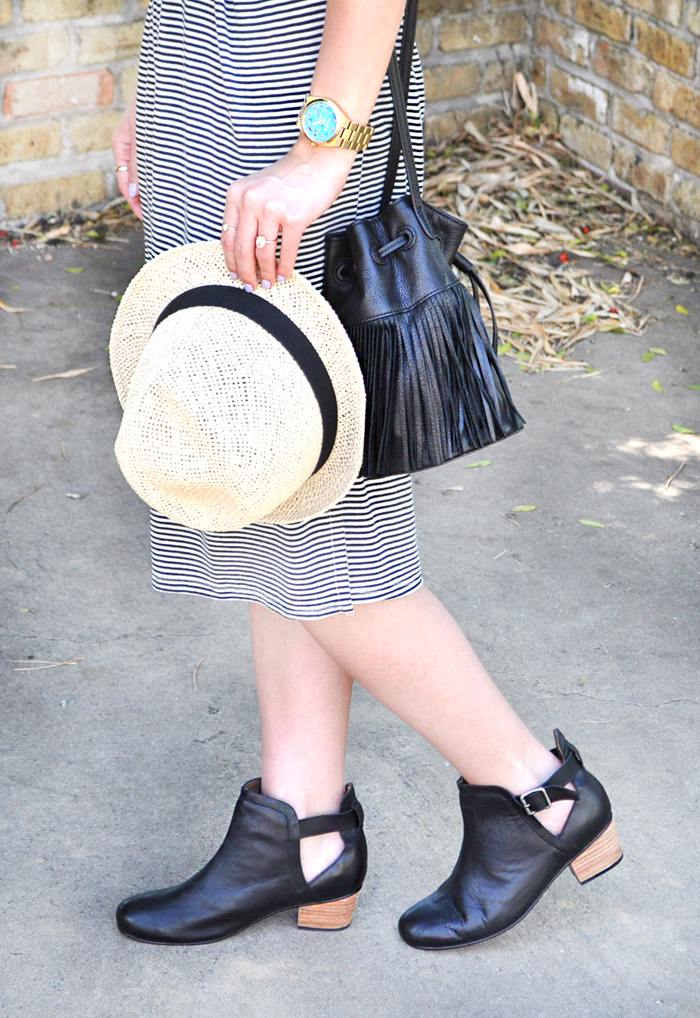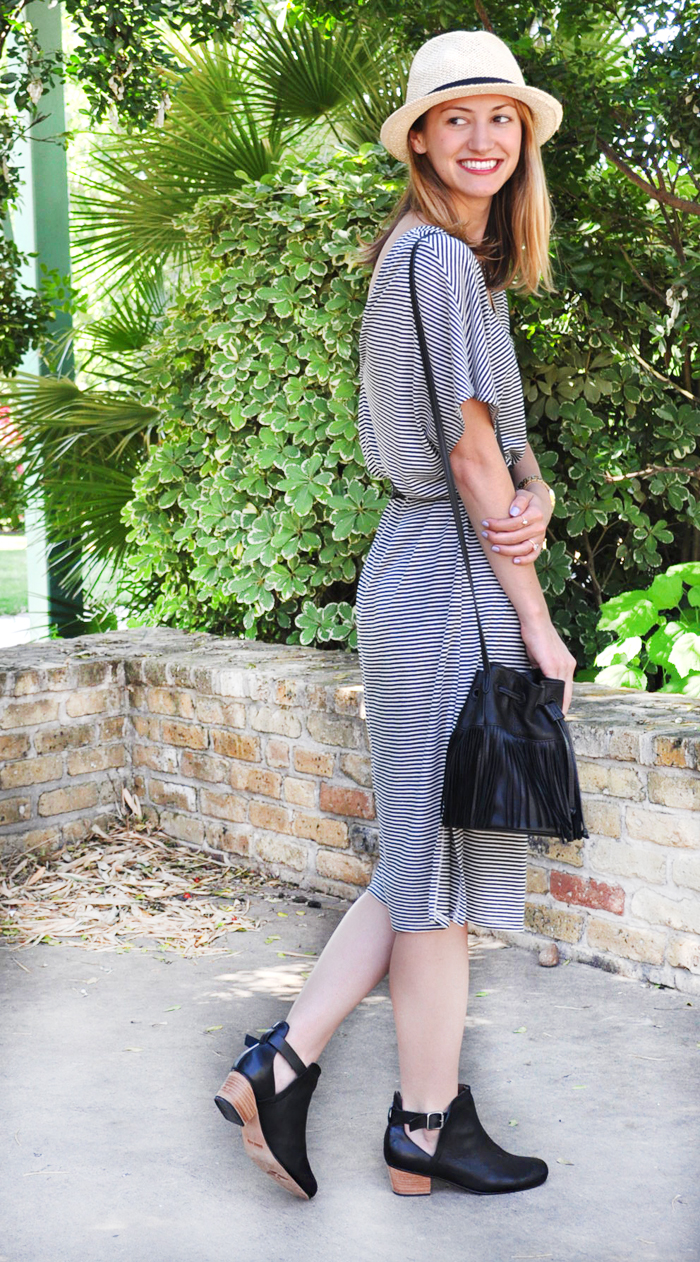 If you can't tell by now, I have a serious affinity for stripes… It's such a cool pattern and dials up that trendy style notch instantly. On the subject of stripes – this dress. For starters, it's only $22 (yes, please!) and second, it's adorable as a throw-on-and-go piece (as I chose to wear it above), or even over a swimsuit as a cute, light coverup – just nix the belt and swap the shoes for poolside sandals.
In case you're curious, the dress doesn't need a slip, so feel free to grab your nudie undergarments and you're all set! It's always nice to have that whole "…uh oh, is this dress see-through?!" peace of mind before you buy online….or walk out into direct sunlight.. ;)..so now you can rest assured! (I wore it on my Miami vacay as a beach coverup and it was great!).
My shoes are another recent obsession of mine. I'd been holding out for the perfect pair of buckled booties and when I slipped these babies on, I knew. They're by Fortress of Inca, handmade in Peru and so comfortable I may just nix my house slippers and rock these with my PJ's as I make my way from the bed to the coffee maker each morning! 😉
If you follow my Instagram feed, you'll know I am a fan of layering necklaces. These two pretty pieces are by Rifle + Radford and I love how perfectly they complement one another. As for my bag – it's my go-to boho sidekick, I'm all about a dash of fringe!
(Ps. Blake somehow captured my W tattoo just peeking out from my dress sleeve… I am quite proud of my last name and got some ink to prove it!…For those who don't know, it's Watson).
Love this outfit or an item from it? Shop my look via the links & scrolling images below!
dress – forever21 / hat – (similar) nordstrom / necklaces – rifle + radford / shoes – fortress of inca / watch – nordstrom / bag – (similar) free people
 If you can't tell by now, I have a serious affinity for stripes… It's such a cool pattern and dials up that trendy style notch instantly. On the subject of stripes – this dress. For starters, it's only $22 (yes, please!) and second, it's adorable as a throw-on-and-go piece (as I chose to wear it above), or […]