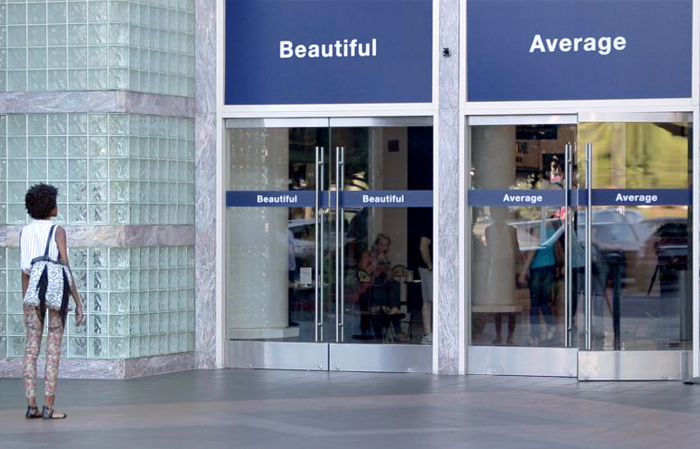 Dare I say it because this ad received a lot of flack, but the latest Dove marketing campaign did however raise a good question regarding women and how we view ourselves – that being, how do you see yourself?  The ad centers around women walking into a shopping center and choosing to go through a door with "average" or "beautiful" written on it. As expected (because it's an ad that pulls at our heartstrings…and because we as women are insanely hard on ourselves), most women choose the "average" door.
This again, raises some questions around the validity of the campaign – for one, no one wants to appear conceited in a public place and perhaps walking through the door marked "beautiful" is proclaiming just that. Second, as this Forbes article suggests, why not choose other words aside from "beautiful" and "average" to mark the doors? Maybe try "awesome, charming, magnetic or smart," etc. When you put the word "beautiful" outside a shopping mall, it narrows down the word to an exterior meaning, rather than "beauty on the inside," because well, you're at a shopping mall….where people go to buy things for their exterior. Perhaps if they did this experiment at a grocery store or a coffeehouse or somewhere where you're not buying something that has to do with appearance, per se, the results would be different. Just a thought.
Either way, I know this ad campaign fueled a lot of controversy so I just wanted to clear the air that this blog post is not about Dove, it's about the overall point of the ad to get a conversation going, which is to ask, how do you see yourself? Strip away the word beautiful and replace it with some others that come to mind – are they positive words?
When I first read about this ad and clearly even after its launch, it got me thinking. I asked myself, "Olivia, would you have seen yourself as beautiful and proudly waltzed through the door on the left? And if not, why the heck not?!" While I'd love to tell you with 100% certainty I'd have chosen the door on the left if put in this scenario, the real truth is, I don't know.
…Which brings me to what I am doing to change that mindset. As I mentioned before in my "25 things you may not know about me" post last month, I tell myself empowering things daily. In fact, multiple times throughout the day. Just like every other girl who overanalyzes her every move, I am completely guilty of having insecurities, but every day I do something, read something, watching something, to help me overcome those doubtful thoughts.
The bottom line:
Do you see yourself as beautiful? [Interchange beautiful with any other positive word: awesome, fabulous, rockstar-status (that's my favorite), etc.]
My hope in posting this blog entry is to give you some food for thought and get those self-empowerment juices flowing. Regardless of which door you would choose…WE ARE ALL beautiful, awesome, fabulous, rockstar-status and now it's time to make sure we believe that about ourselves.
What can I share with you that helps me? When I wake up in the morning, I tell myself 3-5 empowering things such as, "Olivia you are a rockstar!" Seriously, y'all, that's my favorite one…even if my plans for the day involve sitting at my work desk for 8 hours.. ha! "Olivia, be courageous, embrace stepping outside your comfort zone!" And probably, "Olivia, value yourself." My mom taught me that one and it's by far the most impactful.
I challenge you to empower yourself with a few thoughtful/encouraging statements each morning. We need to start walking through the door on the left without a second thought.
Dare I say it because this ad received a lot of flack, but the latest Dove marketing campaign did however raise a good question regarding women and how we view ourselves – that being, how do you see yourself?  The ad centers around women walking into a shopping center and choosing to go through a door with "average" […]