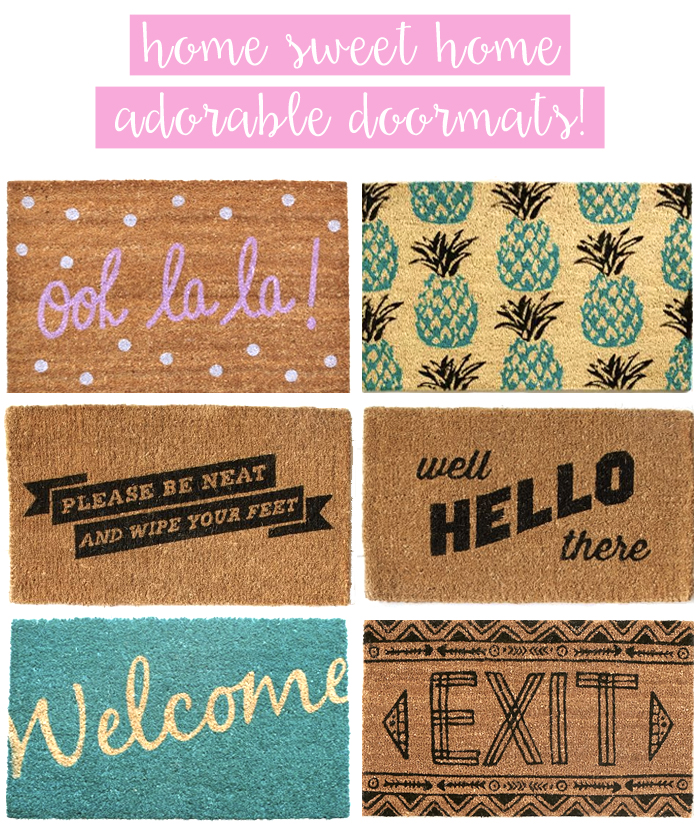 It's the little things, right? A doormat is the first and last thing you see entering and exiting your abode, so why not put a little "umphh" (isn't that a thing? 😉 ) in your step before taking on the day…or after getting home, kicking off your shoes and collapsing on the sofa! …Or in my world…sprinting to the pantry post-work! I especially love all of the fun word art and the cutesy pineapple pattern above, too adorable!
Let's just say I spent a little too much time scoping out the doormat scene on the interweb recently…but my "me time" is your gain, because I've rounded up the best of the best from retailers like West Elm, Lulu & Georgia (SO CUTE) and Urban Outfitters, to name a few!
Shop my picks by clicking on the links or images below and add an adorable touch to your entryway!
Shop the doormats above: ooh la la / pineapples / please be neat & wipe your feet / well hello there / welcome / exit
It's the little things, right? A doormat is the first and last thing you see entering and exiting your abode, so why not put a little "umphh" (isn't that a thing? 😉 ) in your step before taking on the day…or after getting home, kicking off your shoes and collapsing on the sofa! …Or in […]