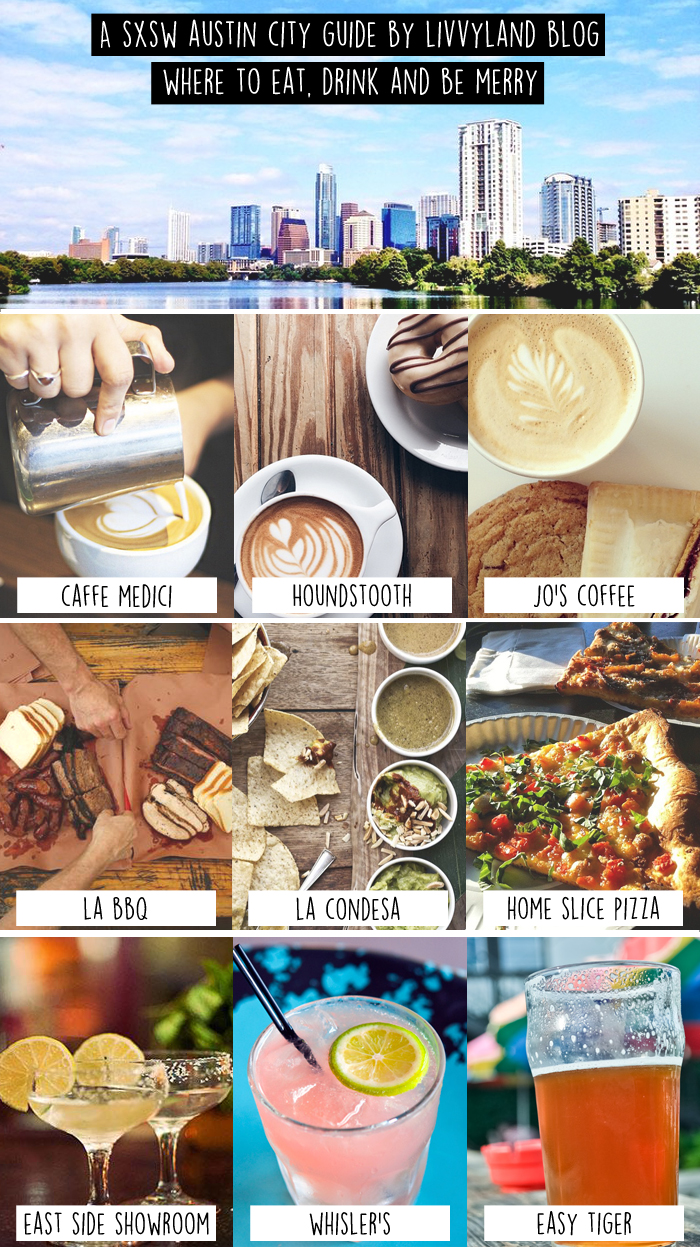 Alright, folks! SXSW 2015 is fast approaching…we're now just days away! I am always so excited for this time of year because 1. it's a blast (see the last row on my list…) and 2. so many out-of-towners get to experience Austin at it's finest. (Live music everywhere you turn, great drink specials, happy people…what's not to love?). Given that a lot of festival goers come from places near and far, I thought I'd suggest a few of my favorite spots within the downtown area to add to that ever-growing, "must do in Austin" list! Thus, everything listed below is within walking distance, or at the very least, a pedicab ride away from all of the downtown festivities.
COFFEE: …Because after a night…or rather, a few days of drinking…this is a must on the list. I am a stickler about quality espresso, and each of these coffee shops have received my seal of approval (hey, for what's it worth!).
Caffe Medici Coffeehouse – Congress Avenue & 2nd Street. Pull up a barstool and watch the baristas work their magic…these gals know a thing or two about latte art! (Their cortado is my personal fave drink)
Houndstooth Coffee – Congress Avenue at the bottom of the Frost Bank Tower. You pick your latte espresso, pretty snazzy!
Jo's Coffee – 2nd Street. I recommend an Iced Turbo, prepare for ultimate deliciousness.
EATS: I picked the three most "Austin" food options (well, at least in my opinion! Brisket, tacos & pizza) that I could rally together. This list was super tough to narrow down to just three, but I think I represented them fairly well.
La Barbecue – East Cesar Chavez Street. I mean…you really can't go wrong here. Brisket, beef ribs, sausage. My stomach is growling just thinking about it. Oh right, bring beer and lawn chairs for this one, you may be in line for a while…but it's worth the wait! (Here in Austin, we will wait hours to eat quality bbq, just a heads up!)
La Condesa – 2nd Street. If any restaurant has ever achieved a swanky yet down to earth vibe, it's La Condesa. It's bliss in a restaurant, both in ambiance and food! Order a 'rita and enjoy some fresh guacamole, everything is good here!
Home Slice Pizza – South Congress Avenue. Definitely worth the wait! I recommend a greek salad to start (they're pretty big, easy to split) and a side of ranch dressing with your pizza. (True Austinite foodie style right there with the side 'o ranch)
DRINKS: The Austin bar scene is only getting better as this city grows, and these three bars are a few of my favorites. Honestly, whether you're going for cocktails or a solid IPA selection (my personal beer of choice), any of these spots will do the trick. Oh right, and they're all adorable!
East Side Showroom – East 6th Street. As soon as you step foot inside, it's like you just walked into a 1920's speakeasy…dapper mixologists ready to serve you a top-notch cocktail (try an old fashioned). This place is seriously a must on your list, it's cocktail lounge perfection!
Whisler's – East 6th Street. Amazing patio, the cutest/coolest interior design (it's stunning and so cool) and there's a Mezcal bar upstairs. Lots of fabulous cocktails + a good beer selection, too.
Easy Tiger – 6th Street. Grab yourself  a freshly baked oversize pretzel (the bake shop is upstairs, the beer garden is downstairs) and a craft beer. This place rocks for it's chill atmosphere and on-premise food options.
That's my spiel! If you have something you think Austin visitors must try, please feel free to share in the comments section! I'm a big fan of trying to new places around town, so perhaps it'll be new to me, too! Enjoy!
**images: austin skyline, caffe medici, houndstooth, jo's, la bbq, la condesa, home slice, east side showroom, whisler's, easy tiger
Alright, folks! SXSW 2015 is fast approaching…we're now just days away! I am always so excited for this time of year because 1. it's a blast (see the last row on my list…) and 2. so many out-of-towners get to experience Austin at it's finest. (Live music everywhere you turn, great drink specials, happy people…what's […]