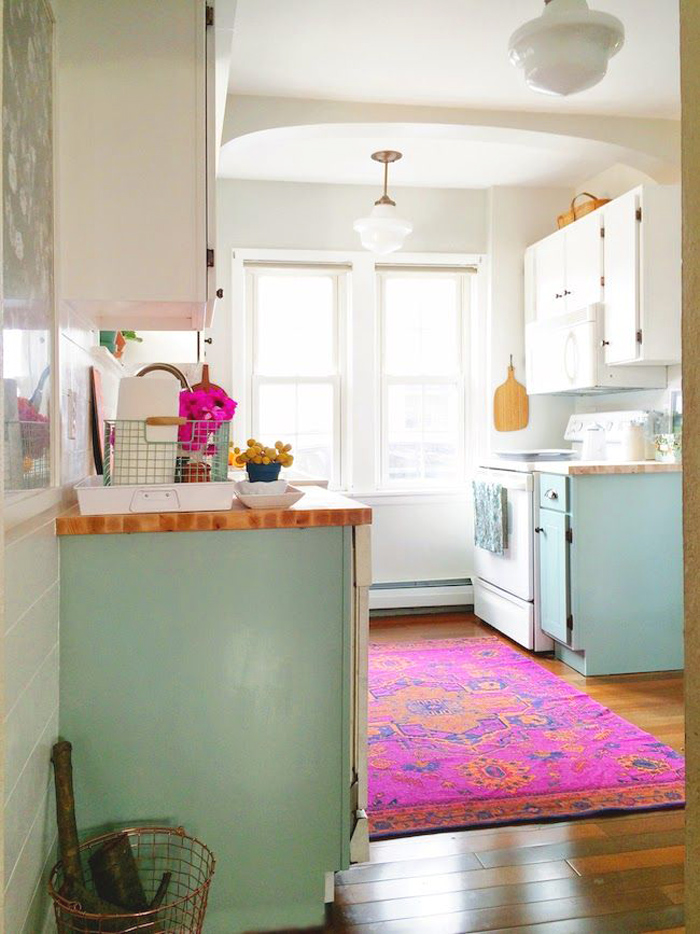 Hopefully those colorful images above lend you some interior inspiration! I've been flipping through the pages of the fabulous Design Bloggers at Home and I can't get enough of the bursts of bright colors on nearly every page! I'm a sucker for buying neutrals, simply because of the infinite possibilities that generally come with basic browns/nudes/creams, etc., but after sifting through the book, I am realizing I can stick to mostly neutrals, but add in some color pops now and then to make the most impact. I love a minimalistic, clean space, so I'll definitely be scoping out colorful rugs, buying more bright flowers and vases, and paying close attention to little, colorful details I can add into my space. (Throw pillows, lamps, kitchen accessories…Oooh, my poor wallet!).
Want the DL; DR version?
Where to start // How to add color to your neutral interiors:
1. Bedroom – colorful headboard, lamps
2. Kitchen – flower vases, mugs, small rug
3. Living spaces – bright sofa, fab rug, decorative pillows, coffee table books, colorful coasters
Shop my picks below to get your browsing (and creative ideas) started!