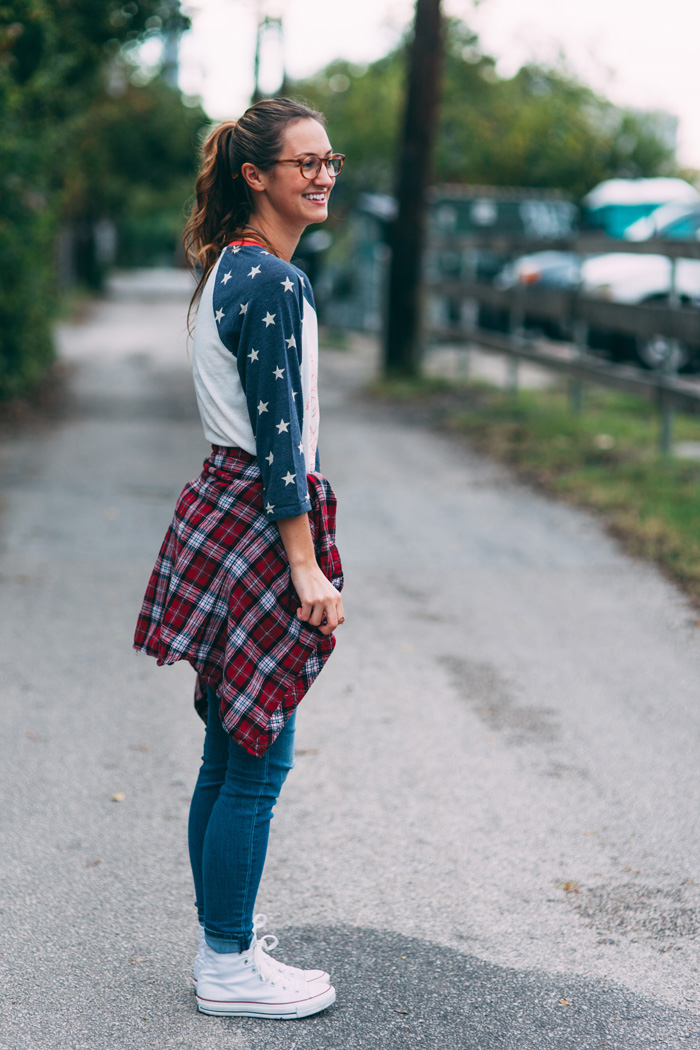 Hello! As you can see, my friend Kayla and I shot this post before I decided to chop (a whopping 10 inches off) my hair! Thus, soak in these last few photos with my long locks and stay tuned for my next fashion post coming SOON where I'm rockin' the short hair!
glasses – warby parker / necklace – seaworthy / plaid flannel – forever21 / watch – nixon / shoes – converse / shirt – call feathers for shipping
Alrighty, let's get to the fun part – the outfit! A couple weeks back I featured Feathers Vintage Boutique on the blog and it was a major hit (see that post here). This precious little shop is smack in the heart of South Congress Avenue and really just exudes that whole "effortlessly cool" vibe without even trying. For one, the whole store is a vintage lovers dream, and two, I love that they sell a few smaller vendors, too. For example, my American flag tee is made by Alchemy here in Austin and the necklace is by a Portland-based designer called Seaworthy. Pretty neat stuff! (Ps. The shirt is no longer available online, but you can call Feathers and they'll happily ship all over the US). I added a few touches from own closet, like the Nixon Mellor watch on my left wrist, some Converse high tops, my Warby Parker glasses and my trusty flannel from Forever21.
To learn more about Feathers, check out their website and see my previous post with them! As I've mentioned before, Austin is in this crazy booming phase and it's so important to shed some light on the shops that make this city what it is, and Feathers has definitely played a major role in eclectic Austin fashion!
Diggin' this look? Shop my outfit below! Feel free to leave comments/questions, too – I'd love to hear from you!
**Photos by Kayla Snell
Hello! As you can see, my friend Kayla and I shot this post before I decided to chop (a whopping 10 inches off) my hair! Thus, soak in these last few photos with my long locks and stay tuned for my next fashion post coming SOON where I'm rockin' the short hair!   glasses – […]